Our friends at Turner Motorsports have an incredible 2006 Hartge H50 available for sale. Less than 10 worldwide and the ONLY one in the U.S.!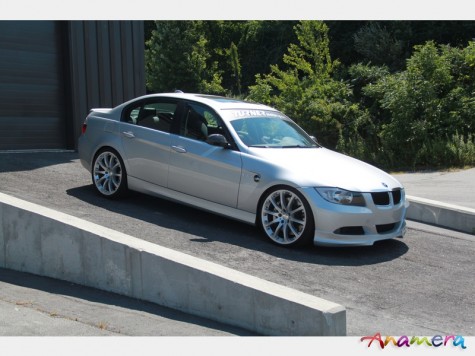 from the Turner website:
Started life as a 2006 US Spec 325i shipped to Germany.
Current Mileage: 24,532
Power: 550 hp @ 7750 rpm
Torque 391 lb-tq @ 6100 rpm
Weight 3676 lbs
0-60 4.3 seconds
Top Speed 200 mph

There is only 1 Hartge H50 in the United States. Less than 10 exsist worldwide.

The H50 conversion package costs roughly $220,000 (new E90 325i included) and takes 7-8 weeks to complete (not including shipping time to germany).

This car was built to be 100% legal in the United States. The HARTGE H50 Conversion is done at the highest quality of workmanship. All factory features are still functioning. This car has not been compromised in any way during its conversion. The OBD port and factory check engine lights function like stock.

"A 200-mph BMW 3 Series is one of those deviant cars that we're just happy to see from time to time. The fact that this one is every bit as easy to live with as the slightly more upmarket M5 makes it the ultimate sleeper." — Edmunds Inside Line

"Beyond such shenanigans, everyday use is absolutely not out of the question. Just leave DTC on and Power off. The default setting for the seven-speed SMG III (pulled also from the E60) shift rhythm, however, is always at Level Five. For me, this is great since I do that anyway in either the M5 or M6. You can tell Hartge that you don't want full-time Level Five as the default, sure, but that would, in turn, make you a wuss." — European Car

"On the plus side, the H50 has the practicality of a 3 Series, including four real seats, highway cruising capability and all the storage any human being could reasonably want from a 200-mph car. Hartge has dressed the interior with a new steering wheel and acres of carbon-fiber, although this is all optional. This 3,680-pound beast is effectively the M5 CSL-Lite that BMW says it simply cannot make." –Edmunds Inside Line

Hartge Conversion Equipment Listing:

E60 M5 V10 Engine with all associated parts, radiator, modified wiring harness, modified headers, sports catalytic converters.

Own bespoke engine mapping including HARTGE modification of the top speed limit, 7 speed SMG gear box, special exhaust system, modified rear axle, rear differential with 0-100% LSD, modified drive shafts, modified underbody, modified gas tank system.

HARTGE stainless steel rear silencer with doubal oval tail pieces left and right
HARTGE coil over sports suspension 1.2 inches lower (30mm)
HARTGE front spoiler lip, HARTGE rear wing
HARTGE Carbon Mirror casings
HARTGE Carbon Fiber interior trim, dash, steering wheel
HARTGE instrument cluster consisting of 200 mph speedometer, tach 9000rpm
HARTGE Pedals & Floor Mats
HARTGE 15 x 1.3 inch cross drill floating rotors with 8 piston brake calipers front
HARTGE 13 x .09 inch cross drilled floating rotors with 4 piston calipers rear
HARTGE 9.0 x 20 front wheels offset 40 with 245/30/ZR20 Conti SC3 Tires
HARTGE 10.0 x 20 rear wheels offset 40 with 295/25/ZR20 Conti SC3 Tires
On-Dashboard indicator for gear box mode, gear indicator, power mode, oil temp, and water temp.
HARTGE Leather E-brake Handle
HARTGE hood and trunk Emblems

Price: $85,500
An amazing opportunity for a lucky buyer. Thanks for the heads up Jay and good luck with the sale!
dc