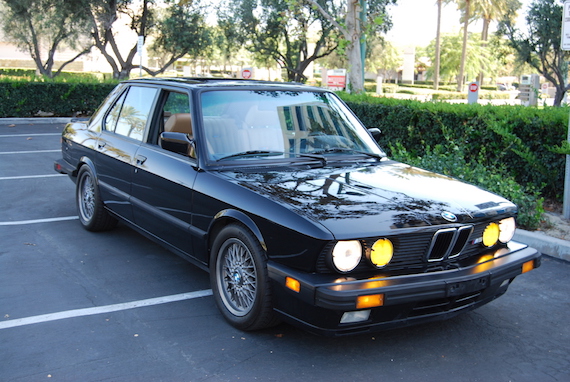 Here's an E28 M5 that should provide an interesting litmus test for those out there still pondering trying to find a clean, driver-quality example. We've seen some sub-150k mile M5s reach into the $30ks, which still seems a bit steep to me even though they were nearly perfect. This one is neither all-original nor perfect, with a redone interior and Euro headlight upgrade with Frenchy yellow lowbeams. It also shares the Billy Boat exhaust present on my car, which I enjoy but is rather loud. The leather looks very nice and overall this looks like a complete, clean M5 that would be blast to drive. The seller says he's looking to "get around $25k" which seems a bit steep to me. Are middle-market M5s there yet?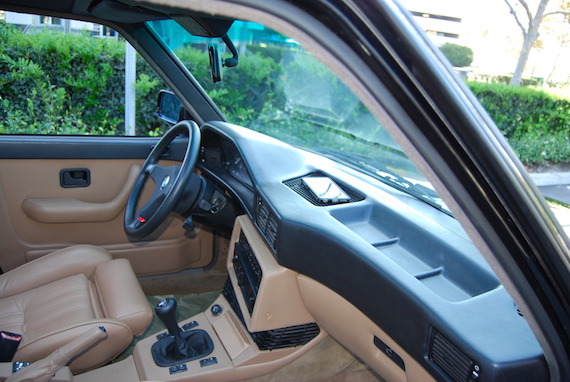 Year: 1988
Model: M5
Engine: 3.5 liter inline-6
Transmission: 5-speed manual
Mileage: 148,658 mi
Price: Reserve auction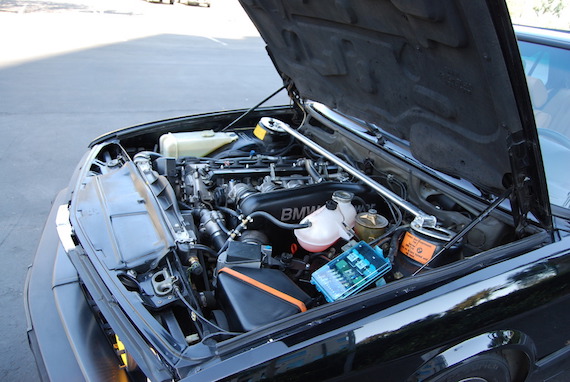 Up for sale My 1988 BMW M5 as you all know a collectible item , less than 1300 made it to us and i am sure soon they will be worth way more than E30 bodies due to rareness and quantity made and survived ,so this is one of how many left on the road?
This is your chance to own a super car .ORIGINAL WINDOW STICKER and other paper work and lots of invoices available that come with the vehicle , most maintenance records available from 1988 -present including all original documents .
The vehicle came from north Carolina and does show a plate from Dmv that says M5 although i will be keeping the plate but it says a lot about the vehicles personality .
My loss your gain :
Bought the car about 8 months ago as a car to keep as my dream car since i know only few made it to us but due to a loss of income i have to let most of my collection go 🙁
The great news :
Recent maintenance , Repairs ,upgrades are as follows:
A lot of work was done at korman auto works and 3/4 of other parts from korman as well
Then i got it and serviced the vehicle as well
Plugs and valve gaskets $115
rear main seal / oil pan gasket done at korman $1439
new tires less than 1500 miles ago (sport comp 2's all 4 ) $480
blistein sport shocks / struts $360
H&R sport springs $200
front passenger hub replaced by korman $209
thermostat and cover done at korman $252
Radiator and hose done $305
Gear , diff,and trans fluid $90
Distributor
Fuel Hose $40
Shift Knob $75
Fuel Pump $52
Fuel Filter $40
Coolant temp sensor $40
New brakes rotors and pads all around pbr metal masters $700
comes with BILLY BOAT EXHAUST $1100
i have replaced the front right and left lower and upper control arms
coolant reservoir tank fuse box cover and gave it a brand new two stage paint job that is in excellent shape
reupholstered the front seats (leather )
A/c compressor has been sent out and rebuilt and works cold
car runs great and shifts without any problems what so ever
there is a one inch cut on the inside of sun roof headliner area which has been repaired and glued
European headlights installed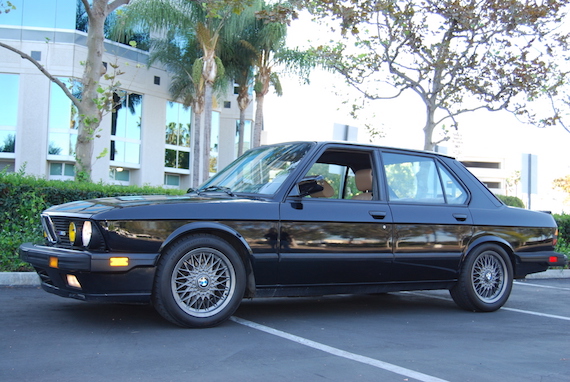 There aren't any screaming blemishes, but overall the condition looks a bit more worn than the M5s that have really brought home the bacon. It certainly looks well cared for, which goes a long way, but it's not going to break any E28 records. Taking into account the cost of a new interior, I could see this reaching into the high teens but not much higher. Anything into the $20ks means the E28 M5's day has truly arrived.
-NR