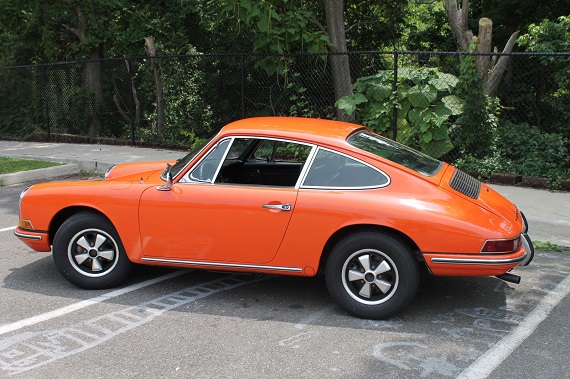 It is becoming increasingly difficult to find a Porsche 912 that falls into that middle stage of the market: not a pristine collector car, but not a car in need of significant work either. That's somewhat troubling since much of the appeal of the 912 precisely is the opportunity for getting your hands on a good vintage Porsche driver, but without breaking the bank. Entry-level Porsche at entry-level pricing. But as the market for the 912 has heated up there is more incentive to restore properly those that have been neglected, which also brings out the sellers who are less interested in putting in the time for a quality restoration. Of course, this also tends to mean that owners of the middle-of-the-road cars price them too high – a rising tide raising all boats and whatnot – but ultimately a patient buyer should eventually be able to find one for a reasonable price. The example we see here, a Tangerine 1968 Porsche 912, located in Maryland, I think falls into that latter category. It looks in good running condition and worthy of being a fun weekend cruiser, but the asking price will likely need to come down. That said, excellent examples of the 912 have slipped into $50k-$60K territory so even this asking price is well under where top examples will sell.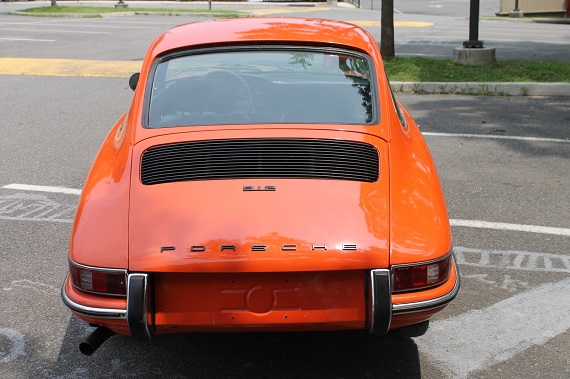 Year: 1968
Model: 912
Engine: 1.6 liter flat-4
Transmission: 5-speed manual
Mileage: 25,274 mi
Price: $33,000 Buy It Now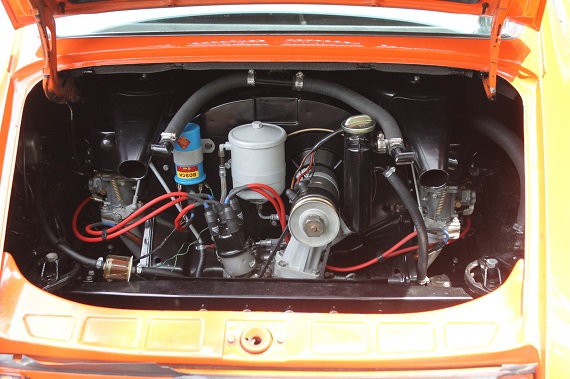 A very fun to drive 1968 Porsche 912, Tangerine paint code with a 902/02 5 speed. The motor has been recently rebuilt, including a new generator and rebuilt carburetors by Bieker Engineering. A new OE muffler is on the car as well. New battery. The fuel tank has been cleaned dipped and sealed. There is a new set (7/1/2015) of 195 75 14s on a real set of Fuchs. New Bilsteins, new ball joints, new pads and rotors. The body on this 912 is in very good condition, as is the underbody and overall structure. In the world of early Porsches, it is difficult to say the least to find a well sorted driver such as this with minimal issues pertaining to the overall state of metal. The interior has new front seat covers. An OE chrome steelie for a spare, and jack are present. An excellent starting point, with all mechanicals sorted. Oil and filter change on 7/1. A pair of powder coated heater boxes, as well as a set of J tubes will be included in the sale. I can provide lots more pictures on request. This is a well sorted driver that can be used on a daily basis. It is also an excellent entry level point into the world of early Porsche collectibles. Thanks for looking.

Available for scheduled test drive and PPI.

This vehicle is sold as is where is with no warranties expressed or implied. It is also listed locally. Shipping is the sole responsibility of the buyer.

VIN 12805118

MOTOR 753584 616/36

TRANS 1284354 902/02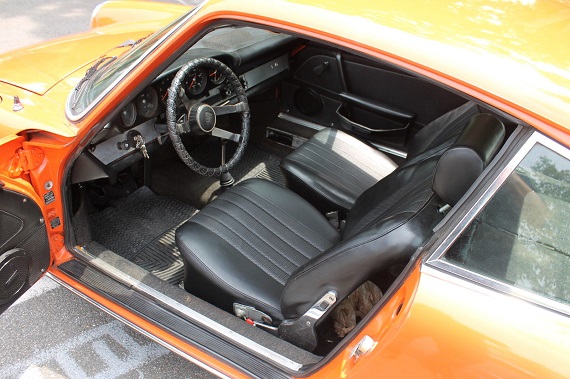 This is pretty clearly a driver-quality example as the paint isn't pristine and I'm not sure whether this actually is the original color of Tangerine. It appears definitely to have been repainted, but this shade of orange looks a little too orange to be tangerine, a color that I particularly enjoy for its slant towards the red end of the orange spectrum. Perhaps the lighting is throwing things off slightly, but if a buyer is interested in insuring the color is the original then that does need to be investigated. Otherwise this 912 presents fairly well and if it checks out mechanically then it should make a nice alternative for buyers hoping for original 911 styling, but without the long-hood price. I would suspect given the questions over the paint that a price a little under $30K would be more reasonable, but all-in-all this isn't priced too far outside the norm.
-Rob