My friend Chuck emailed to let me know that he's giving his e28 M5 one last chance at sale for a newly reduced price of $16500. Check out his latest listing on Portland Craigslist: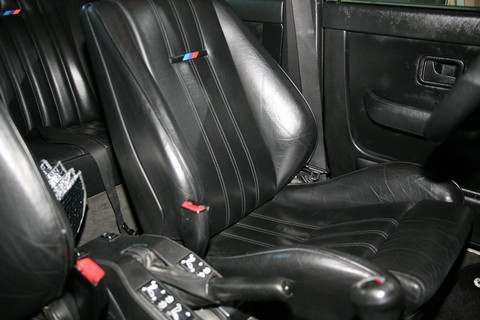 quote from Chuck's listing:
Lower price but still including $1000 of spare/extra parts. This is a classic BMW that really gets attention at any BMW event it is at. The black interior is something most BMW enthusiasts are caught by surprise with. Beautiful condition, great driving car and performance hard to match even in 2009 for a 4 door sedan. Had a very complete PPI performed that is available to inspect when viewing the car.

All engine checks were great, cam chain/rails looked "very good"

Leak down results were 6%-8%-4%-6%-6%-6%

Parts that were flagged have been replaced: fuel filter, coolent hose, lower ball joints, clutch slave cylinder.

I have also replaced the catalytic converter with Magnaflow unit

It now has 140,000 miles on it.
I chose to repost the picture of the driver's seat because a) it highlights the very rare black leather interior on an e28 M5, and b) it really exemplifies how clean this car is — a real enthusiast owner takes care of the leather too, and you can expect the rest of the car has been cared for the in the same way! I just recently saw this car in person at a local track day event (Chuck wasn't driving at the event by the way, just shooting pictures), and everyone at the driver's meeting stopped and turned to see what was making that fantastic M powered sound! This car is really a great example and Chuck is hoping to find an appreciating enthusiast home for it.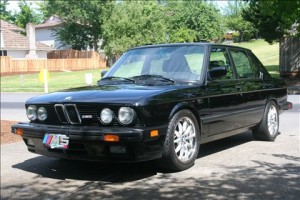 Good luck Chuck,
dc