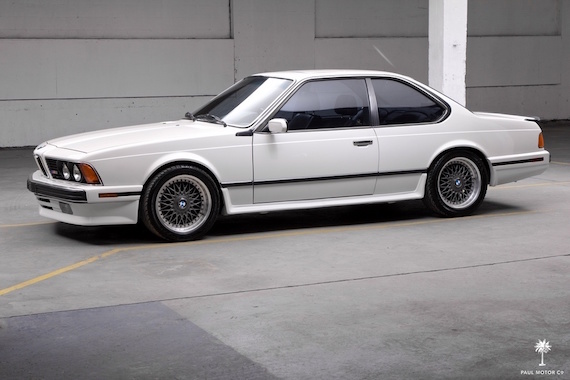 The coupe is a no compromise automobile. In a world that demands convenience at every turn, I'm surprised vehicles that make you twist and turn into the backseat are still a part of the automotive landscape. Being single with no kids, practicality isn't something that enters into the equation for me when it comes to vehicle purchases, so a coupe with a usable backseat is all the better. This 1988 BMW M6 is the car I dreamed about upgrading to when I was driving my 1988 325is. The original M3 was, while ultra popular now, was a relatively obscure option at first. But for me, the draw of the silky smooth power of a BMW inline-6 trumps the race-derived inline-4. So being the contrarian I am, this M6 lets me have my inline-6 cake and eat it too. This Alpine White M6 for sale in New York is served up with some attractive BBS alloys in a contrasting dark gray that is pleasing to the eye.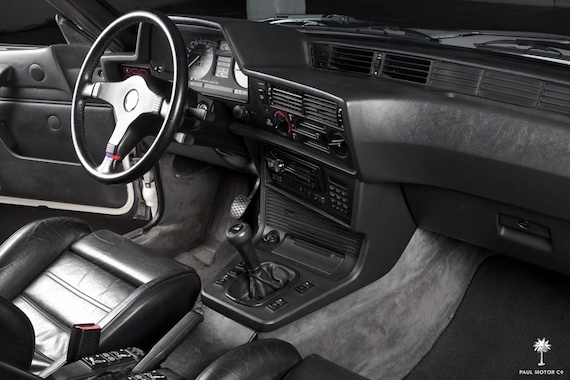 Year: 1988
Model: M6
Engine: 3.5 liter inline-6
Transmission: 5-speed manual
Mileage: 68,607 mi
Price: $44,900 Buy It Now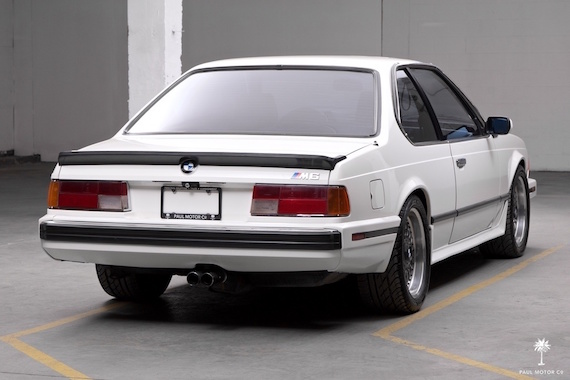 1988 BMW M6 (E24) – 68,607 miles / BBS Wheels

Paul Motor Company provides a comprehensive turnkey service for its customers. The vehicle will be shipped to your door with a US title. Every aspect of the transaction will be facilitated and completed by Paul Motor Company to provide our customers with complete peace of mind. There are absolutely no hidden fees.

Our 1988 BMW M6 (E24) comes in an Alpine White exterior color and a black leather interior. It features beautiful BBS RC wheels, power seats with driver memory, power windows, a power sunroof, air conditioning, cruise control and much more.

This particular E24 M6 has the nicer front bumper for this generation and also includes the nicer steering wheel (pre-airbag) which was changed the following model year with a bulky and unattractive replacement. Additionally, the car features Bilstein shocks (hydraulic components are still available but inactive), Zender side skirts which really adds to its overall appearance and an upgraded JVC head unit (an era-specific radio unit is also included).

It is powered by a 3.5L 6-cylinder engine and a traditional 5-speed manual transmission. The engine and transmission feel very solid; the engine pulls nicely and the transmission is both smooth and precise. It also has new brake discs and pads, as well as new tires.

There are some repaints on the car, but the original vehicle color (Alpine White) remains. The paint looks great with some minor imperfections on the body. The interior is in very good shape for its age with no cracks in the dashboard, a common issue with this generation of BMW.

The car has had only 3 previous owners, the first from 1987 to 2005, the second from 2005 to 2012 and the third from 2012 to 2016. It was involved in a minor accident (front left of the car) in 2012, but there are no lingering issues today and any previous damage was properly repaired. It comes with the original owner's manual and service booklet.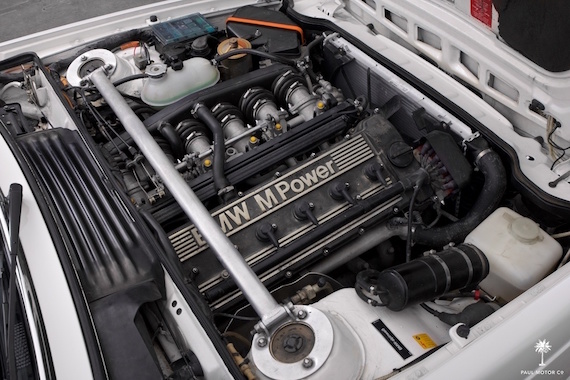 It's no secret vintage BMW M cars are in hot demand. The first generation M3 was the first to catch fire, and the fever spread later to the E28 M5 and E24 M6. Like a lot of Porsche 911s, I have lost interest in a lot of BMWs from the late 1980s and early 1990s, mainly because they have become the "it" cars for a generation of collectors and prices have climbed accordingly. Being the contrarian I am, I'm always on the hunt for something different and this M6 fits the bill well enough. Personally, there are a lot of other cars which I'd pull the trigger on at the price being asked here. But if fortunes are kind to me over the years, who knows? Maybe I'll work my way down the list to this one right here.
-Paul