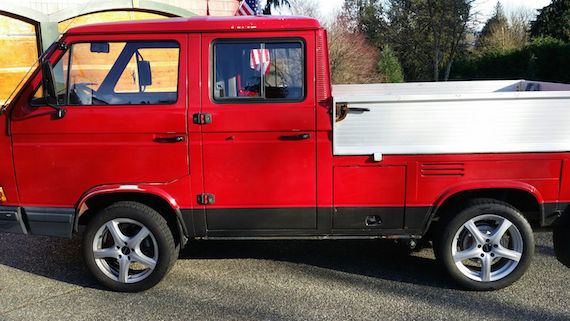 It's always a fun day when you see a DoKa in real person. These funny Vanagaminos definitely cut a unique profile, always looking like they should be a commercial vehicle delivering for a home-made hipster artisan honey and hand-hewn furniture outfit. Today's example was imported from Germany and given a full mechanical restoration along with a new GoWesty engine. That all sounds pretty great until the seller comes right out and says he's going to break the cardinal rule of used-car pricing: ask for exactly what he put in. It was clearly quite an undertaking to ship this thing from Germany and then get all of its moving bits redone, but that doesn't mean that you're going to get all of that money you spent on labor, shipping, etc. back in your pocket. Exterior blemishes underscore the point, showing that this is a nice but imperfect DoKa proposition.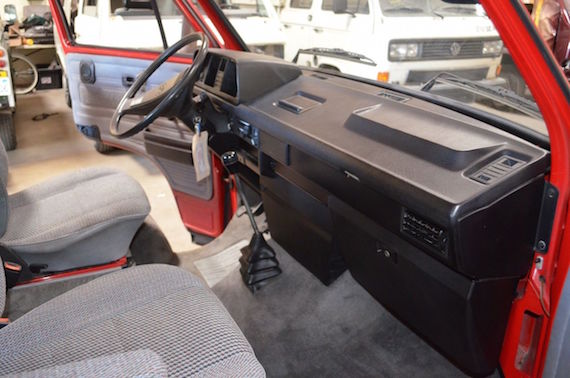 Year: 1988
Model: T3 Tristar DoKa
Engine: 2.1 liter flat-4
Transmission: 5-speed manual
Mileage: 124,000 mi
Price: $41,000 Buy It Now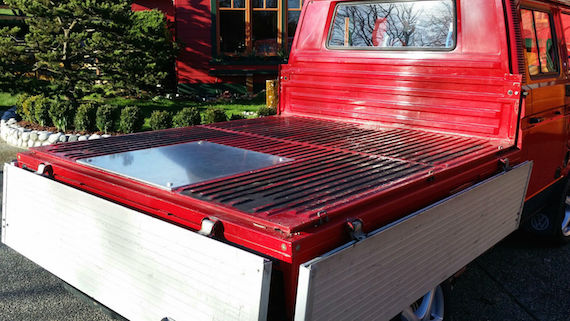 Red 1988 VW Tristar 4 door pick up with aluminum bed gates that fold down. 5 speed manual transmission 114 HP this is NOT a chopped up Vanagan!! The truck is STOCK! VERY RARE. Probably no more than 100 in the entire U.S. I purchased the truck from a dealer in Germany in April 2014 for $16,000. It was shipped to the U.S. ($2,800) in July. Since July it has been at a shop in CA. that specializes in importing / restoring Tristars / Dokas. I spent $17,000. more for the work to rebuild the engine, exhaust, suspension, brake work, new tires and wheels etc. Manual steering was converted to power steering. It was transported by truck to my home in Snohomish, Washington (outside of Seattle) in December 2014.We've had some very unexpected large expenses and so to make my bride happy instead of keeping it we've decided to sell it for EXACTLY what we have into it. I have a receipt for every expense incurred.

I have purchased a few used cars in the last 15 years. Sometimes sellers do not fully disclose a vehicles issues. That really stinks. I believe in full disclosure. No surprises. I have plenty of pics to share from before and after all the work was completed. I'll take photos of anything you'd like to see. I'm happy to pay for a detailed third party inspection for interested serious buyers. I'm willing to share all of the detailed discussions I had via email with the truck broker in Germany and with the shop in CA. that did all of the mechanical restoration as well as my local mechanic here in Seattle. I'll share the 6 pages of work that was done by the shop in CA. and every invoice I have.

The bad: has a small hand size dent on the passenger side rear fender. (see photos) Some of the original paint is chipped some has been worn off from use. Pencil erasure size chip in the windshield. Rest of windshield is perfect – no chips.

The good: It drives like a dream and has plenty of power. The paint is all original and overall in great shape. Unlike most of these work trucks there is NO RUST. Brand new rebuilt engine by GoWesty with 114 HP compared to original 94. The GoWesty engine has a 48 month warranty. New suspension, brakes, exhaust, wheels, and tires. Except for the brand new satellite XM / Sirrus radio the vehicle is stock. New rear cloth seat. Front cloth seats are in perfect condition. Everything (I mean everything) works as it should. I'm willing to offer a limited warranty. People stop me all the time to ask about it. They speed up in the HOV lane just to give me the thumbs up! Perfect interior dr. panels. seats headliner and dashboard. Carpet could use a good shampooing but no rips, tears or stains. No odors. Non smoking previous owners. Quiet. No wind noise. No vibrations or rattles. Second seat heater. Adjustable arm rests for the two front seats. Heaters works fine. The odometer had 124,000 miles. The odometer was converted from 164,000 kilometers. NOTE: EBay's VIN field in this selling form did not take the vin number. But here it is; WV2ZZZ24ZJH099162 When I spoke to the eBay folks they think it's because this model VW was never imported into the U.S. I'm HAPPY to send a photo of the VIN on the original title AND a photo of the VIN plate on the actual truck. If and when you decide to have it painted it will virtually be a brand new truck. Brand new, fun to drive, practical, and very rare. truck now has a valid Washington State plates and registration. This is the perfect truck for a small business person that wants their truck to get noticed. If you are going to drive a truck why not get one that no one else in your town or city has?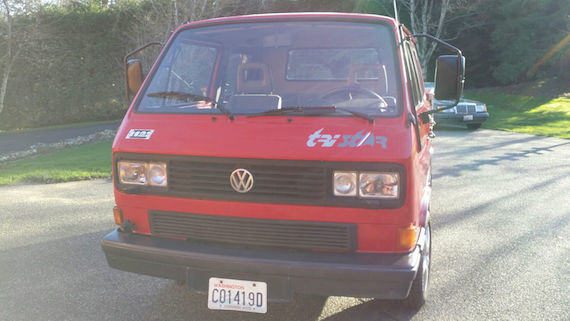 $41,000? Maybe he's dyslexic and mixed up the one and the four? DoKas are cool but they do not attract the same market for them as Westfalias. If you dropped $17k on some Westies, there's little doubt that you could recoup your investment. Here, the seller shows his hand by stating that he needs the money and is trying to get "only" what he put in. Even with the new engine, I see this as more of a $20-25k Volkswagen that still needs some exterior work. It's sad to hear about an odd-VW appreciator hitting some hard times, but a hefty reality check is in order before this DoKa moves on.
-NR