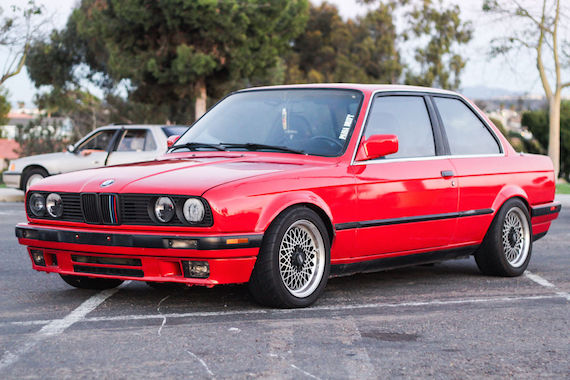 We (along with every BMW enthusiast site) go through so many iterations of E30s, but if you could finally go out and get one, how would you want yours? The answers are as diverse as coffee preferences. Sure, the starting point is energetic and standard, but there are a million ways to take it.
Personally, with the E30 M3 boat sailed, I think I'd want to get a little crazy with an engine-swapped example. While the E28 M5's S38 is a dream, the E36's S52 is among the most popular choices and readily available (as well as significantly cheaper to maintain). Today's 325i has some issues that will make it continue to be a project, but the heavy lifting has been done to make it a true hoonmobile. A PPI has been done, which is more than many of the passed-on projects we see here can offer. Once the to-dos get sorted, it's a good-looking E30 that is ready to be made great.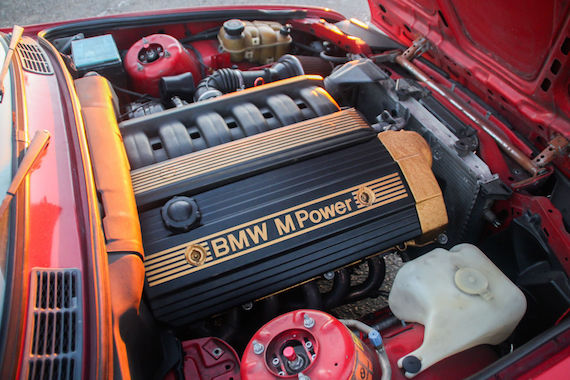 Year: 1989
Model: 325i
Engine: 3.2 liter inline-6
Transmission: 5-speed manual
Mileage: 143,861 mi
Price: $9,800 Buy It Now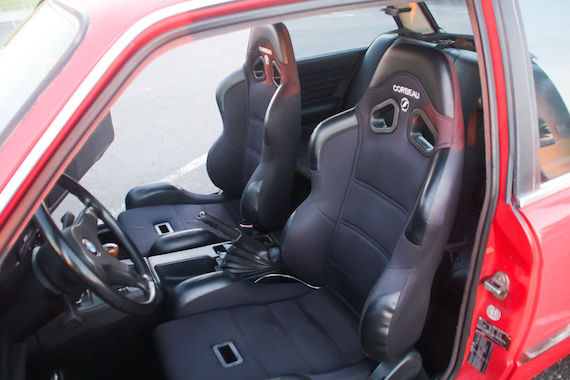 Up for sale is a 1989 325i E30. I started this car about 2 years ago making sure no corners were cut during the process. I swapped in a S52 out a a 1998 M3 that had only 123k original miles, the motor was then torn apart and rebuilt to OE specs, the head was ported and polished, paired with titanium retainers, it has also been converted to OBD1, using a a s50 head and manifold. The transmission is also out of the same car ZF310 5 speed, with 3.23 LSD out of a 98 Z3 M with finned casing. This car is A blast to drive. I've been behind the wheel of some pretty fast cars but nothing beats a S52 E30. Here is a list of thing that have been done I probably missed a few things, please read entire add this car will NOT pass Ca smog as is, however with some slight changes it can. I'm in no rush to sell. if you have any questions text/call

PROS
. Clean title
. 3 year old paint shines great
. Fully Rebuilt S52 (With Documentation) some lost do to computer crash
. OB1 convertion S50 head/manifold (Turner Motor sport chip)
. Raceland SS long tube style headers
. E36 Super Sprint center resonator
. Raceland SS style cat back exhaust
. Z3 M 2.7 lock to lock Rack (rebuilt)
. Z3 M finned case 3.23 LSD
. 95 M3 drive shaft
. Single mass lighten flywheel (16 lbs)
. Clutch master stage 3 6puc clutch
. E36 M3 ZF 310 5 speed transmission
. Z3 short shifter
. E28 M5 polyurethane trans mounts
. Ireland engineering 24v swap polyurethane/ street motor mounts
. Akg polyurethane street / differential mount
. Akg polyurethane Steering knuckle
. BC racing 32 way fully adjustable coil overs
. Carbon fiber sunroof delete panel
. Riken 15×7 et12
. Corbeau fully reclinable racing seats
. Aftermarket Alpine stereo
. Kicker speakers (6 speakers and a 12″ L3 sub)
. Depo smoked crosshair smilies (6k HID)
. Black Kidney (not painted actual black abs)
. Euro style grills
. Needs new Clutch do improper clutch kit installed .(but is completey driveable)
. Rear passenger side bumper cracked (I have a replacement will be included
. Headliner needs to be redone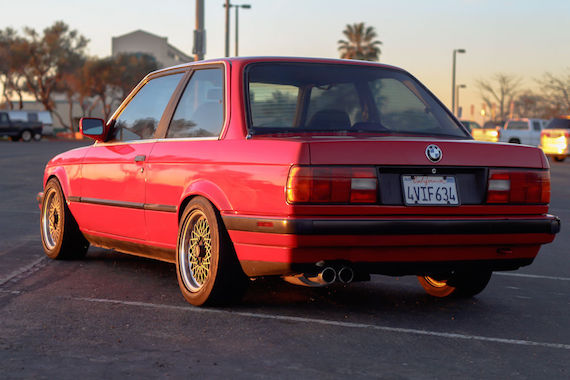 Definitely a nice list of modifications, though the clutch question is worrisome. Beyond that, some bushings, a fuel line, and some general maintenance items will have you sitting pretty in an E30 that can spank most M3s. I haven't seen many "perfect" S52-swapped E30s for sale, perhaps indicating that those who get into these cars aren't exactly OCD. The devil's advocate says that most affordable E30s on the market today come with some caveats, so why not start with a dang fast one? The asking price of just under $10k is a bit dear considering the work needed, but $7,500 would leave some cash to take care of the issues and get on to the fun.
-NR