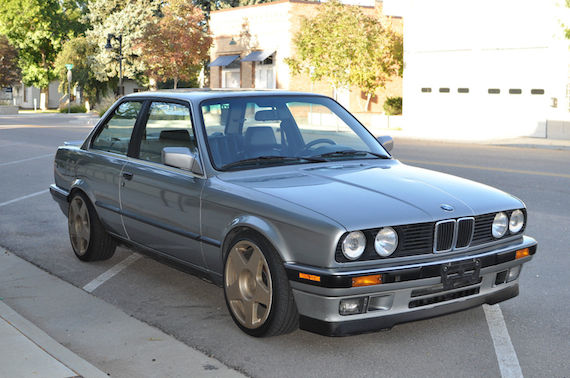 The BMW E30 3 series could be considered the German equivalent of the mid fifties small block V8 powered Chevrolet. A lot of them were produced, they have a strong enthusiast following and a large aftermarket scene allows owners a variety of ways to customize their ride. Case in point this 1989 325is brought to us from our reader Mark with fifteen52. This E30 has 150,000 miles on the clock, but has been maintained to a high standard. The suspension has been warmed over, brakes have been upgraded and the signature fifteen52 Tarmac alloys are included in the package. This car is on offer in Colorado and is ready to go for its next owner.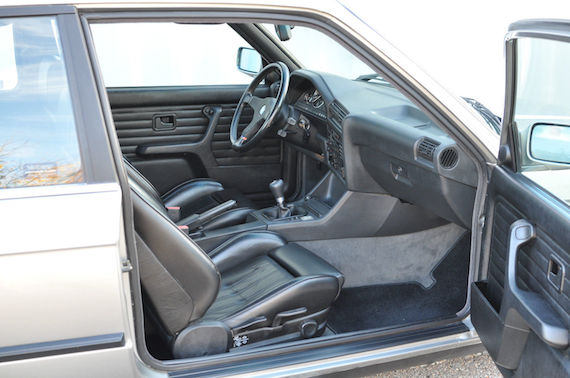 Year: 1989
Model: 325is
Engine: 2.5 liter inline-6
Transmission: 5-speed manual
Mileage: 150,940 mi
Price: Reserve auction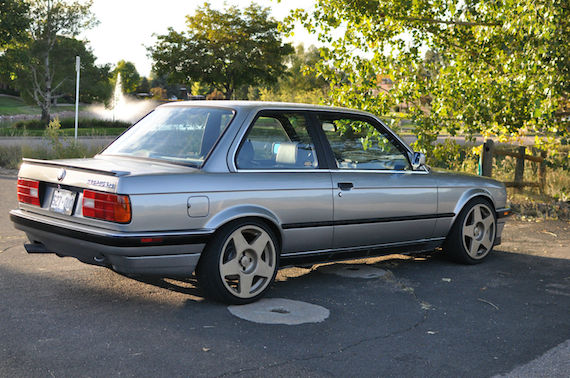 DESCRIPTION

Listing my 1989 BMW 325is 5-speed with just under 151,000 original miles. Car is being driven daily, so miles will slightly go up. This is the much sought after late model E30 with all the fun options such as IS front and rear spoilers, sport seats, and limited slip differential. For it's age also has more modern conveniences such as A/C, power steering, central locking, power windows and mirrors, sunroof, cruise control, etc. Car was purchased and built by renowned classic BMW and E30 specialists, CAtuned in October of 2013. Based out of Sacramento, California they are some of the most knowledgeable and passionate builders of these special cars. Before the car was in possession of CAtuned, the vehicle was owned by an older lady who required a newer automatic transmission vehicle. The car caught my eye as it was a rust free California car in great condition and had great base to become a special E30. Car was completely stock before purchase. The shop had plans for her, but allowed me to purchase after falling for this special example. Before the car was to be picked up and taken into my possession, I had them completely go through every aspect of the vehicle from performing necessary maintenance, repairs, and upgrades of which I will explain. Several thousands of dollars where invested so that mechanically everything would be in proper order. My goal was to build a reliable daily driver with a few tasteful suspension, brake, and wheel/tires for a more responsive and enjoyable driving experience. My time with this vehicle has been great and it is time for the next steward to enjoy it!

DETAILS

In this section I will do my best to accurately describe the different aspects of the vehicle including what has been done in my ownership and general condition.

BODY

The body of the car is in straight condition, but is not without it's flaws. The original paint is starting to show it's age after several years under the sun. The clear coat has peeled off of the top of the roof and rear trunk. These two areas are by far the worst areas on the vehicle. The rest of the car's paint is good enough condition that I considered just repainting the roof and trunk lid, but decided to wait and focus on the mechanical aspects beforehand and have a full properly performed respray performed later. This would be recommended to the new buyer if wanting a completely mint car. There are a few very minor rock chips, but overall the front end of the car is nearly perfect. There is one dent in the hood that can easily be popped out by a qualified dentless repair professional. There is also a dent on the passengers side rear tow hook area. These are the noteworthy areas of concern for the exterior. All in all, it hasn't been beat on and is a straight vehicle that still shines up well. The underside of the vehicle is clean and there are no signs of rust anywhere. Windshield is 100% original and has no cracks or chips in it.

INTERIOR

This is where the vehicle really shines. The interior is in like new condition and everyone who has been in the car comments on how clean it is. Seats have been covered in factory wool seat covers there whole life, until recently removed as they can cause some sliding in the seat while corning. They will be included in the sale. Rear seats appear as though they have never been sat in. Dash has no cracks. Everything is stock, with the exception of a //M shift boot and knob which is great.

SUSPENSION/BRAKES

CAtuned refreshed and upgraded the whole system November of 2013 including:
CAtuned Coilover System: fully 36-way dampening adjustable. Easy to adjust for a comfort ride or stiff for track use with just a turn. The coilover kit is great as it allows height adjustability and they ride amazing. This suspension wasn't cheap and dramatically improves the handling and feel of the car. Couldn't be happier
New hubs installed
CAtuned Stage 2 Big Brake Kit: 4-piston Wilwood Calipers with new high performance pads, stainless steel brake lines, drilled rotors. The car really stops well when you need it to adding giving you extra confidence and safety.
New rear drilled rotors and high performance pads
Bushings replaced

WHEELS/TIRES
Nexen 205/40/17: Good tread wear with approximately 3,000 miles on them
fifteen52 17×8 Tarmacs: Plastidip Vintage Gold Finish (not the smoothest finish, but looks good)
Hub and wheel centric 15mm rear spacers, 5mm front spacers
Stud conversion

TRANSMISSION

Transmission checked out by CAtuned and didn't require any work. The clutch is in great condition and has great pedal feel. Shifts smooth and is a pleasure to use.

ENGINE

Everything is 100% stock. Car was not intended to be raced or thrashed on and was not concerned about increased HP, but building a reliable driver. All work was performed last November at 147,000 miles by CAtuned.
Timing belt was replaced
New water pump with coolant flush
New idle control valve
New thermostat
New breather hose
All new drive belts
Camshaft seal
Crankshaft seal
New intake boot
All new fuel lines
Tank removed and cleaned
New fuel pump
Tune up: plugs, cap, and rotor
Valve adjustment and timing checked
New valve cover gasket
Car runs smooth and is nice to drive even though it doesn't have tons of power. I do believe that the A/C compressor maybe on it's way out. The engine does squeal occasionally when initially driving away after startup and dissipates afterwards.

ELECTRICAL/ACCESSORIES

Everything functions as it should. Cruise control fully functional. Gauges all work and the cluster was serviced and inspected by E30dad and chrome rings added. Lights and fogs all work great. Factory radio installed. I have not used the factory stereo as it is locked. I believe the dealer must enter in a code to unlock it, therefore cannot speak to it's performance. Power windows, mirrors, and sunroof work without issue. Sunroof does not leak. Heating works awesome and A/C blows cool. May need a recharge to blow really cold, but wasn't enough issue enough for me to address. All interior lights work with the exception of the lights around the HVAC controls. Maybe a fuse, not sure.

DISCLAIMER & FINAL DETAILS

Vehicle is sold as-is and buyer accepts that. I have done my best to describe the vehicle and it's condition. Please let contact me with any questions you might have or if you are in need of any additional photos. Will help with the arrangement of shipping if needed or pickup at the Denver International Airport if you are out-of-state. Car will be listed locally and I reserve the right to end the auction early if needed. $250.00 non-refundable deposit due with 48hrs of end of auction.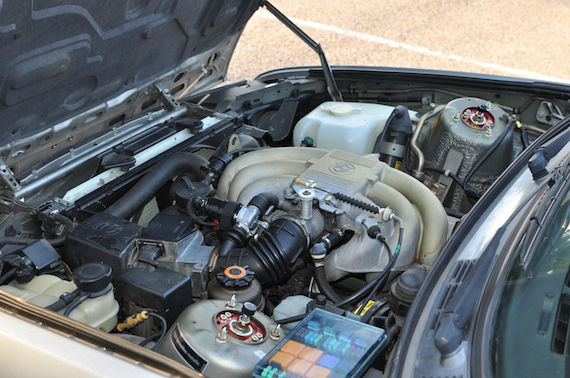 My first car was a 1988 BMW 325is and I still have fond memories of that machine. If I was going to get another E30, I probably wouldn't choose such an aggressive wheel and tire package, but it's always neat to see what tuners are doing to individualize their rides. It's no secret E30 prices are strong, and mileage like this should not be a concern. These are stout cars and with proper maintenance like this one has seen, you should be able to get many more years of service out of it.
-Paul