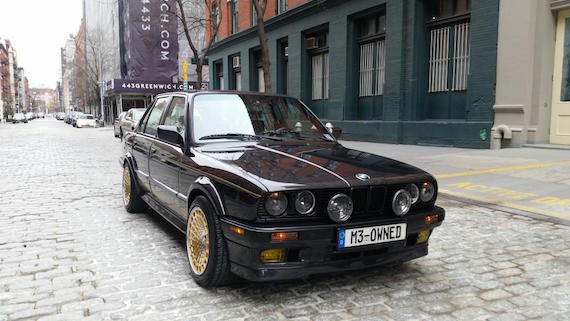 This 325ix was rebuilt as a present for the seller's father, but apparently Dad wanted an SUV instead. I'm guessing it was a sort of homespun "Pimp My Ride" judging by the looks of it – take the old E30 and pretty much redo it top to bottom, with some extra flair added for good measure. I already know the flair is going to be polarizing, but there's enough good stuff in here to keep it out of the "Friday Fail" column for me. Wherever you think it lands on the taste scale, there's no question that a lot of effort was put into giving this 325ix a new life.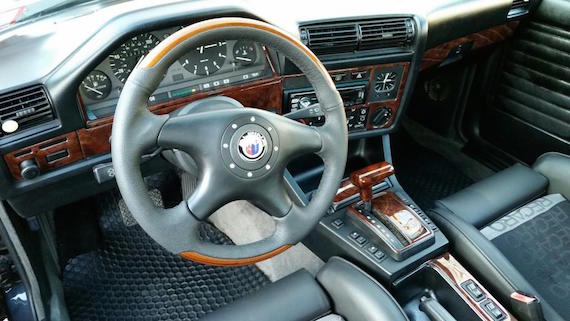 Year: 1989
Model: 325ix
Engine: 2.5 liter inline-6
Transmission: 4-speed automatic
Mileage: 650 mi since restoration
Price: Reserve auction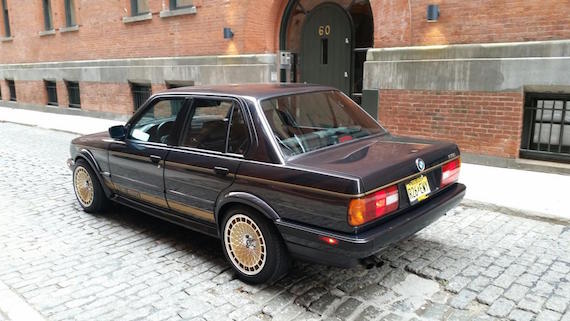 1989 BMW e30 325ix AWD sedan. 650 miles after complete restoration. Diamond Schwartz Metallic with custom Black/Grey sport Recaro interior. All books and Records! Truly one of a kind BMW E30 325ix !

I have clean Title in my hands!

NOT A SINGLE SCRATCH, DING, RUST OR ANY DAMAGE! Everything Works! No leaks !

This was complete, bare shell, no expense spared restoration. Was designed to be a present for my dad's Birthday/Retirement gift, he chose to have SUV instead, so this is your chance to buy absolutely the best BMW e30 325ix sold anywhere in the world!

ENGINE:

Completely rebuilt M20 engine with about 650 miles after full rebuild. New cylinder head with new valves & springs, H/D head gasket. Front and Rear crank seals, New Oil and Gas pumps. All Hoses were replaced with custom Blue silicone hose kit, all gaskets and O-rings were replaced. Black custom powder coated Valve cover and Intake. New Alternator/Starter/AC Compressor/Receiver&Dryer. Full tune-up with new Timing Belts/Water Pump/Thermostat/Driving Belts/Spark Plugs/Wires/Distributor/Cap/Gas Filter/Air Filter. New Radiator and A/C condenser. New Heater Core. new Expansion Tank. New MAF Rubber boot, New Gas Lines, New Fuel Injectors.
Transmission/Transfer Case/Rear Diff were replaced with low mileage units, which were fully serviced during the build of this amazing ix
Custom Stainless steel Headers / Full Custom Exhaust with Custom Rear Muffler, all in Stainless steel. New O2 sensor.
Rebuilt power steering /new reservoir lines
New Front half Drive-shafts/New Drive-shaft Boots/New Front Hubs and Front Wheel Bearings
Engine runs super smooth ! Everything Works perfectly ! Mobil1 Synthetic oil.

If the buyer prefers, I can swap this car to manual transmission for $2k extra (parts & labor), I have all the parts available.

BODY:

Bare Shell Strip Down Restoration! All rust, Dings, Damage, Imperfections were repaired and fixed, custom work + custom paint, only the best materials were used, quality primer, paint and clear!
This car is stunning in person! There are no dings/scratches/chips anywhere!
Brand New windshield, Powder-coated shadow-line Window trim. Euro Hood seals.
All New window motors, New Window regulators.
Euro Smoked Hella Style Smiley headlights with HID slim Xenon 6k and Driving lights, Auto art smoked turn signals, Hella 500 series Black Magic Driving lights
New iS front lip, New Yellow Fog Lights. Tail lights and side marker lights were sanded and clear-coated! Euro rear license plate holder.
Full floor, doors & trunk are covered with Dynomat Sound Control deadener material.

INTERIOR:

Fully custom recovered Recaro e30 M3 sport Seats with matching rear seat!
New Shift and Emergency brake boots, E34 leather hand brake, black headliner
Custom Wood dash kit with Matching wood shift knob and Leather/Wood steering wheel. New all weather rubber Mats
Euro e30 clock, Euro Custom Instrument Gauge panel.
BMW Premium Sound Music system : Pioneer head Unit, updated front speakers and wiring
Remote control Avital alarm system

SUSPENSION/BRAKES/WHEELS:

Everything is NEW ! Front control arms with M3 bushings, Front & Rear Bilstein Shocks, H&R Lowering springs, front & rear Sway bar links.
Rebuilt front calipers, new cross drilled rotors, New Pads, New Stainless steel Front & Rear brake Lines.
Brake lines under the car were also replaced including the notorious to rust brake line spider valve on top of the rear diff
New 16×8 et25 Wheels with 205/55/16 tires (with matching new spare wheel with new tire), everything mounted and balanced, New wheel alignment.

I highly suggest PPI (pre purchase inspection) to avoid any misunderstandings between the seller and the buyer! The car car is available for inspection in Maplewood, NJ 07040

You will not regret owning / driving this beauty! Please keep in mind that you are not buying 2015 Honda Civic with warranty, this car is over 25 years old and although, most of the components were updated / upgraded, it is still a vintage BMW.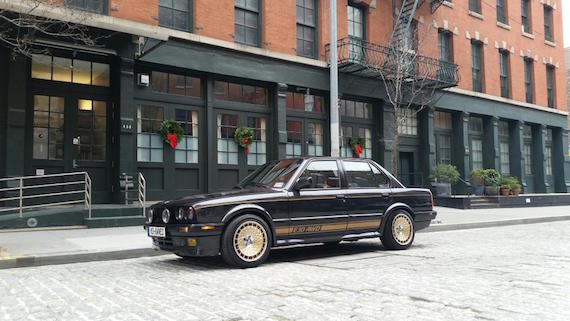 It pushes the limits for me, for sure. The "E30 AWD" would be way cooler (though still gaudy) if it said "325ix," and the Alpina steering wheel, wood interior kit, and gold faux-basket weave wheels are also a bit over the top. On the other hand, I dig the rally lights and the recovered E30 M3 seats are a good (but also loud) choice. While I'd make a few different choices were this my restoration (why not do a manual swap?), altogether it's a fun package and an opportunity to have a like-new 325ix sedan. The ad's mention of $30k to replicate makes me worried that the reserve is very high, and it will take a unique buyer to commit to this pimped E30.
-NR