Beginning in the early 1980s, all wheel drive started trickling its way into a number of non off-road vehicles. Audi began to perfect their Quattro system, Mercedes-Benz introduced 4matic, and BMW tested the waters with their ix models. While the E34 5 series was offered with all wheel drive in certain markets, the US received the ix prefix in the form of the two or four door E30 325i.
The ix never took off sales wise in the US and they are quite a rare sight on the roads these days. I did see a few during the years I spent in Boston, which is where I assume a good number of these cars wound up. Amazingly, here's one of the lowest mileage examples I've seen and it's a relatively short drive from where I live.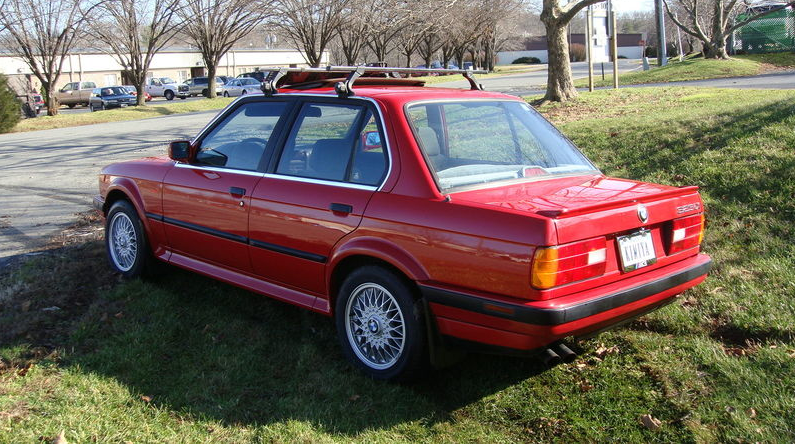 For sale is my 1989 BMW 325ix with 62,231 original miles (adult owned) that has been driven only 1000 miles in last 10 years.zinnoberrot (red) exterior with light gray interior. This is one of the nicest surviving 325ix you'll find anywhere! if you are looking to buy an untouched e30 all wheel drive you are not going to find another one like this.

ENGINE

2.5 liter SOHC inline 6 cylinder. Maintenance is current, valves just adjusted. Runs great and strong without any issues.the car runs ,drives and look like a car with 60k miles.

TRANSMISSION

The automatic transmission shifts perfectly and is very smooth.

EXTERIOR

The body is in perfect condition with no scratches.the paint is all original and shines just like a new car.This car has never been in any kind of accident and has the vin tag on all of the body panels and has always been garaged and cared for .There are no rust in this vehicle and the car looks perfect.I'd rate the original paint on this car 9.5 out of 10.

INTERIOR

The interior is every bit as nice as the exterior. The original cloth seats have no sign of wear or tears and are in perfect condition. The carpet is free of spots & stains and is clean even under the seats. No french fries or coffee stains ! The dash is completely crack-free. The headliner is perfect and clean. This car has never been smoked in.

EQUIPMENT

All equipment and options work correctly including power windows, manual sunroof, door locks, mirrors, rear defrost,original BMW radio and power antenna also HEATED SEATS. The A/C also blows ice cold .the car comes with 4 original BMW mud flaps ,thule roof rack and original ski bag (never used)

WHEELS & TIRES

It has the original BMW cross-spoke 15″ wheels (including the spare) that are is perfect condition The tires are 205/55-15 with about 5 miles on them (I just install 4 brand new tires). I just replaced front shocks ,brakes all around and front rotors. Timing belt , water pump , A/C belt , alternator belt ,P/S belt , engine oil and coolant were replaced last week (almost zero miles on them). All wheel drive system is also in perfect working order just like everything else in the car.
With about two days to go, this E30 ix has yet to meet the reserve. Few ix models with such low miles exist, so I'd assume the seller is looking for around $10,000 or so. I'd say a more realistic figure might be around $8,000. If this particular car had the 5 speed manual, it might be a bit more desirable in the enthusiast's eyes. Still, it's a nice piece and provided the all wheel drive bits are in good working order as stated, it would be an inexpensive way to enjoy the Ultimate Driving Machine all year round.
-Paul