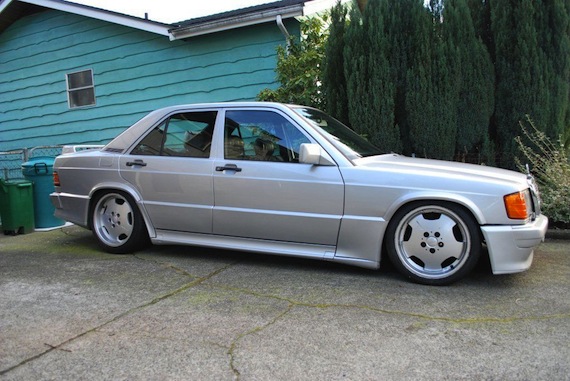 Some forbidden fruit today, coming to us from Japan via Canada. It's the beefier 2.5 Cosworth that we never got in the US, bringing with it dual timing chains and 17 extra horsepower. The optioned automatic gearbox is interesting as most 190E 16s came with a dogleg 5-speed to keep the racy feel. The 2.5-liter 16-valve should keep things at a nice pace though, even if it needs some love. The whole car needs some attention, from a few interior and exterior blemishes to the too-low suspension. Sitting on Lorinser monoblocks, though, it's hard to deny the appeal of this E30 M3 counterpart, especially when you take into account that it will cost at least 75% less than the Bimmer.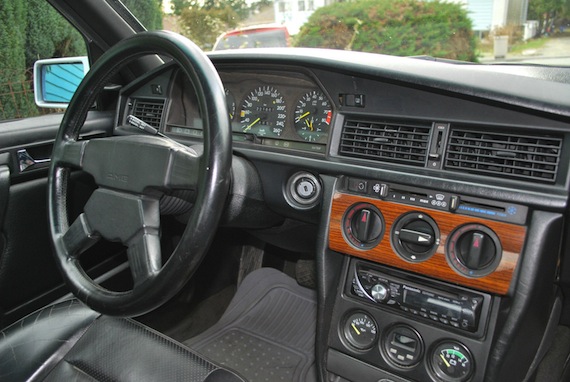 Year: 1989
Model: 190E 2.5-16
Engine: 2.5 liter inline-4
Transmission: 4-speed automatic
Mileage: 137,861 mi
Price: Reserve auction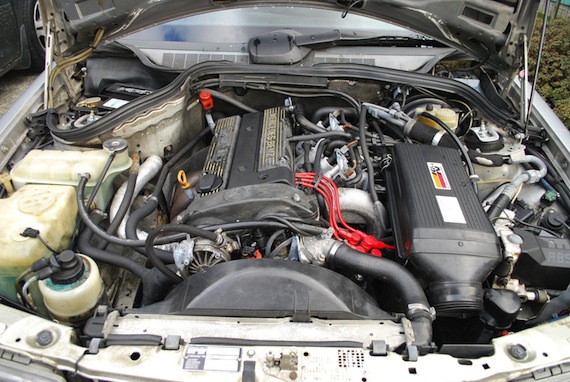 Up for sale is my rare 1989 Mercedes Benz 190E 2.5-16v Cosworth

It is now 25 years old so it may be easier to import this vehicle to the United States -*CHECK YOUR IMPORT LAWS*

This vehicle was imported from Japan to Canada a few years ago. It is a LEFT HAND DRIVE RARE 190e 2.5-16v model that was never offered for sale in North America. Only the 2.3-16v was offered in North America. This car was my daily driver up until last September and it was put under storage. I bought this car with the idea of bringing it back to its original beauty, but things have changed and this would be a great project for somebody with the time. The engine starts and runs well but definitley needs some TLC and needs a good tune up. The car looks like it was re-painted silver some time ago. No accidents while in Canada that I'm aware of…looks like the front passenger side may have been previously hit when in Japan, as there is some evidence of some bodywork in the inner engine compartment by the front right shock.

Defects include: Cracked Tailight and Headlight, sunroof does not open, A/C is not working may need a recharge, muffler slightly rattles, car sits pretty low and may need tweak and or install better suspension, rust spot rear quarter panel, crack in dashboard, lap timer not working, leaks some oil, and rear auto defogger does not work.

Currently 221,897 kms or 137,861 miles

Features: Automatic Transmission, Rear Recaro Seats, Power Windows

Upgrades: 17″ Lorinser Wheels, AMG exhaust, AMG steering wheel, Koni Shocks, HR springs, 6 Disk CD Changer, CD player

I've included in the photos…Mercedes Data Card on the vehicle, listing its features of the car etc….

Car is located in Vancouver BC, Canada about 45 minutes from the Washington State US Border. For any US parties interested please research all your local laws, US border policies and DOT requirements before you bid. In Canada as for paperwork that will be given to you, is a Transfer Of Ownership form, Registration form of vehicle and a written Bill of Sale. Buyer will be responsible for any other documents required such as insurance and import documents etc.

Shipping arrangements and costs are sole responsibility of the Buyer. Buyer to set up pick up from Seller's location only no exceptions. Any inspections required thereafter are responsibilty of the Buyer. Car is being sold in "as is" "where is" condition.

Payment must be in sent within 3 days of auction end via Paypal. Or cash in person.

This car is rare and it holds a unique racing history it competes directly with BMW's e30 M3 and we all know how much those are selling for. Very much a collectible item needing someone to bring it back to show condition. A great & rare opportunity to own a future classic! The 2.3-16v are getting more & more difficult to find, let alone a 2.5-16v version that was NEVER sold in North America is really special! If you're looking for a unique project that screams classic Mercedes Benz this is it! Good Luck and happy bidding!

Here is Top Gear's video featuring the Mercedes Cosworth 2.5-16v…..How to spot a future classic: http://www.youtube.com/watch?v=JK4vLkUGOs4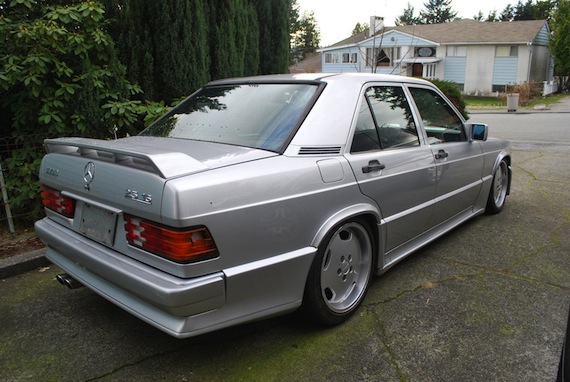 Thanks to the 25-year law, you should be good to go with this. The 2.5 model is a cool rarity, especially here, but hamstringing it with a 4-speed auto is a mark against it. If you're prepared to put some money into the little things and cleaning up the engine, you could have a very cool looking, and pretty cool driving, 80s classic. Bidding is still under $3k right at time of writing, so depending on the reserve this could be an outstanding value.
-NR