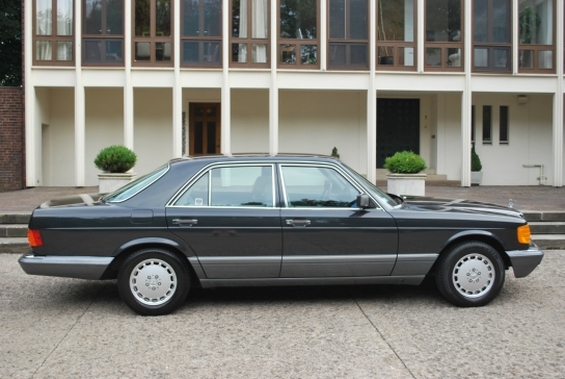 $7,000 doesn't get you a whole lot of new car these days, but it is surprising just how much old Mercedes it will buy you. In fact that's the asking price for this W126 S-class. Produced between 1979 and 1991, the W126 represents the pinnacle of Mercedes-Benz design and engineering from the period. Penned by the illustrious Bruno Sacco, it remains an extraordinarily handsome car, with taut lines and stately proportions. I saw one parked on the streets of Washington, DC the other day and literally got off my bike to stop and admire it for a few minutes. These cars are timeless and, even today, look perfectly at home parked in front of an embassy, ready to ferry a diplomat to some high level meeting.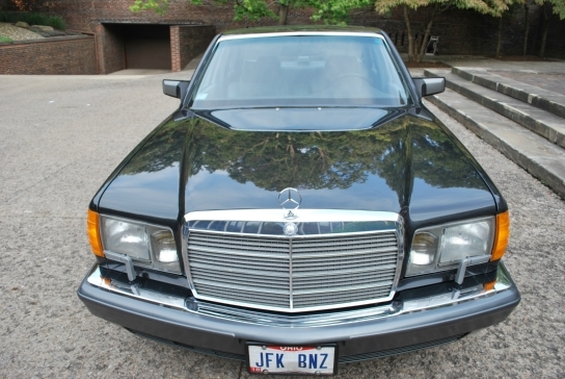 Year: 1989
Model: 300SE
Engine: 3.0 liter inline-6
Transmission: 4-speed automatic
Mileage: 111,695 mi
Price: $6,900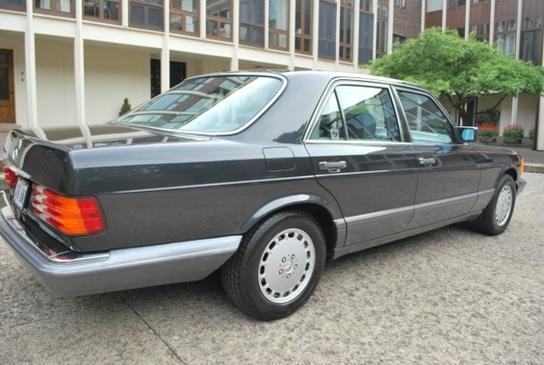 Classic large body BENZ in handsome color combination. Beautiful condition inside and out. Everything works, non-smoker, no accidents, all service up to date, new front suspension work and new exhaust front to back. New winter tires, always garaged and wintered in Florida except for 2015. Must see, very impressive. CLEAN, CLEAN,CLEAN. Interior leather is soft and smells fresh. Used as my daily driver. Making room in my garage. The car gets comments everywhere I go.
This 1989 300SE is presented in blue-black (paint code 199) over gray leather. This is a short wheel base model with the 3.0 M103 6-cylinder engine, putting out a relatively modest 179bhp. With 111k miles on the odometer, this car looks very clean both inside and out. The exterior paint has a good shine and appears to be free of imperfections, while the leather seats looks barely used and the dash and wood trim are in excellent shape with no apparent cracks. The plastic doors on the front headlights are impeccably clear: that's a good sign, since these plastic parts often go cloudy with age or when the car is left parked outside for long periods of time.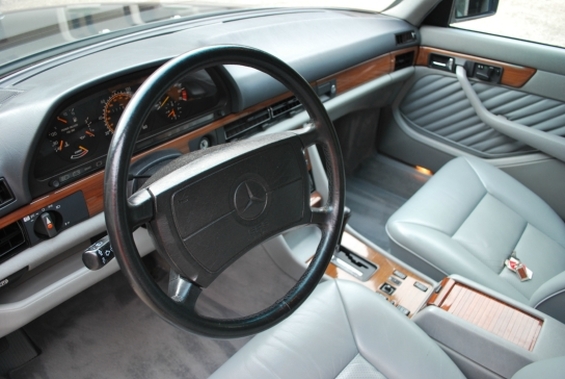 Being the smaller-engined car in the W126 lineup, the 300 accelerates at a leisurely pace and certainly won't be winning any drag races. But once up to highway speeds the car should cruise imperiously, keeping its occupants in quiet and dignified comfort, which is precisely what an S-class is supposed to do. Admittedly, it won't have the kind of power offered by the V8-engined 420 and 560s. But the smaller 6-cylinder unit is suited to the SWB chassis, which I think is well proportioned and aesthetically slightly more pleasing than the longer, SEL version. Having two less cylinders also means (slightly) better fuel economy: probably around 20 MPG, which is not great but not terrible either.
The M103 engine, which in various guises also saw service in the W124 and W201 cars of the period, is generally quite bulletproof although there are a few well known weaknesses to look out for. These include a tendency for the head gasket to let go at anywhere between 100k-150k miles, a general assortment of non-catastrophic but irritating oil leaks, especially at the front cover gasket, and a mechanical fuel injection system that tends to become temperamental with age.
Prices are all over the map for W126s; there are clapped out examples for $1500 and cream puffs priced at $20-30k. I think this example is priced just about right for what it is. It's not as desirable as its V8 counterparts and the mileage, while modest, indicates that this car is a driver rather than garage queen. I think it would be a nice pick for someone looking for a glamorous and charming daily driver. My advice: buy it and use it to drive to the shops every day while feeling like a million dollars.
– Craig