Being a child of the eighties, maybe I'm biased, but I think this was a fantastic period in time for automobiles. Technology was slowly creeping into the vehicle equation, but not to the point that the driving experience was diluted. Cars were safer than ever before, as well, with features such as airbags and anti-lock brakes available on some higher end models. Such is the case with this 1989 560SL, the final year for what was one of the longest surviving models in Mercedes-Benz history.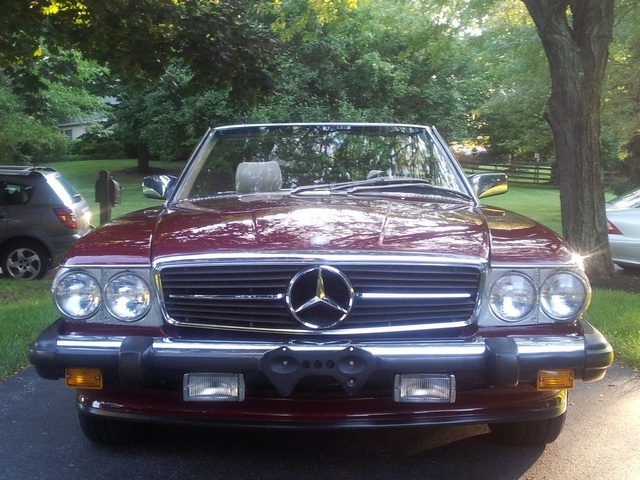 This elegant 1989 Mercedes-Benz 560SL is truly a rare find considering the extremely low miles, well maintained conditon and rare burgundy color that stand out among others. The owner of this car bought it several years ago from a Merecedes-Benz dealer as his dream car and has treated it as such. The black convertible top is in very good condition along with the plastic windows showing no signs of fade or scratches. This beauty also comes along with the matching hardtop and stand. With just over 29,000 pampered miles, this car has been well maintained both mechanically and cosmetically.
Cabernet Red is one of my favorite R107 colors. It's a lot more visually arresting than your typical silver, white or black, but not as brash as red or some of the wild 1970s colors. Having driven a few R107s in my day, I truly love these cars. They aren't the quickest cars out there, and their handling is soft, but they do everything remarkably well for a 23 year old car. The asking price of almost $30,000 is about the top of the range when it comes to 560SL values. While this is certainly a nice example, I think we're probably looking at more realistic price of around $22,000 to $25,000 at best.
-Paul