The Mercedes-Benz W123 was one of the most durable vehicles of a generation. Almost 30 years since the last example rolled off the assembly line, there are plenty of these cars still going strong on streets around the world. This white 300TD estate for sale in Cleveland is one of them. Having covered 178,000 miles, it still looks fresh both inside and out, and had a transmission swap to a 4-speed manual. With regular maintenance and a bit of TLC, this is a car that could easily cover another 178,000 miles several times over.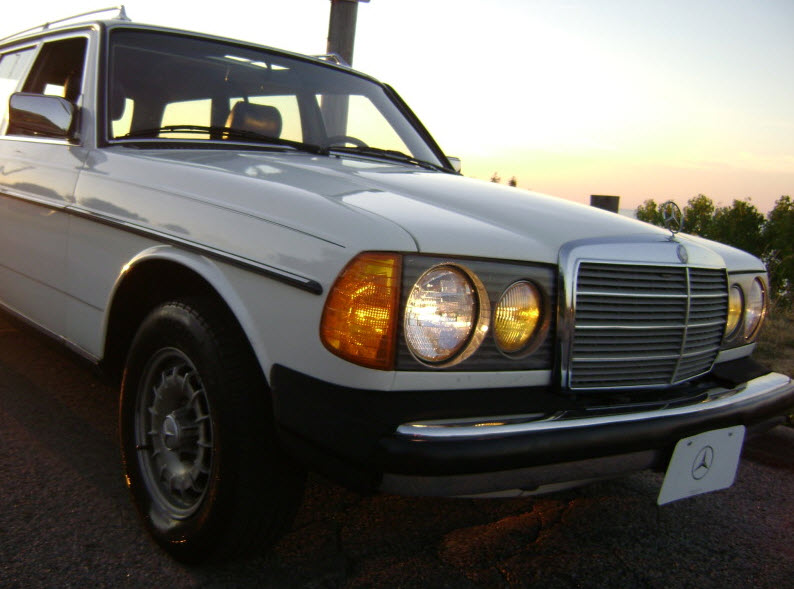 Beautiful 1983 Mercedes 300TD Touring Estate Wagon! This is a special opportunity to own a very clean 4-speed manual 300TD with only 178k original miles! As you may know, the American 300TD only came in automatic, and the rare gray market 4-speed euro cars bring over $15k on eBay if you are lucky enough to find one. BUT, even if you do have $15k to spend, the euro cars never came with the turbo engine making getting around town painfully slow. Not to mention the city gearing on the euro makes it difficult to do more than 55 on the highway. This car is an American turbo-diesel that was professionally converted to a euro 4-speed manual several years ago, and driven tens of thousands of miles reliably since. This car, in contrast to the euro, actually feels quick, a rare feat for a w123! The turbo paired with the 4-speed manual allow this wagon to zip around town, and the US gearing allows for any speed you could ever dream of going on the highway. (In Chicago, I was following traffic, and looked down to find I was doing 90+mph smoothly at only ~3500 RPM!)

The exterior of this car is in great condition for being nearly 30 years old! You would not believe the attention this car gets around town. The brilliant white paint is deep and glossy. It looks great and gets constant compliments. It has a blue pinstripe painted on at the original selling dealer that accents the interior and was also rust-proofed when new. This one has the factory horizontal roof strips that add to the curb appeal of this classic. All glass is original, every molding and trim piece is present. The jacking points and rocker panels are solid, and the floors are the cleanest we've seen.

The interior on this car is equally impressive. It's actually the cleanest I've seen on a 300series. Don't take my word for it, take a look at the pictures! The seats look brand new, and feel extremely soft, supportve, and comfortable. The headliner is absolutely perfect, as are the visors, pillars, and every other trouble spot. The carpet is extremely clean, door panels look great, even the upper door moldings aren't all wrinkled up… that never happens. The wood trim is in good shape, as are all of the plastics; the dashboard has a couple hairline cracks. All dashboard lights and gauges work, and it even has the original working Becker radio! New Hirschmann power antenna, a $180 value.

This car was well taken care of and drives like a dream. It always starts right up and idles perfectly. The turbocharged engine runs great, it has a nice diesel sound, and picks up to speed very well. The transmission is in perfect working order, as is the clutch. Being a 4-speed, it doesn't have vacuum shifting problems of the automatic. As I mentioned, this car is capable of doing 90mph+ if you so desire. The expensive rear hydraulic suspension is also in perfect working order. Good brakes, no pulling or shaking on the highway. The e-Brake is questionable, but the owners manual recommends you leave the 4-speeds in gear anyway. This wagon is also equipped with a tow package including wiring for lights, great for taking a jet ski or fishing boat to the lake, or towing a small utility trailer for weekend chores or your business.

I personally transported this car home several hundred miles, this car was an absolute pleasure. Should you chose to pick up this vehicle yourself, I'm sure you will have quite an incredible drive home with your new vintage Mercedes. I wouldn't hesitate to drive this car anywhere. I also can get you discounted shpping at our wholesale cost.
As we've seen with other W123 estates recently, the going rate for ones with between 100,000 to 200,000 miles in good condition seems to be in the $11,000 to $14,000 range. With the manual gearbox, this could be a detriment or a plus, depending on who gets involved in the bidding. I certainly like the idea of this car. Not only do you get world renowned reliability, but with the turbodiesel engine and 4-speed manual, it makes the most of this engine's powerband while adding a bit more simplicity to the maintenance scenario.
-Paul