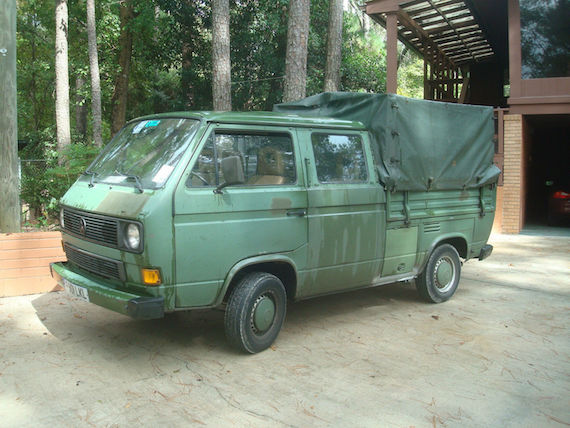 This DoKa was recently brought over from England by an importer that specializes in turbodiesel of all sorts. This 3-door pickup, originally some light-duty military vehicle – has been upgraded with the venerable 1.9-liter TDI, giving it a good amount more oomph than stock. The interior is all business, with seating for 6, a table, and and a stereo representing the luxury highlights. The exterior looks like a well-used military vehicle, with a few different drab greens and a serious canvas top that needs some work on its frame. Custom-fit gear boxes have rails inside to hold them, underscoring a T3 that is built for neither speed NOR comfort – just business. My eye is always on potential when I approach Vanagons/Transporters, however, and this TDI truck looks like it could suit a lot of different needs in its next life.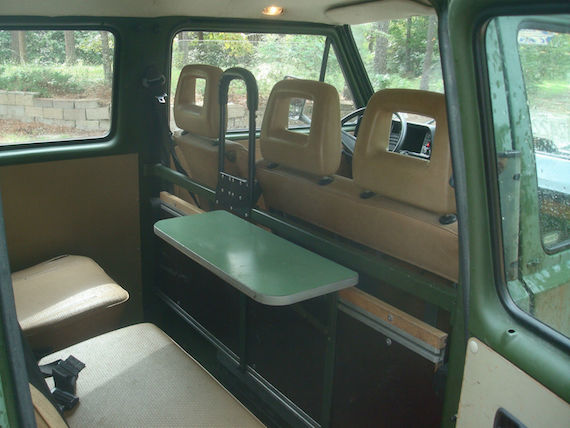 Year: 1989
Model: Transporter DoKa
Engine: 1.9 liter diesel inline-4
Transmission: 5-speed manual
Mileage: 79,000 mi
Price: No-reserve auction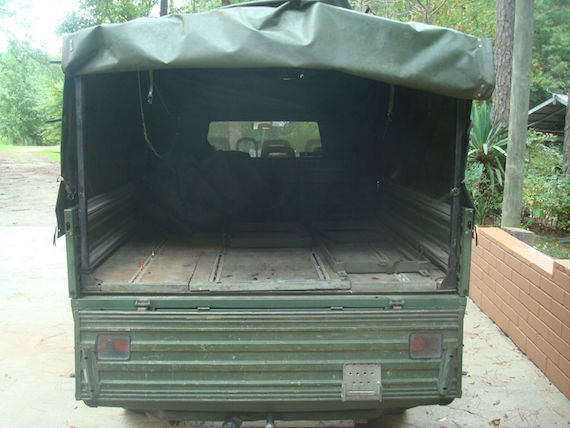 Check zombiemotors.net for more photos and information on this truck and other inventory. This vehicle is ready for collection now in Savannah, Georgia with all paperwork to obtain title, guaranteed. I am a licensed bonded, insured seller. I travel back and forth between Savannah and Portland ORegon and can help with transportation from coast to coast. After sale transport will not be a problem, but figure on up to $1000 depending on where you live, and all transport costs are to be paid by buyer.

VIN# is WV2ZZZ24ZJH093132 , but the ebay robot does not recognize this European format. Truck is a 1989 Model Year, made in September of 1988

I really love this truck, but need to sell something soon to pay for my recent move to Savannah – If I can sell my 1974 VW 'Thing' Type 181 first, I would sell it instead of this, but in the meantime I have put this up on the auction block as I am afraid I must..

This vehicle is for sale locally/ at any time for $16,900 – I reserve the right to end this auction at any time for a real cash buyer. If you are genuinely interested in buying this truck, call me at 503-810-4713 or send me your phone # so I can call you. I apologize, but I do not have time to send many emails back and forth, and it seems that the people who are serious about buying will actually want to speak 'live' anyway.

$500 deposit due at end of auction, balance due within 5 days by bank transfer, wire transfer, check or money order or cash on collection. No Exceptions, unless you have called me first to make other arrangements. If you have less than 10 feedback, or just joined ebay, call me before placing a bid or I will have to cancel it. New ebayers often like to bid and win, and then not follow through with the sale which is very unfortunate for sellers, and ebay does little to prevent or help with this.

Onto the Doka! It has a documented 128,000KM on it, which translates to about 79,000 miles. Very low, and it runs and drives as such. Has been upgraded to an AUDI/VW 1.9 Tdi engine – starts right up, no funny noises, no smoke, doe not burn oil. No leaks. I drove it 200 miles yesterday through 98 degree weather, and temperature never got over 1/4 way up the gauge. Cruises all day at 70-75MPH. Has 5 speed transmission, but is the type with a 'crawler' first gear, not an overdrive 5th gear. Plenty adequate for freeway travel (but maxes out at about 80) and returns beteen 35-40MPG!

Body is in excellent condition with only one small ding on the passenger door. Zero rust in this truck other than the smallest, occasional surface rust. Truck was obviously loved and well taken care of, and must have received constant attention (when necessary) as everything works, starts, runs, and drives excellently. Seats 3 across each row – Total of 6 inside seats.

These pictures were taken right after a rain, so paint looks 'wet' in some areas because it is! Paint is very nice on truck, but is a couple of different colors consistent with military paint quality, and is a 'flat' finish, not glossy. I can provide more photos, and do have many available on my website, zombiemotors.net

Canopy/ Canvas in back is very heavy-duty and weatherproof. HOWEVER – Sometime during transport the canvas frame was struck in the front and now the 'roll cage/ canvas frame' is bent a bit and canvas does not quite fit. Looks like will be an easy fix with a hammer to straighten out, but I have not done this yet, and may leave for the new owner to do. This is a very strong frame, but will take a few hits to make straight again (after removing canvas first)

Truck comes with the back full of extras/ accessories – Flags, headlight blinds, another canvas (Awning?) Seats, other metal panels for back – I really do not know what everything is, and so can not describe everything – but it seems all the original German military equipment is still in the truck, most in a nice, large, fitted and removable locking chest in the back of the truck.

Body/ chassis / etc is amazingly solid with no rust. Even locking under-bed storage cabinet has no rust! This vehicle is amazing. All doors work well with no sag, and close like new. Windows go up and down properly, and everything locks. Has H4 headlights for more shine at night! Even has a very nice Sony CD player/ Radio with Auxilary input , but I have not been able to get speakers to come on yet… Very economical on fuel, and will be super-reliable.

This would make a terrific work truck, or camper, or advertising truck as it gets a lot of looks and thumbs-up everywhere it goes. Could even make a nice food cart with a little thought— There is a lot of room and storage in this thing.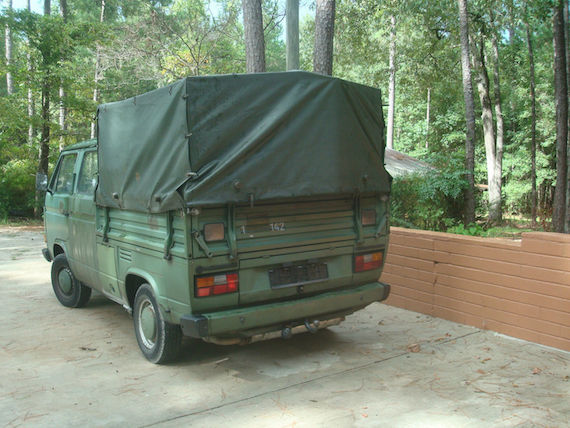 I dig this DoKa for its unabashed utilitarianism and great diesel upgrade, but the seller's local list price of almost $17k seems extremely optimistic. With a redone bed and exterior, I could see it getting something near that, but for now its rough spots stick out just a bit too much. It looks like those bidding on the auction would agree with me but the reserve is off, so someone is going to pick up this funky truck and most likely enjoy the hell out of it. Keeping it under $10k would result in a great deal on a DoKa with a lot of useful miles left in it.
-NR