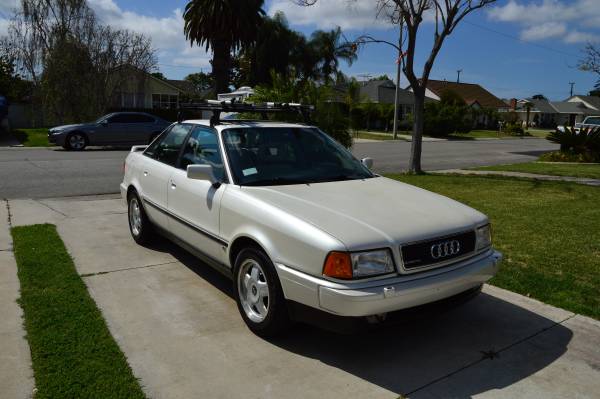 If you were looking for a sporty small executive sedan in 1994 and opted to buy an Audi 90, something was amiss. You would have waded through the miring scandal of "Accelerategate" and the media implication that your Ingolstadt-born all-wheel drive wonder would suddenly attempt to go full throttle (preferably, when your husband was opening the garage door….). Okay, so you must have had some understanding of physics, logic, spacial awareness and could differentiate a square pedal from a rectangular pedal and your left from right. That, in and of itself, isn't all that odd. But then you still bypassed the BMW dealer to look at the Audi; a move which probably surprised even them. After all, in 1994 the E36 chassis was still relatively fresh and won nearly every magazine competition it was entered into. In comparison, 1994 was the penultimate year for the B4 quattro as the new A4 was already on the horizon, and though it had received a refresh in 1992 the now B4 chassis didn't really offer much new technology or refinement over the outgoing B3. It was dressed up with some newer clothes, wheels, and a slightly more powerful motor, but it was still numerically at a disadvantage to the BMW on several fronts. The V6 produced 172 horsepower – about 17 less than the inline-6 in the E36. That V6 also hauled around more weight than the BMW did, so the Audi was predictably slower in every measure, too. The weight and larger displacement meant it got worse gas mileage. And for the pleasure of this slower, thirstier, older chassis, you paid less, right? No – walk into your dealer and select the 1994 90CS quattro Sport as shown here, and you were going to pay over $35,000 – about $5,000 more than the base price on a 325i sedan. Is it any wonder that Audi only shifted a reported 773 of them that year?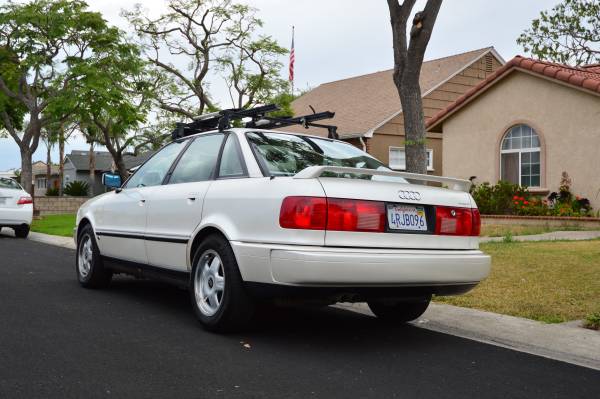 Year: 1994
Model: 90CS quattro Sport
Engine: 2.8 liter V6
Transmission: 5-speed manual
Mileage: 95,000 mi
Price: $3,800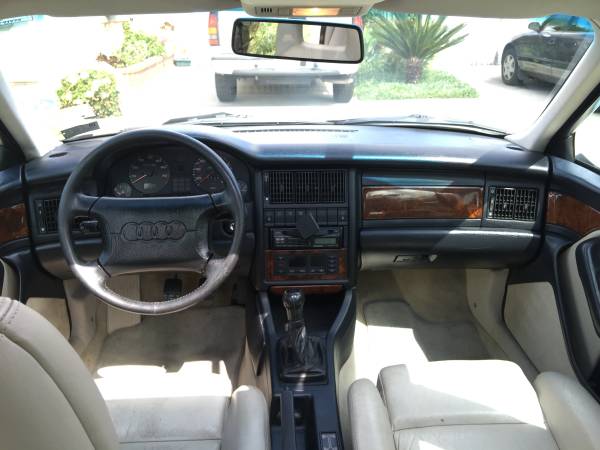 Hello,
I am selling my top of the line Audi 90CS Quattro Sport. It has very low mileage 95,000. Engine runs great and is very reliable. Interior is almost in perfect condition. 5 speed manual transmission is very smooth. 90% tire life left. I have two set of IR keys, valet key, and dealer key ID tag. Smog Passed 6 months ago and tags are up to date until October 2016. I have all original Dealer books (Owner's Manual, Warranty, and Maintenance books). No oil leaks and all services have been done at Klinks Auto in San Clemente, CA. Note I don't have service records on hand but can be attainable at Klinks. AC has a leak, and clear coat on the hood is starting to fade. Car-fax is available and no accidents. Thule roof rack not included, but its also for sale. I have title in hand and ready to sell. I would like $3,800 , but make an offer. Please email me with any questions.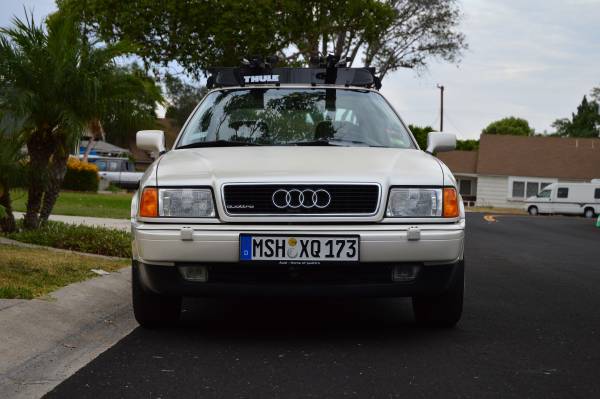 On top of the already expensive base price of the 90CS quattro, this car was optioned with the Pearlescent White Metallic paint which was an expensive option, and if I had to bet it probably had the optional ski sack as well. Those were basically the only options on the CS quattro, which in "Sport" configuration came with sport seats, the aluminum rear wing (changed to fiberglass in '95), and the 1BE sport suspension which gave you shorter rear springs and stiffer shocks. I love that Audi returned to debadging these 90s, too – the model only got two sets of rings, two tiny "Audi" crests on the lower front fenders and two subtle "quattro" badges, one front and one rear. It was as if Audi acknowledged that either you knew what you were buying or you weren't interested. You also got the great Ronal 5 spoke Sport wheels, which came on multiple models and in two bolt configurations and looked great everywhere. They mimicked the look of the 16″ Fuchs S4 wheels and made the 90s look much more purposeful than the standard 10 spoke Speedline wheels more often seen. While the 90CS quattro might not have been the natural choice when purchasing a small executive sedan, it was a lovely one; a decade on, they still look sharp when clean like this example and more refined than the plasticy looking E36. Yes, it was more old school and offered less performance, but the feel of the B4 was that it was a more expensive product and better engineered than the BMW was. Finding a good one today is quite hard, and this appears to be about as good as they come to market; and this one is compellingly priced below $4,000. While the package won't floor you in luxury, technology or acceleration (despite what 60 minutes wanted you to believe), as with most of these Audis the package is much more than the sum of its parts and this is one stellar deal on a classic example.
-Carter