My first car was an Audi 4000CS quattro. It was a wonderful car; for the most part, outside some serious fanboys no one knew what it was. That was in part because in the early 1990s Audi nearly was removed from the U.S. market thanks to some bad P.R. that has been pretty well documented. However, that wasn't all – if you looked at the 4000CS quattro or its successors on paper, they weren't very appealing to sporting drivers or to luxury-oriented buyers. BMW and Mercedes-Benz ruled those small executive markets, and the robust but semi-anemic 2.2 inline-5 coupled with a relatively spartan interior had a hard time competing with the other German marques. On top of that, if you wanted a performance model from the Volkswagen Audi group, The Volkswagen Jetta GLi offered many of the same accoutrements as the 4000 quattro – plus more performance – for much less money, and looked pretty similar in many ways. You had to specifically want the all-wheel drive system to select the 4000 quattro, and that meant slow sales. In the 1980s, a loaded Audi 4000 would cost you nearly $21,000 – the equivalent of around $46,000 today. For reference, that amount very nearly gets you into a brand new S4 today – and I assure you, the S4 is in nearly every way a much more impressive car.
To solve this problem in the 90 range, Audi went even more upscale. Audi offered a more luxurious cabin, full of wood accents, power accessories and even more sound-deadening material. The 90 was more aerodynamic, meaning that the heavy wind noise associated with the brick-on-brick B2 design was lessened. The 90 also introduced innovative safety measures, such as the seatbelt pretension PROCON-10 system and anti-lock brakes which previously had been considered superfluous on all-wheel drive cars by Audi. The all-wheel drive system was changed, as well – now with a Torsen center differential and an electronic locking rear differential instead of the vacuum operated locks on the first generation quattro. But the main upgrades to the 90 came in 1990, when the quattro received its first real engine upgrade in the form of the 7A double overhead cam 20 valve motor. With 164 horsepower on tap and a 7,200 rpm redline, the Audi product finally matched the competition's power on paper. Unfortunately, the weight of the luxury items meant it still wasn't a particularly fast car off the line – but on the fly, the 20V was a quite capable car. But, as you'd expect, the price had gone up; walk into a dealership in 1990, and you'd have to fork over around $27,000 to get into one of these 90s. Add some options – such as power seats and Pearlesant White Metallic paint, and you were really breaking the bank. Very, very few of these sedans were sold originally; much less than even its rare Coupe brother – making them a rare sight. However, those that have owned and driven them always speak of what an impressive car Audi made – and this example is one of the most impressive available today: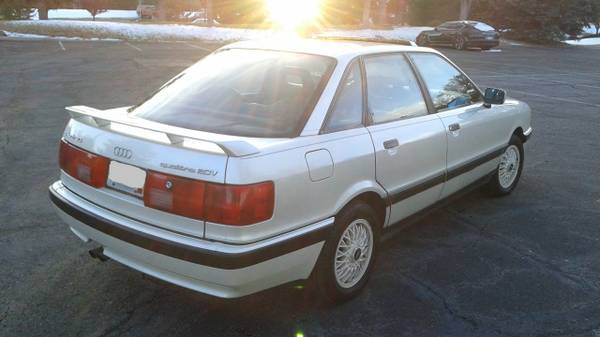 Year: 1990
Model: 90 quattro 20V
Engine: 2.3 liter inline-5
Transmission: 5-speed manual
Mileage: 149,622 mi
Price: $4,400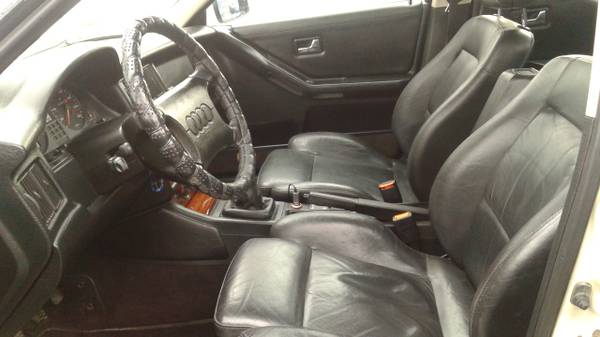 1990 Audi 90 20V AWD Pearlescent White on Black Leather

Let me introduce to you my very rare Audi that was only made in 1990 and 1991 featuring the awesome rally-derived 7A 20-valve 2.3L motor and the legendary Quattro all-wheel-drive system. It was offered in both a coupe and a sedan. During those two years Audi built around 1700 coupes and less than 1000 sedans. I'm the second owner of this well-cared for example.

Features (in order of my appreciation):
Full-time Quattro AWD with locking rear differential (let it snow, let it snow!)
5-speed manual transmission
Heated leather seats/full leather interior
Power tilt sun/moonroof
Automatic Climate Control
Aftermarket JVC radio head unit with CD and auxiliary input
Power seats with 4-position memory system
Power windows, mirrors (also heated), and locks
On-board mileage/trip computer
Cruise control
Headlight washers
Factory BBS alloy wheels
Factory spoiler

Maintenance:
Fresh synthetic oil change.
I have an extensive list of maintenance and repairs with receipts. Off the top of my head maintenance items completed under my ownership include timing belt, water pump and belt tensioners at 144k, front CV axles, professionally rebuilt power steering pump, new alternator, battery, new cruise control unit, new head gasket, valve cover gasket not too long ago, upgraded 034 fuel injectors. I also installed a brand new OEM exhaust system that I ordered from Britain. I only ran Castrol Syntec 10W-40 with BG MOA oil additive with changes every 5k miles. It runs fantastic and practically purrs. The car does not leak any fluids or consume any oil. I did a compression test about 2 years ago and it was perfect at that time.

History:
Colorado car, original owner bought it as a retirement gift to himself and towed it behind his motor home between a place in Utah and Arizona back and forth quite a few times. I bought it from his son. Son's wife had backed into the left front fender, which I replaced when I bought it about 3 years ago (but clean Carfax and no other accidents). Otherwise it was in good shape when I bought it from them. The German repair specialist who did the timing belt estimated that the car's actual driving mileage is between 80-90k – which coincides with my estimate based off of the PO's verbal history.

Condition:
The exterior of the car is clean for the year, there are a couple of dings and some rock chips to the front. There is no paint fade or rust on the car. The rubber trim on the doors is warping somewhat – I planned on deleting them via a body shop this summer to update the look of the vehicle along with installing an European Audi V6 coupe front bumper cover (I have sources if interested). I'd rate the exterior a 7-8/10 (I hope to post pictures taken in better light when the weather permits).
Mechanically the car is in excellent shape. I'd grade it 9/10 mechanically.
The interior is very clean with no rips, tears, stains or odors. Every electrical item but one works properly (see below for more details) I'd rate it a 9/10.

Needs:
There are 4 items on this car that I know need attention and hope to have complete by time of sale.
1.) The passenger fog light is broken (my sister-in-law hit a chunk of ice) but I have a replacement inbound that should be in place for the buyer.
2.) The coolant temperature gauge functions on and off. I believe I need to replace the multi-function temperature switch to correct this.
3.) The individual door locks don't operate in unison from the driver's door like they ought to – a passenger-side lock actuator is to blame.
4.) Tires are marginal. I'll throw a brand new set of 4 Falken tires on for an additional $100 or a brand new set of Continentals on for an additional $175 – buyer's choice.

I'm selling the car because I'm a tall guy (6'4″) and would like some more head room. I held out this long because it is so much fun to drive, unique and practical for Colorado.

$4400. Open to reasonable offers AFTER you've seen the car. Please text me for more information, or for open discussion, and to make an appointment to see the car. Thank you for your interest.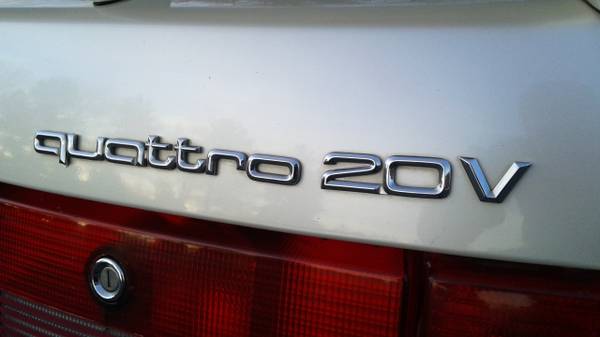 In 1990 and 1991, only the Pearlesant White cars received color-matched BBS RZ wheels. It was a throw-back to the Commemorative Design 1986 models. While not everyone loves it, this was about as top-spec as you could get a 90 quattro. The only other option was the "Sport" package that gave you unique 15″ Speedline wheels which were a different offset than the similar stock Coupe quattro wheels. The condition of this car is very impressive; not only for the model in general, but for any 1990 Audi. These cars have in general lived quite a hard life but this one's condition is well above average – right down to the paint, which typically is wrecked on Pearlesant cars. In comparison to the typical E30 crowd, this car offers a far different experience – and that's not a bad thing. They also have a reputation for being some one of the best platforms Audi produced and are sought by motor-swapping enthusiasts especially in clean form. Personally, I hope the car remains stock as so few remain; perhaps a swap to European bumpers and B3 lights, but outside of that I'd leave it the way it came. With the minor issues outlined corrected, I'd also not hesitate to pay near full asking price; I've seen equal condition 90 20Vs ask even more than this car and this one seems to be good value compared to how many come to the market. You have to want this car to select it over others, but you'll be rewarded for your discriminating tastes!
-Carter