I love the Audi 90 Coupe. Seeing it instantly makes me think of a little early-90s spaceship flying up a snowy highway, especially so when in this fetching shade of Pearl White. The black trim along the bottom makes it a little less blobby, and 6-spoke wheels suit this generation of Audis quite well. Pretty high mileage at 174k, but that just makes it a ripe candidate for some RS2-engine action. A dealer is flipping it after 2 previous owners and while there's no suggestion as to the reserve, starting at $1k points to a reasonable price.
1990 Audi 90 Quattro Coupe for sale on eBay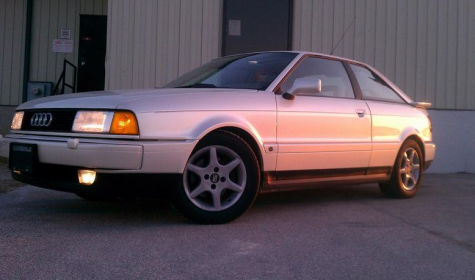 From the seller:
You are looking at one very rare Audi, the pictures speak for themselves! This here is a 1990 Audi Quattro Coupe. First owner 1990-2006, 2nd owner 2006-2012. Pearl white exterior with gray leather interior. Power heated memory recaro-inspired front seats, power sliding sunroof, power locks, and power adjustable mirrors. Other features include rear seat ski-pass through, auto climate control, cd player, zebrano wood,15″ MSW alloy wheels with newer brigestone potenzza rubber. The interior has no rips or tears in the leather, carpets are clean and have no odor issues. The exterior is in great condition as well with the original factory pin-stripe which is still intact. The body is free of any major dings, dents or scratches. On the picky side there is one small flake of paint the size of a penny that I touched up on the front passenger fender. The rear passenger fender has one very small bubble, but hardly half the size of a penny. My camera wouldn't even pick these up…..again very small and very minor. Mechanically the car runs and drives beautiful, clutch feels good and no visible oil leaks on the driveway. No check lights or warning lights are on the dash. The car starts and idles like it should. The timing belt was performed at 115k. I have a stack of service reccords to go with the car. I acquired the car for a customer who simply could not come up with the funds which he promised. It was very frustrating as i spent a great deal of time hunting one down, as these models are very rare, and hard to find in good shape!
I'd love one of these little Quattro monsters. There aren't a lot of small AWD coupes out there, the 325ix or older Impreza 2.5RS come to mind, but I think this model is the pick of the litter. If this pearly white can come in under $5k, I'd throw a ski rack on it and go for some fun in Lake Tahoe.
-NR