The recent subject of Jalopnik's great "Nice Price or Crack Pipe" feature, today's 1995 E34 540i is a clean example of one of the first V8 5-series. While not the coveted M-sport 540i, it does come with a similarly-rare 6-speed transmission, offered only in 1995, which is sure to bring plenty of fun with the willing and torquey 280hp M60 4-liter. It looks very straight inside and out, and while the white-on-white may not be everyone's cup of tea, it definitely looks like a nice to place to be. My college rowing coach had one of these exact models but in dark blue and commuted 100 miles a day in it for 10 years. He eventually went to a diesel Benz for the auto, but praised the 540i's speed and comfort for the long haul. Providing the same torque as the E34 M5, this is a great way to get 6-speed fun and clean E34 style without too much hassle or M-premium.
1995 BMW 540i 6-speed for sale on bimmerforums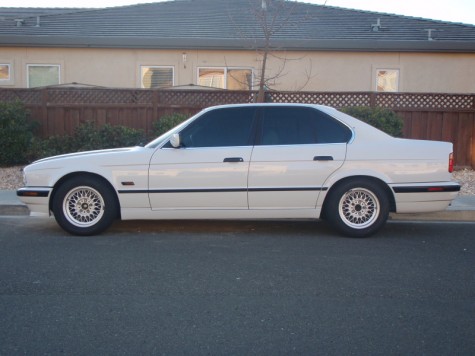 From the seller:
I have a clean title alpine white E34 1995 540i 6-speed with 112k miles. It is mostly stock with the original radio and cd changer in the trunk. Dove interior with both oem and black bavauto floor mats. Spare tire, factory jack, and tools all accounted for.

Maintenance
-Oil Changed every 3k with mobil1
-Flushed Cooling system with BMW coolant
-Flushed brake fluid with ATE Super blue
-New Fuel filter and spark plugs
-New Akebono brake pads
-New front and rear rotors
-New motor mounts
-New Oil pan gasket
-New Valve cover gaskets
-New Water Pump
-New Belts
Along with many other various things I cant remember

Modifications
-20% tint with lifetime warranty
-DDM 55w 4500k HID kit
-Clear corners (still have the ambers also)
-Power coated valve covers
-Muffler Delete
Muffler delete has to be fun to hear the M60 roar. The modifications aren't overdone and I dig the badgeless rear. With 84% of Jalopnik voters giving it "Nice Price," I think I'll agree and call this a good deal for some nice, lower-mileage German speed.
-NR