Warning!
This post is in our archives. Links in this post may have been updated to point to similar cars available to bid on eBay.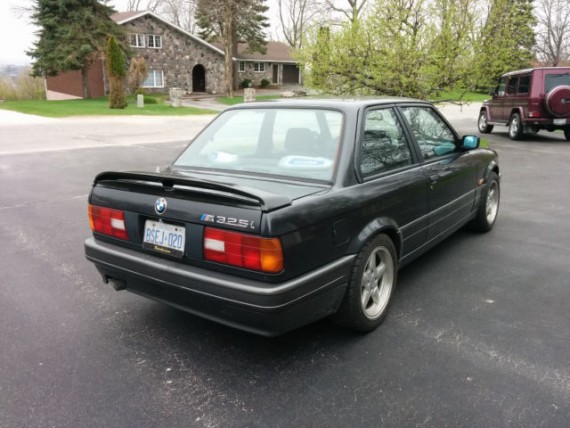 Right out of the gate I have to say there are a few things that I really don't care for on this car. The M badge on the trunk is obnoxious, I do not like the current marketing gimmick of slapping the "fastest letter in the world" all over BMW models and it's even tackier on a classic E30. I don't know if the seller thinks it is a clever or what but with these classics I believe that only an M engine justifies an M badge. Also, AC Schnitzer wheels have never been my thing, not even as a winter set. In my opinion chubby little wheels are not a good look on any car but especially here. An E30 needs OEM basket weaves or some generation of M3 wheel to maintain the classic look. However those are both personal cosmetic dislikes, both easily remedied, so I find it easy to look past them and see the potential in this example of a unique E30.
After all, there is a whole lot to like here. The Recaro cloth seats look immaculate and I can tell you from personal experience that they're very, very comfortable. The M-Tech II wheel is one of my favorite BMW wheels of all time, great thickness, perfectly cut out thumb rests and visually pleasing unlike the monster airbag wheels that followed. The M-Tech II tiller does come in two different sizes, 365mm and 385mm respectively. I've only gotten my hands on the smaller of the two but I can't imagine the larger one being a better option. The seller doesn't note which wheel he put in so that's something I'd want to find out early on. Outside the car looks pretty darn clean for living up in the great white north. Again I'd need more information as far as the car's life story is concerned but overall it looks like it has lived on easy street. Of course looks can be deceiving, especially with these cars so serious homework would have to be done to determine if this car is worth your time. As you'll see in the gallery at the bottom of the page, the dash is cracked so that's something that'll need attention rather quickly and there's also no A/C, a deal breaker for a Southern California resident like myself. However if you don't need cold air on your face and couldn't care less about a visible fault line in front of your eyes all the time, then perhaps this E30 is for you.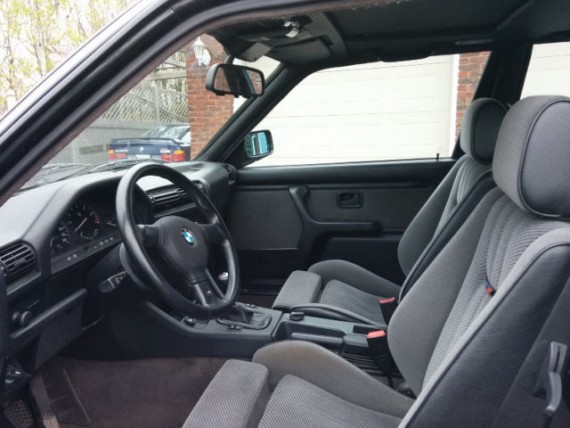 Year: 1990
Model: 325i M-Tech II
Engine: 2.5 liter Inline 6
Transmission: 5-speed manual
Mileage: 37,903.6 mi
Price: $15,900
This February 1990 325i M Technic II is a Japan-market car (more info on this model: http://www.e30zone.net/e30zonewiki/index.php/325i_Sport#Japanese_M_Technic_2)

I bought the car from Japan because of the low kms, excellent condition and unique colour combination. It was a 4-speed automatic originally which I had converted to 5-speed manual. I have all the parts for the automatic and they will accompany a sale of the vehicle.

The car is in very good condition. There is no rust, the seats are like new with no signs of wear, the headliner is immaculate. There is a very bad crack in the dash however, and the A/C is not working. AC Schnitzer rims, Recaro sport seats.

Partial list of the parts replaced:

-Koni Sport Shocks front & rear ($680)
-new springs front and rear ($400)
-suspension mount kit with rear shock mounts from Turner ($195)
-two pages of parts associated with the transmission swap including Sachs clutch kit, clutch master cylinder ($913)
-throttle cable
-four tires ($1130)
-BavAuto shifter rebuild kit ($314)
-driveshaft from Turner ($736)
-lower control arms right & left

Copies of all invoices are available.

Fun car but I have four BMWs and need to thin the herd (also looking to sell an Alpina B10 Biturbo).

More pictures here: https://www.dropbox.com/sh/wb46n0g3mfz2qkm/AAAhQIDm12cuHUg4-C4g7wuIa?dl=0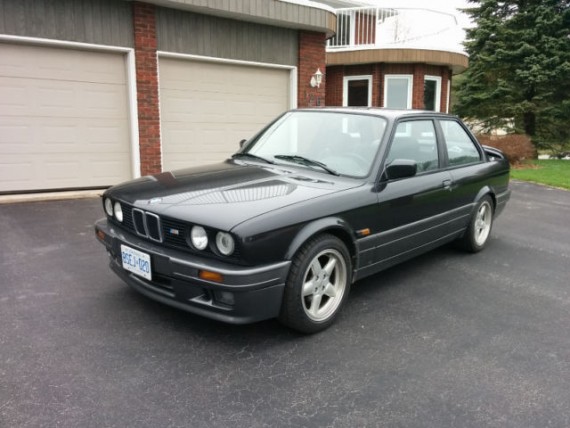 Things to consider here are where this car came from, the reputation of the shop or individual who did the 5spd swap and the low mileage. The first two could work in your favor during negotiation but the third works in that of the seller. 38k on the clock is low for any classic BMW but for an specialty E30 it's really impressive. I can't say whether the asking price is fair or not without knowing a whole lot more about the car but taking it at face value, I'd say yes. New tires, Koni sport suspension and whatever new parts related to the transmission swap might just make up for the cracked dash or A/C but not both of them. What I think does make up for those two issues is the tidiness of the interior, the highly desirable seats and steering wheel are worth a couple grand in this market and after all, they're inside an E30, that alone should be reason enough to consider this example. The only way this thing could get better is if it was a South African model with the Uberkaro check seats, painted in the 1991 only special order color of Granitsilber Mettalic and had an 3.2L M30 in the engine bay. I know, that's just greedy and I should be happy that this is a clean legit M-Tech II with a reasonable price tag.
-Andrew