Not a day goes by that I don't think of my 1988 BMW 325is. The sound and the handling to this day have left a lasting impression in my petrolhead brain. Whenever I see an E30 for sale in good condition it has me thinking if it would be worth selling my R53 Cooper S and going back to my roots. This 325i sedan certainly is clean but doesn't arouse 100% interest with me, due to the lack of a third pedal. Still, this 325i is a one owner vehicle in Alpine White, a desirable color as white is rather fashionable these days.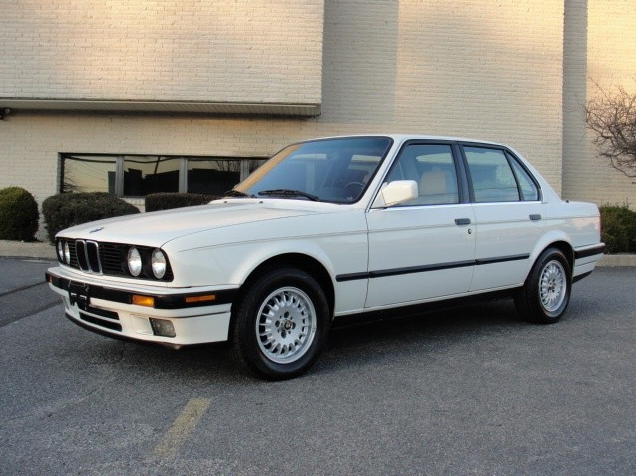 Here is a beautiful 1990 BMW 325i. Finished with an Alpine White exterior and tan leather interior. Driven just 101,054 careful one owner miles since new. Options include an automatic transmission, power sunroof, leather seats and much more. This BMW just underwent a complete oil and fluid service within the last 20 miles and it drives better than it looks. The 6 cylinder engine is strong and powerful and the automatic transmission shifts properly through all the gears. The steering is tight and precise and the brakes feel just great. All of the electricals work perfectly and the air conditioning is ice cold. This is really a fantastic BMW to drive.

The interior is really nice. The optional tan leather seats are in remarkable condition (see pictures) showing just minimal wear to the seats. The dashboard is like new and even the carpets don't look or feel like they have been stepped on thanks to the BMW floor mats that have been protecting them.

The exterior is really what sets this particular 325i apart from the rest. The Alpine White paint is in fantastic condition (see pictures) with no major scratches anywhere at all. The paint is still bright and shiny just like it was in 1990 when this BMW was on the showroom floor at the BMW dealership. Add the optional allow wheels mounted on great tires and this BMW does stand out from the rest. The 1990 BMW 325i really is the ultimate older sports sedan. It has fantastic looks, great visibility and all of BMW's legendary safety, luxury and reliability. I have owned a lot of older BMW's, but this one happens to look and drive nice as any. The only real "apologies" to this 325i are a dent on the right front by the headlight (see picture), and a couple of minor nicks that are to be expected on any used car.
This isn't the most exciting or fast E30, but I admire this car for being an honest, well sorted example of one of BMW's best. You don't find one owner E30s everyday, and the condition this car is in matches its history. If this car was a 5 speed, no doubt interest would be higher, but as a starter car or for someone looking for a fun commuter car with a good combination of reliability, power and economy, look no further. The almighty E30 is up for the challenge.
-Paul