The Corrado is like an ex-girlfriend, the one where you romanticize the relationship and remember the great aspects, but if you try to rekindle that fire it always ends up more complicated and frustrating than seems worth it. The Corrado got amazing reviews when it came out, and is still a looker with plenty of fun factor, but it's nearly impossible to find one that is even close to how it came off the showroom floor. They're all either modified to the extreme or beat to hell. Perhaps, like the best ex-girlfriends, the really quality examples are tucked away and held onto with great vigor by their current boyfriends.
Today's Corrado definitely leans towards the mod-racer end of the spectrum, but is actually looking pretty nice in the great Audi TT Aviator gray with a matching Audi 225hp 1.8T. The mod list grows and grows along the standard VW Group and aftermarket paths, but unfortunately this seller falls into the trap of keeping a little too close of tabs on his receipts. A claimed $45k invested and an $18k asking price make this ex-girlfriend, regardless of how many surgeries she's undergone, too expensive for me.
1990 VW Corrado for sale on eBay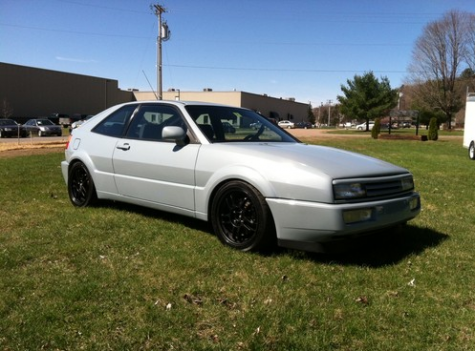 A litany of modifications demonstrating "the cost of build is endless":
Don't miss out on this one of a kind custom V Dub!!! Up for sale is a full custom Corrado from years in the making finally finished!! So where to start… Well almost 100% of the car has been replaced, restored, re finished, or just plain upgraded!! Paint job All custom done by Joe's Collision Repair Center in Morrisville VT with Aviator special edition Audi paint TT and all paint receipts total up to more then $9800 which may not be all of them… Engine bay all filled and smoothed and customized… Show ready!. Engine wiring harness is hidden/tucked, Audi TT 225 HP AMU engine with around 34xxx miles $3700 used.

Here are some prices of some of what has been installed on the vehicle Kinetic Motorsport front mount inter cooler $240, Autotech front and rear cross drilled rotors and PBR ceramic pads and steel braided brake lines and upgraded front Girling 60 twin piston calipers and all calipers rebuilt and powder coated total brake set up $1250, BBM solid front motor mount, $50, Eurospec G60 flywheel and Sachs VR6 clutch kit $600, Autotech front sway bar $225, Urethane sway bar and control arm bushing kit $160, Remote reservoir coolant tank $120, Electric fans $150, Canadian Recaro power seats and interior $1000, Polished aluminum door sills $105, Carpet $150, Patec Holeshot Coilover suspension kit $850, MK2 gauge panel with boost and oil gauges $200, AWE bailey motorsports DV30 diverter valve $170, Techtonics cat back exhaust $774, Clear lenses $235, front lower lip spoiler $200, roto sub zero 16″ alloy wheels painted black used $400, 205-45-16 Bridgetone Potenza RE-11 tires $800, EMPI axles $600 and more.

Also installed on vehicle New Hela Eurospec headlights,Vehicle has new brake master cylinder, Hela Eurospec headlights, door handles, ball joints, strut top mounts, antenna base, wheel bearings, brake lines, blower resister, timing belt set up, oil catch can, hoses, headlights, new motor and transmission mounts, 034 efi stand alone fuel management, bushings, hood, bumpers, Canadian spec dash with lower panel, windshield, window control modules, close ratio power steering rack, brake booster, converter to non abs brakes, e-brake cables, tie rod ends, rack boots, nuts, bolts, clips, bushings, pulleys, GLX rear sub frame, washers, brackets, ECT…. have receipts from dealership for all new hardware " pretty much " , custom inter cooler piping, and down pipe, synthetic oil change, Vermont state inspection, aftermarket grill and Kamei eye brow, momo Italy competition steering wheel. Has glass sunroof installed in car, and also comes with custom painted to match vehicle sunroof panel that can be installed. Comes with JVC KD-HDR60 cd player head unit with USB port and satellite ready, infinity component speakers, kenwood powered sub and amp. Prices I listed are some of the higher priced receipts I have, but the receipts I have total up to over $22,000.00 and do not include any labor, momo wheel, stereo, grill, eye brow, headlights, 034 efi stand alone, custom tuning, and many many other parts and costs… So we are thinking around $45,000 invested and countless hours. As you can see the cost of build is endless…
I dig this Corraudi. I've always loved that TT gray, and the modifications are thorough. Unfortunately, it's a great demonstration that tuner cars are no investment. Even if it's taken $45k to get here (including labor), it's hard to imagine any Corrado going for more than $15k. The bids appear to reflect this, as just 3 people have bid it up to $5,000 at time of writing. It's fast, it's nice, but don't drop $45k into an old VW unless you plan on counting at least $30k of that as paid for by personal enjoyment.
-NR