Nate featured a nice, original Mk1 Jetta coupe for sale a few weeks ago, and it struck me that I haven't seen many good, honest Jetta coupes for sale as of late. Sure enough, once I have a certain car on my mind, several come about for sale. Here is a very original 1982 Jetta GL coupe for sale north of Stuttgart in a nice, period correct light metallic green.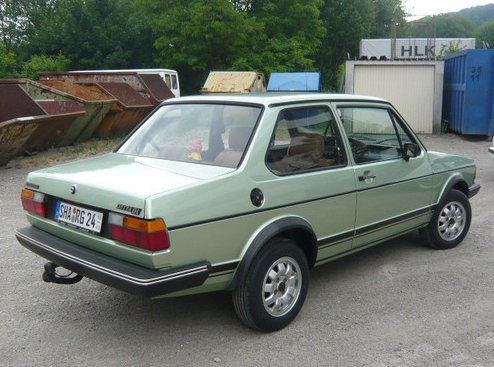 Super rare! Unrestored original VW Jetta 1 in the best trim level "GL" from pensioners/ collectors in Inarisilbermetallic. Accident free, unwelded to 99% rust free, original paint, complete history including original purchase agreement up to final inspection bill. Only 120,000 km, very rare 4 + E manual. Runs simply fantastic, and got a successful H-registration according to § 23 for classic cars, as well as new TÜV. An absolute collector's item on the original steel wheels with chrome hubcaps as illustrated. The VW alloy wheels (new) can purchased at an additional cost.
Sometimes owners of mint condition examples of ordinary vehicles will advertise their cars at questionably high prices. At around $5,900 USD, this Jetta is a tad pricey for a Mk1, as prices this high are usually reserved for original or restored GTIs. It is in the ballpark though and if a deal could be struck around $5,000, it would afford some room in the budget for shipping costs for US Volkswagen enthusiasts.
-Paul