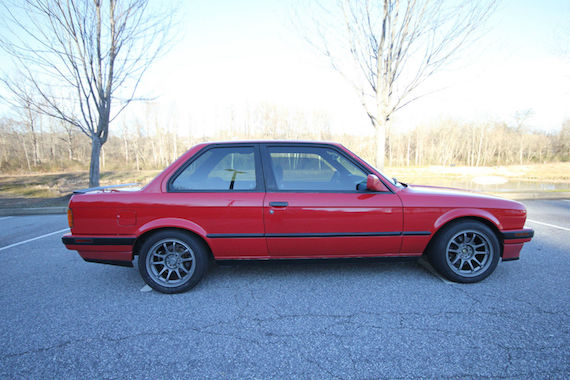 Who doesn't love a clean E30 on a Friday evening? This 318is is well-traveled but "mechanically perfect" thanks to a thorough owner (now seller). It doesn't look like a low-mile car but it looks good, with the classic red and Shadowline combo complemented by purposeful (if dorifty) bronze rims. The interior clearly shows this car is almost to the double-century, but recovered seats would make it nearly perfect. The 318is lacks the silky inline-6 but gets the most modern powerplant in the E30 family, the eager 130hp M42 inline-4 and even nimbler handling than the 325is. Clean ones are indeed hard to come by, and this one is well done.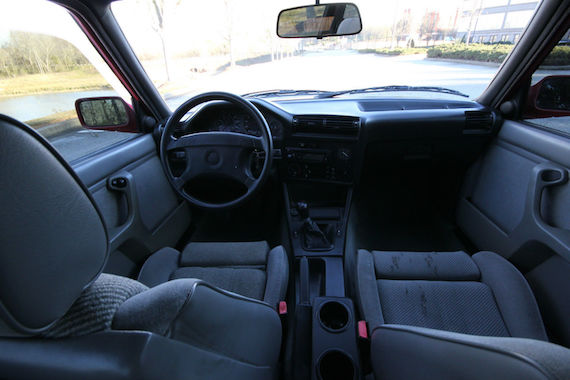 Year: 1991
Model: 318is
Engine: 1.8 liter inline-4
Transmission: 5-speed manual
Mileage: 187,000 mi
Price: No-reserve auction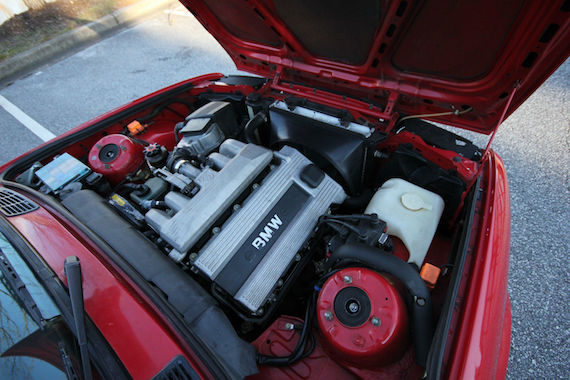 I have for sale a beautiful 1991 BMW 318is (e30). For 1991 ONLY, BMW offered the 318is, which was virtually identical to the 325is but for its engine. Instead of a 2.5-liter six-cylinder M20, the 318is was powered by a 1.8-liter M42 inline four.

The car is Brilliant Red with grey cloth sport interior, 5 speed, manual sunroof, and power windows, with central locking doors. The car has just over 187,000 miles.

Mechanically this car is in perfect condition. I have gone through the entire car, and would not hesitate to daily drive this car anywhere.

This has been an absolute great car and I have spared no expense to bringing this classic back to life. The car has a clean Georgia title with all of its maintenance history and receipts.

All of the following maintenance has been done in the last couple years.

Engine:

Throttle Body heater delete
Valve cover gasket
air filter
thermostat
new Behr radiator
radiator hoses
oil change
intake gasket
vacuum lines
throttle body gasket
heater hoses
accelerator cable
fan clutch
belts
intake boot
ac expansion valve
ac has been converted
Turner motorsports M42 chip
Drivetrain

transmission mounts
guibo
driveshaft center support bearing
new shifter kit (tight)
transmission shifter seal
new redline diff fluid

Suspension

Billstein sport shocks in front
KYB shocks in rear
Vogtland lowering springs (1.5″ drop)
Meyle HD rear shock mounts
control arms
refurbished "rack doctor" steering rack
inner and out tie rods
sway bar end links
rebuilt OEM axles
Condor speed shop subframe bushings
Condor speed shop rear control arm bushings
Condor speed shop M3 offset front control arm bushings
Condor speed shop differential bushing
steering u joint
FEQ strut mounts
alignment

Brakes

rotors
pads
oem rubber brakes lines
brake fluid reservoir gaskets
flush and bled brakes

Interior

Alpine head unit
One touch up and down windows
rare factory black headliner
crack free dash
euro analog clock

Exterior

Euro "Smiley" headlights
Euro clear front turn signals
TRM 15×8 wheels wrapped in Dunlop Star spec IIs
The absolute only cons about the car are a couple imperfections in the paint and the interior

The exterior paint is pretty good, but not perfect. There are some dings and paint chips around the car no bigger than the size of a popcorn seed. The driver side door seems to have faded just a slightly darker color than the rest of the body. I am not sure, but it is single stage paint and might be able to be buffed out. Finally the right rear lower panel below the bumper, looks to have been touched up. No body damage, I have looked on the inside of the car to verify, but maybe paint was chipping and previous owner tried to touch it up with non factory red (still matches pretty good).

The grey cloth interior is not bad at all, but shows a little wear. The grey sport seat cloth interior is original to the car.

Those are the only faults on the whole car. mechanically you cant find a nicer e30. Everything has been addressed. The exterior, even with faults, is still very very good. No body damage. No rust.

Its becoming very hard to find clean well sorted E30s. I hope the new owner continues to appreciate the car.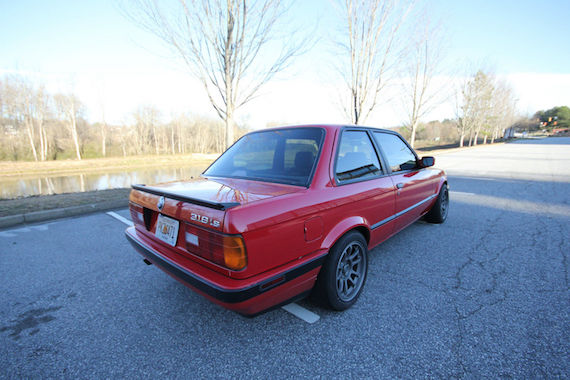 This car has a lot of potential for a lot of different buyers. For me, I'd find some Style 5s and rock it as a daily driver. Instead of a poor man's 325is, let's look at this as the more successful man's Mk1 GTI. Those are heading north quickly, and $6,500 would get you a clean one. $6,500 is the no-reserve starting point, and the auction is ending in 2 days. It's well worth that.
-NR