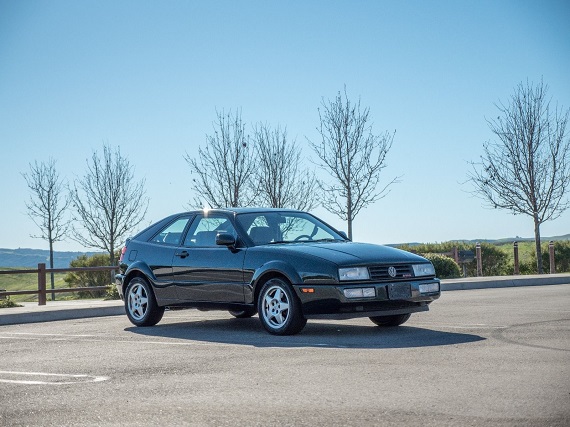 We have a tendency to look at older cars through rose-colored glasses. Today, by all accounts, the Corrado SLC is a modern classic – but was it always so? In fact, if we go back to the original tests of the cars, as with most Volkswagen products it wasn't the fastest, quickest, best turning or braking. It didn't turn the fastest lap times and yet was usually the most expensive. As such, in comparisons like Car and Driver's 1992 Sport Coupe comparison, the Corrado finished only mid-pack. But as with other Volkswagen and Audi products, there was an intangible element to the Corrado that made it somehow more appealing than the competition.
By 1992, the supercharged Corrado G60 was underpowered compared to the competition given its relatively high weight. Volkswagen solved the problem with the introduction of the awesome narrow-angle VR6 motor, rated at 178 horsepower and 177 lb.ft of torque. New wheels mimicked the design of the of the outgoing 1991 BBS wheels on the G60, but were subtly different; underneath hid now 5 bolts and a redesigned suspension, brakes and electronic traction control system. Subtle changes were new clear signals and a re-sculpted hood, along with new nomenclature – the VR6 model was now dubbed the SLC. Further changes were rolled out in 1993; a change of wheels again to the more purposeful 15″ x 6.5″ Speedline 5-spoke design was most notable outside, while inside a revised dashboard had mostly new and more upscale switches, dials and gauges. A fair amount of the 1993-1994 Corrado SLCs were shipped fully loaded, now with a price a staggering $10,000 more than the 1990 base price at a lofty $28,000. That meant few sold, but even though by the numbers these Corrados weren't the best deal, much like the contemporary Porsche 968 the SLC proved more than the sum of its parts. Even a decade ago some like Richard Hammond from Top Gear were declaring the still fairly new Corrado a future classic, but more recently established collector organization Hemmings tipped the Corrado as a great potential collector. Great! Now, where to find a nice one? That's a larger problem; the Corrado was so expensive that few were sold here, with low thousand numbers in each 1993 and 1994 production which would be the last year of offer in the U.S.. We've got quite a great example to feature today, though: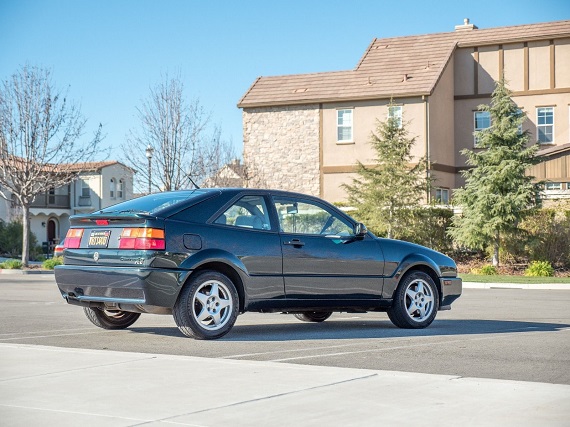 Year: 1993
Model: Corrado SLC
Engine: 2.8 liter narrow-angle VR6
Transmission: 5-speed manual
Mileage: 95,500 mi
Price: $11,000 Buy It Now
1993 Volkswagen Corrado SLC
Classic Green w/Grey Cloth Interior *CLEAN
95500 miles
Manual Transmission
Cloth Grey Interior *RARE!
CLEAN Title *smogged and passed
CA Registration Paid as of 11/10/2015

Comes with:
– Factory original Speedline rims
– Factory original Passat glass moonroof (uninstalled and same grey color to match interior)
– Factory original gray Corrado floormats and the Corrado front bra (not pictured)

I am the 2nd owner of this late model 1993 VW Corrado SLC. The first owner was a 60+ year old woman who babied the car. I have the FULL service history of the car.

The car is a factory original. No modifications have been performed. I purchased the car from Gene Langan VW in Glastonbury, CT over a year ago. I purchased some tasteful items that I wanted to modify to the car but never got around to it (see above).

Another item I should add about my Corrado is that the dealer never installed the ugly black side strips. I actually have the stock side strips with the taping still intact on the sides in case you ever want to install but I wouldn't.

I'll even throw in an extra set of rims that came with the car you can see in the video above.

Car has been serviced at Tomas Sport Tuning in Berkeley, CA. Only Premium Unleaded gas has been used. Trust me you won't find a cleaner Corrado. This is my 2nd one that I've owned in my life and I'm only selling because I don't have room for 2 cars. My daily driver is a Prius, not the Corrado.

Some small things here and there are expected with a 23 year old car, interior is a 9/10 and exterior is a 9/10

Recently work completed by Tomas Sport tuning at 94k:
– Right wheel bearing – FIXED
– Right inner CV boot – FIXED
– Water pump was leaking coolant – not a big leak, very small – FIXED

The Bad:
– The car sometimes makes a squeeling sound when in reverse after a cold start, Tomas Sport Tuning said its not an issue, just the brakes may need cleaning/some good WD40
– The undercarriage is clean (no rust) except for the exhaust, which you may want to replace but I haven't had any issues. It's the stock original exhaust
– The interior plastic in the rear has a small crack. I've already purchased a replacement part which would make the interior 10/10 – so this is basically fixed (you can see in the photos shared where the crack is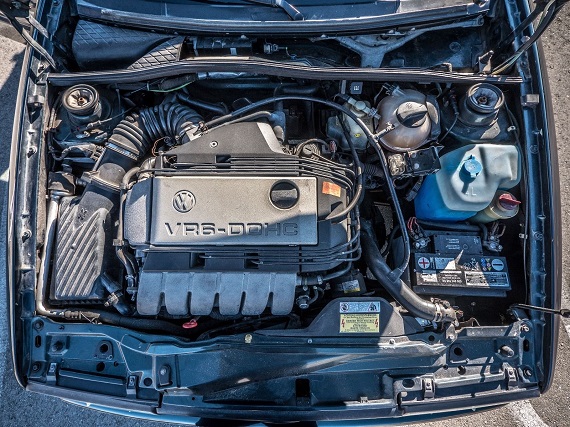 Bucking the tradition of a poorly described, poorly photographed and dirty presentation listing, this pristine Corrado certainly shines with its all original splendor. The Classic Green Pearl looks fantastic, and it's certainly more rare to see a non-leather late car. One of the better photographed interiors I've seen, the gray cloth interior is sharp and very clean. On top of the rarity of finding a clean and unmolested Corrado, there's a full service history, lower mileage and even some extras that come with the car. Here's a great example of a fun to drive car in superb shape, with lower miles but not so low that you're afraid to drive it. On the verge of being antique in some states, though Corrados enjoy a solid enthusiastic following today you're not likely to find many better than this one. Not only would this car be welcomed at virtually any European show you'd turn up at, but it's likely to retain its value very well if kept in this condition. Just make sure to run it up the tach once in a while to hear the great tenor bellow of the signature VR6!
-Carter