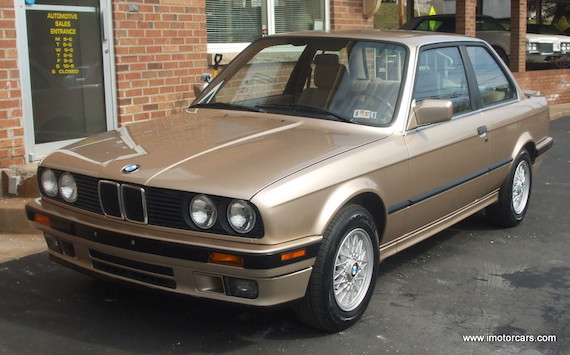 Here's a doozy, folks – a 1991 325i that's covered just 20k miles. The car didn't cover much ground in its first decade, after which it went unregistered and unused for the better part of 15 years. It was then picked up by a Pittsburgh auto dealer who is now liquidating his stock for retirement. He's letting it loose with no reserve, as well as the other car on his eBay profile right now – a Ferrari yellow convertible Cadillac Allante. We talk about rare cars here, but that Allante – whew!
For being such a fun little bronze coupe, this thing sure hasn't found much love. It is in pretty much brand-new shape though, especially after a repaint to correct years of sitting – perhaps it was the automatic transmission? Whatever the reason, it's time for it to find a home that appreciates what a lovely representation this is of the E30 breed. It should be on the road, daily driven by someone who likes driving but needs shifting taken care of.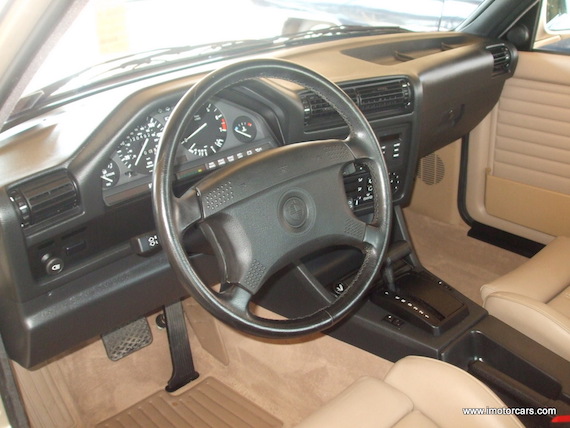 Year: 1991
Model: 325i
Engine: 2.5 liter inline-6
Transmission: 4-speed automatic
Mileage: 20,490 mi
Price: No-Reserve Auction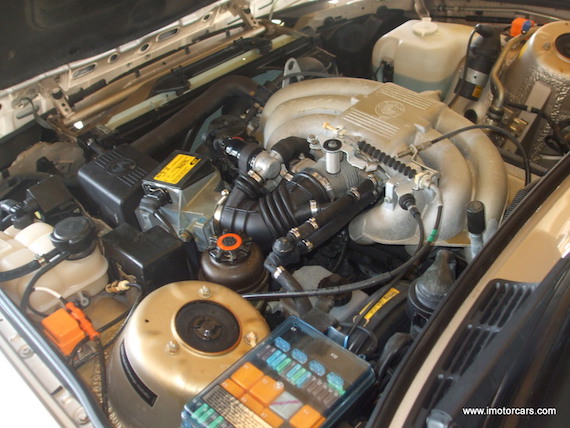 Greetings to All!! After 23 years in business(44 years if you count when I started), I have decided to Retire!! International Motorcars of Pittsburgh LTD. will close its doors on May 31, 2016, after being located in Export, Pa 15632 since June of 2005. It's been a GREAT home, and I feel quite privileged to have been a part of this fabulous community!!

The remaining inventory will be fully sorted, unless noted in the description, before being listed and sold. EVERYTHING on the website is for sale. Eventually, It will all be sold here at NO RESERVE! Please be a REAL buyer when you win! Ask whomever you need to ask, and please have your finances in hand.!!

Inspections during the auction are welcomed and Encouraged!!

We have been selling here since 2000, and have stellar feedback of 1250, of which I take tremendous pride in !!. I try VERY hard to sell a good car at a fair price. Everything will be sold at NO RESERVE, AGAIN……..Please be ready to complete the transaction when you win!!!

Greetings to All!! imotors is quite pleased to offer possibly the nicest BMW E30 325i available anywhere! 1991 was the Last E30 2 door to ever grace our shores(Enter the all new "E36"). This is the ONE that everyone wants!!! Last year production with all of the desired options. BMW lovers everywhere get weak in the knees when one like this becomes available. A low low mileage, unmolested and unmodified specimen that has spent most of it's 25 year life hiding out in someone's garage!!! Examples like this one are unheard of! Most have over 200 Thousand miles by now, and are still going strong.

We were lucky enough to acquire this low mileage BMW through a friend of a friend. I am told that it was purchased way back(Carfax says 2001, But I know it was back around 1995 or so, as told to me by the son of the mother who inherited it from the father who purchased it way back)!! It was last registered in 2000, as evidenced by the Ohio tag that I removed. We purchased it from him in September of 2015

He told me that it lived in the garage up until about 2-3 years ago, when it was relocated to the driveway. We picked it up in that very spot.

Recommissioning an E30 after 15 years of sitting was no simple task!! Being such an amazingly original car, we replaced the fuel tank, and fuel pump with brand new units!!! Also a new Bosch fuel filter was fitted, along with a fresh oil and filter change. It fired right up and ran like you would expect for a 20,000 mile car!! We changed all of the brake hoses, and did a complete brake fluid flush. Pads and rotors remain factory original, and stop just great….nice and smooth with almost no pulsation!! We had a timing belt service performed with a new tensioner and engine drive belts. I opted to leave the original water pump alone. The A/C needed a re-charge, and was retrofitted to R134A. We replaced the 4 original Michelins with 4 brand new Nexens fitted to the original factory issued BBS alloy wheels. The spare remains original, and untouched!!

The cosmetics weren't as straight forward!! As you all know, BMW's Bronzit, and Cashmere paints(Along with silver, and other high metallics), have a tendency to get "Hazy", and "Blotchy" over the years. Being outside in the driveway for a few years certainly did not help!. As there was ZERO damage or rust, we decided to have the entire car repainted to coincide with the rest of it's pristine time capsule condition!

It is now absolutely stunning!!! The interior with its timeless Recaro Sport Seats is totally 100% original. No repairs or dyeing were necessary. Everything works as designed including the cruise control, and the BMW sound system with it's factory installed Hirschmann antenna. Again, this is a totally unmolested and unmodified example!!!

Please look closely at the many detailed photos below. There are many "Clues" to be seen to support the low mileage and originality of this E30. Look at the wheels and wheel bolts behind the wheel centers. Also look under the hood to find many original and untouched items such as nice and shiny hose clamps and nice white coolant and washer fluid containers, etc. We have many underneath pics also to show just how nice this E30 truly is!! Please ask, and we will be glad to send you a link!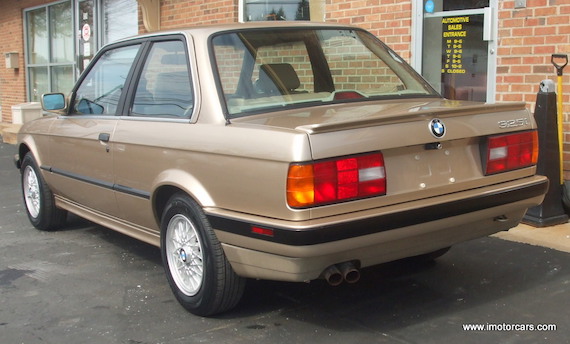 What multiplier would you use if this had a manual? 1.5x? For now, bidding is modest compared to what a lot of more enthusiast-oriented E30s are going for. There's still time left on this auction though, so this should set an interesting reference point for where the market will go with no reserve.
-NR