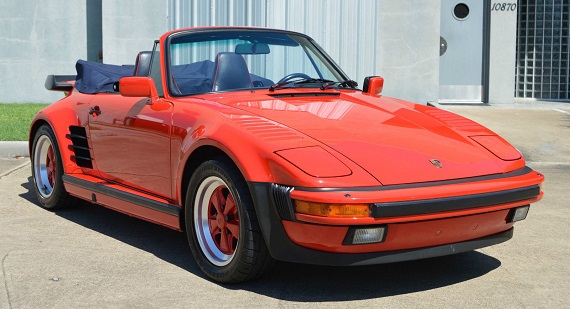 I'm going to take a break from "regular" Porsches to go to the full length of excess, at least with regard to road cars. Here we have a 1988 Porsche 930 Cabriolet with the factory Slantnose option and a mere 9,100 miles on it. By itself it's nearly a preposterous looking car and while stunning it's not likely to be a car most would call beautiful. Add to that already rare and interesting design a specially ordered Midnight Blue leather interior with contrasting Red piping along with a burled wood dash and you have a car that's full of contradictions. It's both sophisticated and garish. Powerful and dynamically befuddling, but capable of relaxed top-down cruising with the wind in your hair and sun on your face. There are few cars in Porsche's history more polarizing than a 930 Slantnose, with the Cabriolet raising that bar even further. But they are extremely rare and desirable nonetheless and near impossible to find in this condition.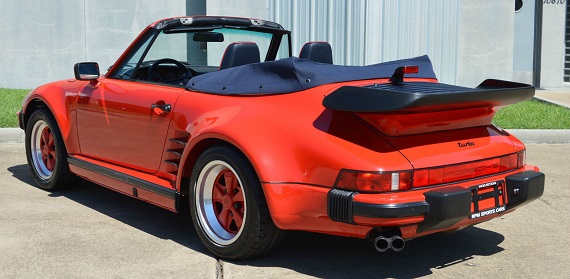 Year: 1988
Model: 911 Turbo
Engine: 3.3 liter turbocharged flat-6
Transmission: 4-speed manual
Mileage: 9,100 mi
Price: $328,500 Buy It Now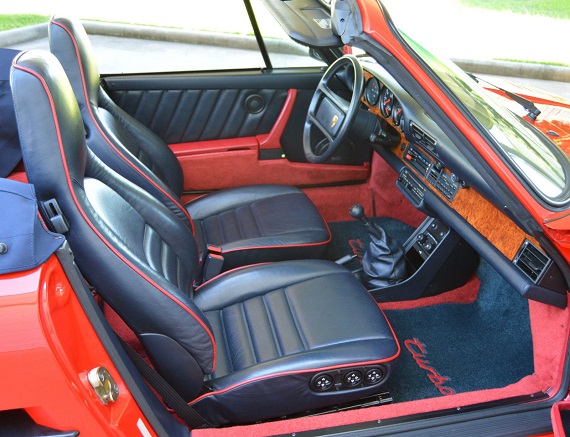 Guards red/Midnight blue, 9,100 miles, factory 930S slant nose (M505), factory Sonderwunsch/Special Wishes car, special full leather to sample Midnight blue interior with red piping and carpets, factory burled wood dash, alloy wheels in Guards red, special factory Blaupunkt radio, CD player and speaker package, limited slip differential, power top, lumbar seats, factory alarm, steering wheel with raised hub, full tonneau cover in dark blue, luggage compartment black velour, fresh service with new tires, 1 of 112 factory built cars, window sticker, one renowned auto industry owner Vic Edelbrock, finest available.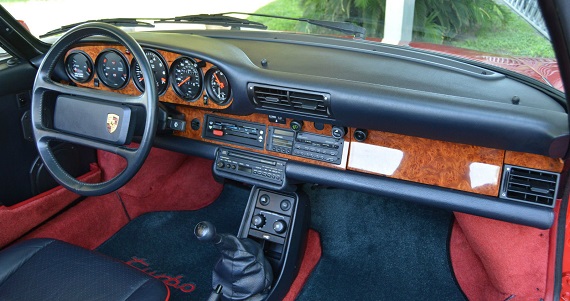 RPM is known for having some of the best Porsches available. There isn't usually a large inventory, but what is there is always interesting and in fantastic condition. As we'd expect, this 930 Slantnose is no different and by virtue of its special options it really provides for an interesting ride. I can't say this one is quite to my tastes, but then again a Slantnose Cabriolet itself isn't to my tastes so I'm out from the jump. However, as a car destined for a collection the various contrasts from the wood dash to the very nice Midnight Blue leather interior to the basic ethos of the 930 itself all serve to provide a slew of talking points around which this 930 makes for quite the centerpiece. When I first looked at it and saw the asking price I was convinced this was an '89 and that I had misread the title or there was a typo. But it appears it is indeed an '88, meaning it lacks the one-year-only 5-speed transmission of the '89. In that regard, I think the price will be tough to reach, but buyers are also extremely unlikely to find another example like it. I'll be interested to see if it sells.
-Rob