Warning!
This post is in our archives. Links in this post may have been updated to point to similar cars available to bid on eBay.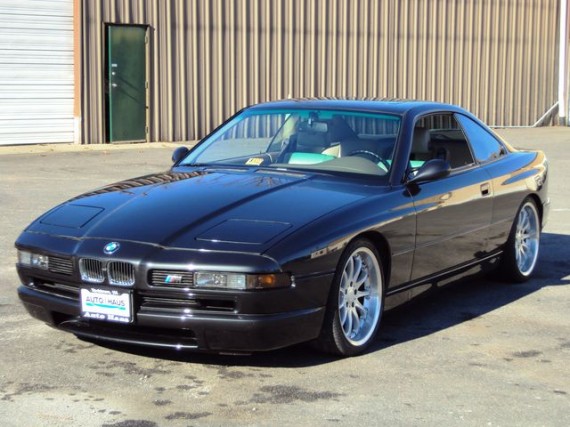 The M70 fitted to the flagship 850i was no slouch, nor was the S70 in the almost-///M 850CSi. As we've often seen with range-topping cars though, too much is never enough. Pounding that point home today is an 850i with its M70 built out to 6.0l, ready to destroy its Pirellis with 455hp and 500 lb-ft of torque. A normal 850i with 146k miles would be cause for caution, but the engine rebuild and conversion was done just 8k miles ago, so there should be plenty of high-speed madness left in this E31.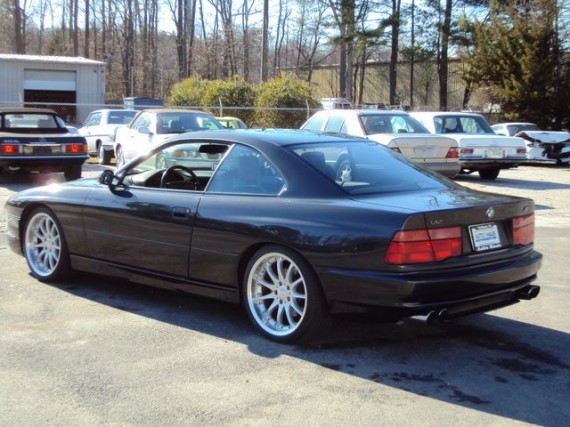 Year: 1991
Model: 850i
Engine: 6.0l M70 V12
Transmission: 6-speed manual from 850CSi
Mileage: 147k on car, 8k on engine
Price: Reserve-on, bids currently at $11,299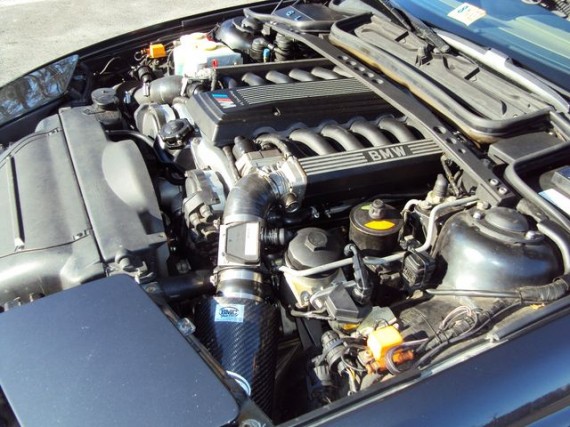 1991 BMW 860i (850i)

"860i" Conversion by Powerplant Racing. This is a consignment vehicle and is being sold "AS IS." Beautiful, sexy and fast! This is a BMW 850i (5.0L, V12) that has had a professional engine & transmission conversion to a 6.0L, V12 producing 455HP/500lbft of torque! Gorgeous Charcoal Gray paint with luxurious two-tone leather interior! Good mileage on the chassis, but engine & transmission only have about 8k miles on them! This car looks great! Read below for details.

Highlights:

The original miles on the car is 147,458, but the recently rebuilt and modified engine and transmission only have about 8K miles on them. This car has been cosmetically well maintained and looks great inside and out! The front seats need some dye work, but otherwise the interior looks great. The exterior paint and body are in beautiful condition! The 19″ Alloy wheels look almost new and are shod with Pirelli P-Aero Rosso high performance tires that have 50%+ tread remaining. The glass looks good all around the car. The side glass and rear window have aftermarket tint on them.

The CARFAX Report shows an accident in 1992, but the car was professionally repaired and driven daily since then with no residual effects from the long-ago accident. This 860i conversion was professionally done by PowerPlant Racing out of North Carolina. The specs and a detailed description of what was done is posted in this description and a picture of the specs is located below the "Features & Options" section.

The engine is running good with great power and acceleration. The engine is producing some blueish-white exhaust smoke upon start-up. However, the smoke does clear up after driving the car a few miles. The owner states that the car experience no noticeable oil loss over time. The clutch is making some noise when the transmission is out of gear, but the owner has had the clutch checked and the noise is normal for the racing clutch that is installed. There is no clutch slippage at all.

The sunroof doesn't work. We have not diagnosed the exact problem with the sunroof nor have we figured the cost to repair it. The owner states that this car must have a fully charged battery at all times or electrical issues will occur. There is even a built-in trickle charger pigtail in the trunk for that purpose. We charged the battery to full capacity and have not noticed any electrical issues.

This supercar is loaded with 19″ alloy wheels, two-tone leather interior, matching hard top, fog lamps, 6.0L V12 Engine, anti-skid control, Panasonic AM/FM/CD/MP3 audio, power tilt/telescopic steering, cruise, power seats, wood trim, airbags, dual-zone climate control, M badging, sunroof, Xenon Headlights, Clifford alarm, and more! Read all the technical details about this car below:

This car is rare and unique. The regular BMW 850 had the 300 HP 5.0L M70 V12 and the 850 CSi had the 392 HP 5.6L S70 V12. This car has the 6.0L conversion done by PowerPlant Racing. Now the 6.0L M70 V12 pushes out 455 HP and 505 ft-lbs of Torque. The car has Schrick Cam Shafts, Phoenix Motorsport Lightweight Flywheel and Spec High Torque Clutch. The car also has the following suspension upgrades including the KovSport Gen I K-Bars and H&R Bilstein Combo. It also have the Euro CSi Floating Rotor braking system. The car also have the full CSi spoiler system inclusive of the Euro CSi Sport mirrors. It has all updated lighting including 5000K HID low beams and PIAA auxiliary lighting. For the music lovers, this car has a 440 watt stereo system with MB Quartz component speaker system.The Head unit is a Panasonic system with Aux input (IPod or other MP3 Players), Bluetooth and detachable faceplate. The current mileage on the car is 147,458 miles but the engine and the suspension has less than 8K miles. The transmission conversion was done from a CSi and has 32K miles on it. The differential with the 3.15:1 ratio was rebuilt by Jim Blanton less than 8K miles ago.

BMW 860i Specs

By "PowerPlant Racing"
Engine Specifications
"MOLDEX" 86mm Stroked Custom Billet Crankshaft Bore 86mm
"RINEHART" Custom Tuned and Stepped Satin Black Headers Stroke 86mm
Extrude Honed CSi Intake Manifolds Displacement 5944cc
Matched and Ported Intake Gaskets Chamber 28.00cc
Lightened and Shot-Peened Con Rods Gasket 8.70cc
Balanced Con Rods, Pistons and All rotating mass components Cylinder 499.55cc
Ported and Polished Cylinder Head Piston 23.00cc
Honed Block Vt. 59.7
"BOSCH" 18.4 lbs/hour Injectors (Flow Matched to 1%) Vb. 559.25
"WISECO" Lightweight Custom Forged Pistons with 0° Offset C.R. 10.5:1
Increased Throttle Bodies Bore 3mm HP 455 HP @ 5400 RPM
Larger MAF system with "BMC" CDA Ram-Air CAI Torque 500 ft-lbs @ 4100 RPM
Schrick Cams Fuel 93 Octane Gasoline
4 Angle Valves and Valve Seats Transmission Fluid Redline
10.5:1 Compression Differential Fluid Redline
"PowerPlant Racing" Custom Chips & "ISI" Plasma Booster Brake Fluid ATE Super Blue

Drive Train Specs
6 Speed Getrag Transmission Conversion from CSi "SUPERSPRINT" Magnum Stainless Steel Exhaust
"SPEC" High Torque Clutch "BMW" Euro Headlamps
"Phoenix MotorSport" Lightweight Flywheel "BMW" Euro FTP Light Strip
"Blanton" 3.15 LS Differential with 50% lockup "BMW"
///M Body Kit & Mirrors
"UUC" Evo-3 Short Shifter "BMW"
///M Door Sills
"HARTGE" Classic 19″ Staggered Rims with Pirelli P-Zero Rosso"BMW"
///M Oil Cap
"BMW" Euro CSI Engine Oil Cooler" "BMW"
///M Valve Stem Caps
"M-Wrench" Stainless Steel Brake Lines
"H&R" Sport Springs
"PANASONIC" CQ-C7205U Head Unit w/ BT
"M-Wrench" Spring Spacer Pads
"MBQUART" Component speaker System
"BILSTEIN" Sport Shocks
"ALPINE" V-12 5 Channel 440 Watt Amp
"K-Bar" Gen 1 Anti-Sway Bars (28.5mm Front & 19.0mm Rear)
"JL AUDIO" 10″ 125 Watt Subwoofer
"M-Wrench" Static Camber Plates (-1.6° Front Camber)
"BMW" Euro CSi Floating Rotor Brake System
Custom Drilled, Chamfered and Cryo Treated Rotors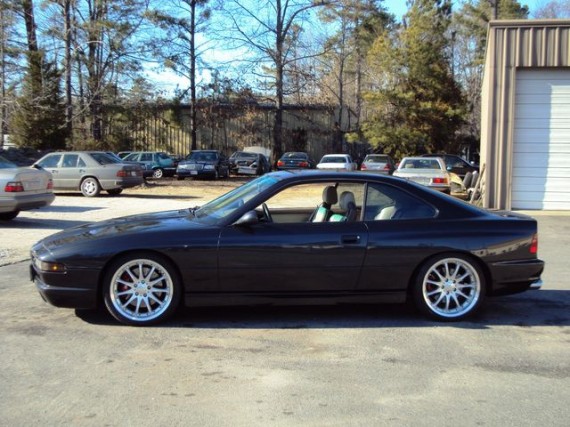 I have no idea where the reserve is set, but the bidding is pretty darn low so far for this much car. With the recent engine conversion, I'd guess the buyer was hoping for something well north of $30k. If someone can get that reserve off at a reasonable price, this is a very cool and very unique E31.
-NR