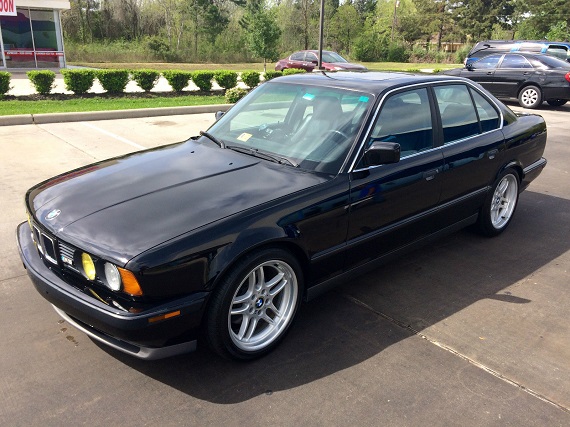 I still remember trips with my father to the track in the early 1990s. We were on a mission; he wanted to look at every single E28 M5 and was dead-set on getting one. 1993 would be the year he finally would; to me, the amount of money he forked over seemed to be pretty astonishing for a used car, but at that time it was the newest car the family owned. Still, it seemed dated already; hard to consider seemed that at that time it was only 5 years old! But this was the time when ever successive generation of car made huge leaps in terms of innovation; frankly, exterior design and interior design haven't become nearly as revolutionary as they once were. If you step out of a E28 into an E34, certainly you can recognize the DNA; but one feels very surely designed in the late 1970s, and the other is much more modern. The same can be said outside; clearly the E28 is a great looking design, but by 1988 it was quite dated and the last of the German holdouts for non-integrated bumpers to my knowledge. Even Volkswagen did a better job of hiding and integrated the 5 m.p.h. bumpers! The E34 was really a modern revolution to the 5 series; aerodynamic, refined, luxurious and handsome, it once again reset the bar for the mid-sized luxury sedan. And as it had before, the M5 also set the bar for performance sedans, with the same S38 inline-6 under the hood. It was magical still, even if it felt a little less raw compared to the earlier editions. While the E28 long languished as the unappreciated M product from the 1980s, slowly but surely it has gained more appreciation. Today, it seems the of the original pre-E36 cars, the one remaining value is the E34 – ironically, the upscale replacement for the aging dinosaur E28:
Year: 1991
Model: M5
Engine: 3.5 liter inline-6
Transmission: 5-speed manual
Mileage: 97,500 mi
Price: $13,600 Buy It Now
Hey folks,
Time to sell my 1991 M5. Jet Black with Nappa leather, 7/90 build (4-seater). Everything works pretty great, no major issues. Runs and sounds great. Thousands of dollars invested into the car, including a new Sikkens paint job to have it where it is. All stock besides single din unit with BT audio & phone, etc as well as OEM Staggered M-Parallels and a Borla exhaust. 97k miles, it is my daily driver. Recently made the move from VA to TX (Houston area). Love this car to death, and am feeling very remorseful to even type this. I've owned the M5 for three years, clean VA title in hand. No accidents. All body parts original.

Exterior: 9/10

Interior 7/10 – No rips, tears or anything just could use a detailed leather resto to get rid of some dirt/debris and creases. Heated seats and all power functions with seats, windows, doors, etc work great.

Two OEM keys.

Absolute zero rust.

Please serious inquiries only. Text or call eight oh four, six four seven, 34nineone. My number sometimes redirects to some random company instead of my voicemail, sorry if this happens. Call again or text. Working on getting that matter fixed. For any questions please text or call at eight oh four six four seven 34 nine one

Daily Driver, miles may go up.

$58,750 MSRP Sold on 10/01/1991 from Pegasus BMW (no longer exists) in Charlottesville, Virginia

Maintenance in past 2 years:

All fluids have been flushed/replaced

Oil Filter
Distributor Cap
Ignition Rotor
Bosch Spark Plugs
Fuel Filter
Air Filter
OEM Gas Cap
Cabin Air Filter
Spark Plug Hole Gaskets
Transmission Mounts (2)
Diff Gasket & Pinion Seal
Coolant Level Sensor
Valve Cover Gasket
Tie Rod Assembly (1 side, 1 center)
Idler Arm
Radiator Upper Hose
Radiator
Water Pump
Clutch Master
Slave Cylinder
15W-50 Oil Changes Every 3k Miles
Front Door Lock Actuators
Front Seats Twist Fixed
Wheel Alignment
Alternator (Bosch)
V-Belts
Heater Core
Other rubber odds and & ends

and more… still digging up records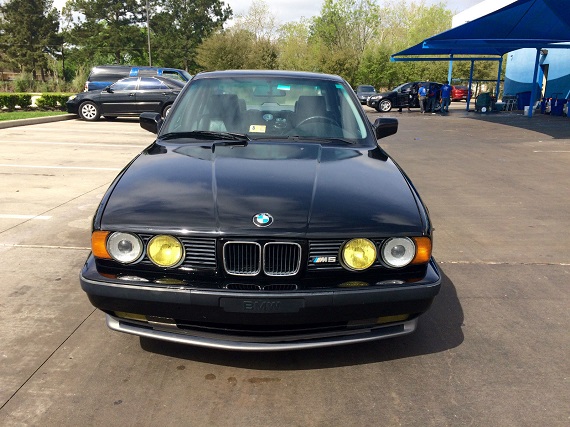 An E28 M5 rolled past me on my morning commute on Thursday. That's a rare thing, honestly, just about anywhere you are. And because it's rare, I thought "Neat!", but I still find myself – despite my time behind the wheel of the family M5 – liking the E34 more. I'm not sure I can entirely define why, but I just love the looks I think a bit more than the U.S. bound E28s. But the E34 has become the go-to value for M cars from this period. Most were treated better than the E28 because for some time they did retain value, so there's usually a fair assortment to choose from in good condition with lower miles. This example is the inspiration for the color combination I chose to paint my Audi GT; I've always been smitten with the two-toned M5 and the lower panels in silver. This one has a recent respray which looks nice overall, as well as a fair bit of maintenance over the past few years. Gone are my preferred M-System wheels, replaced by the much more appreciated M-Parallels, which admittedly look quite purposeful. While there are a few odds and ends which need attention, overall this appears to be a great bargain in the low teens. While the E34 may be book-ended by more popular models, to me it's the one I'd choose to express my M love with.
-Carter