Warning!
This post is in our archives. Links in this post may have been updated to point to similar cars available to bid on eBay.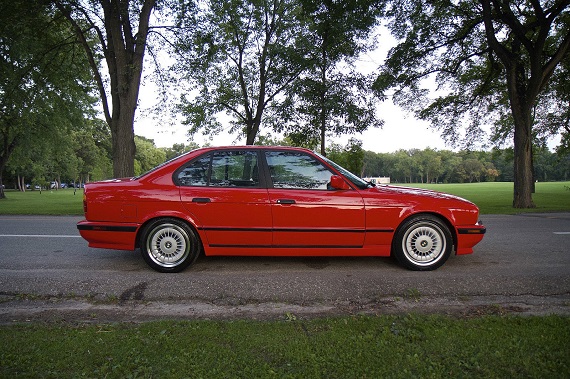 One could argue, pretty convincingly, that the E36 M3 is the best value if you want an M car right now. Good examples can still be found under $10,000, parts are plentiful, and there's a huge selection of examples to choose from. But for me, the best value has to be the E34 M5. First off, if you've never seen a used advertisement for a second-generation M5, you might have missed that these supreme sedans were the last of the handbuilt M models. If you hate movies, you might have missed that a M5 was also an unsung hero in the cult classic Ronin, even if it couldn't get away from a Citroen and the S8 was more memorable. If you've been living under a rock, you might not know that it's father – the original M5 – is currently on a fairly steep appreciation curve. Yet the second generation M5, while considered a bit softer than the E28, was a potent sleeper nonetheless. And for me, it's the ultimate M car; not because it's the fastest, prettiest or most valuable; but because it expresses the ethos of what made BMW great. A Spartan warrior wolf in taxi-cab clothes, the M5 combined literal race-bred technology into an easily digestible package; it was a pleasure to drive fast or slow, it was reasonably reliable (and especially so considering the performance envelope), and yet unlike Porsche Turbos, Lotus Esprits, Chevrolet Corvettes or any other "sports" car that offered similar performance, it was a stealthy package – it was the adult choice. In 1991 if the M5 was graduating high school, it would have been Valedictorian and voted "most likely to succeed", but it would have gotten my vote for "most athletic" and "prom king" as well – it's that good. Despite these superlative qualities, a reputation second to none in terms of quality and driving experience, the E34 M5 still hasn't caught on as a market darling: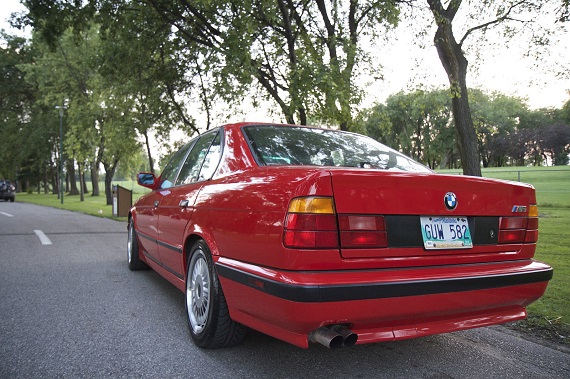 Year: 1991
Model: M5
Engine: 3.6 liter inline-6
Transmission: 5-speed manual
Mileage: 115,886 mi
Price: Reserve Auction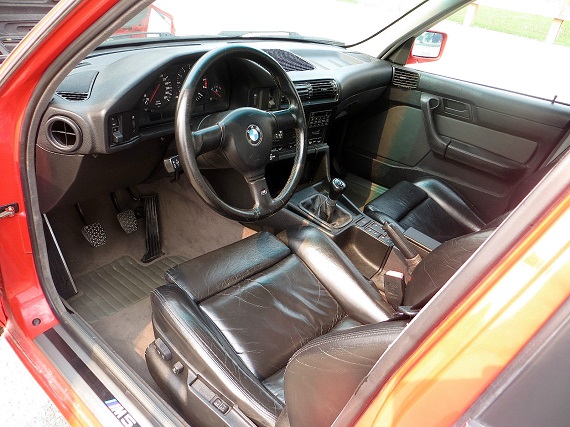 Up for sale my Brilliant Red 1991 BMW M5 with Rare OEM Turbine wheels complete. Car exterior is in excellent condition. Car has had a professional $9000 paint job done about 2 years ago by one of, if not the best shop around. Car shines beautifully.
Car has a few tiny little rock chips(I Mean a few only) and front passenger door trim popping up a bit. Car has no stereo at the moment and never got around to install one. Just enjoyed listening to the S38 sing through the Stebro exhaust. Car has only 186 000 km which is only 115 000 miles.

Previous owner installed Racing Dynamics springs with Bilstein suspension and replaced all bushings.
Car suspension is excellent and handles like a dream.
Car rides excellent and extremely smooth for a sport saloon.
BMW M System wheels have been refinished and are mint with no curbing whatsoever. Turbines have a few small chips but overall clean and show very well. Tires have decent tread but are older and have a few seasons left in them. Wheels were just taken out of storage to be installed instead of my previous wheels BMW Style 5 Euro only 18 inch wheels. BMW Style 5 wheels are not included.

AC needs to be recharged.
Engine has a slow leak that shows a drop every once in a while and still has the original cosmoline on it from the BMW plant. Engine does not burn a drop of oil and doesn't need to be topped up between changes.
Engine has never been opened and runs very strong and smooth.
Clutch is a bit heavy but previous owner who was a mechanic that specializes in Euro said they just come a bit heavier.

Sunroof liner coming off at the front and needs to be glued back on. Rear driver side seatbelt is starting to fray and will need to be replaced. Leather interior in great shape still with no rips or tears.
Car is in very good condition for a 25 year old car and is a real head turner. Car gets compliments all the time saying car just glows and looks like it just left the lot. Car is Timeless.

E34 M5 last of the Hand Built M5's are becoming harder to find in this condition and I will miss it dearly.
I am selling to make room and finish my other projects.
Car is being sold as is where is. Car is located in Winnipeg, Manitoba, Canada and I can Help arrange shipping from my garage to North America or anywhere in the world.
No low bidders please and only bidders with perfect feedback or atleast close to perfect.

Thank You for taking the time to go through ad.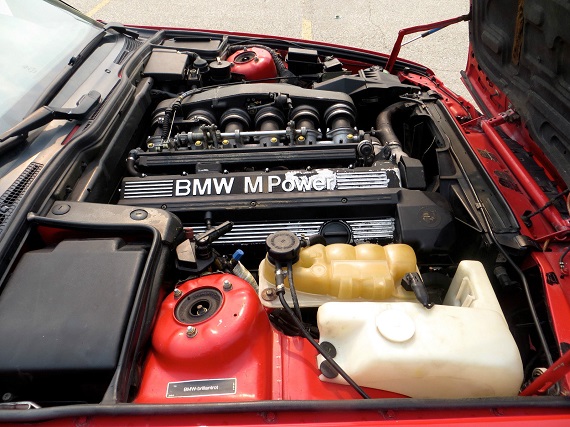 This particular example looks excellent and features my favorite and correct but oft-maligned M-System 1 "Turbine" wheel covers. The seller has polished the lips, which takes away from the typical whitewall comments and stands out, but nicely so. The repaint looks quite good; if I have one complaint, it's that the lower aero panels were painted when they should be black. The color combination is popular but not my favorite; still, I really appreciate that BMW offered a full pallet of colors versus the "any color you want…" Cosmos on the E28. Under the hood, there's a slight concern over what I think is a cleverly worded loss of compression, but with only 116,000 miles this car comes to market with lower than average mileage covered. As with any super-sedan, the bills to keep it running can be higher than….say, a new Kia. But look at the opening bid price; $9,000. Sure, the reserve isn't met and is likely many thousands higher. However, all of the E34 M5 examples we've seen sell in recent years have been under $14,000; most substantially so. You can get an E36 cheaper, but I'd rather have this M5 any day of the week. In my opinion, they are by far the best deal going in the M world right now.
-Carter