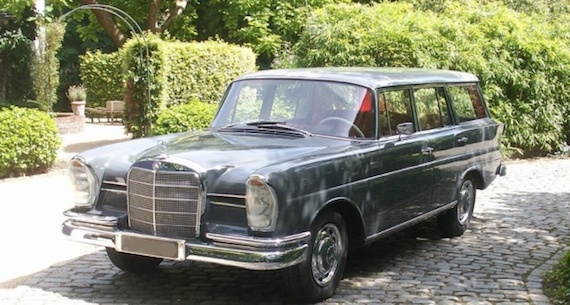 The term "cool" is overused a lot in the English vernacular, but if one car I've ever discussed on GCFSB could be described as such, it's this rare Mercedes-Benz 230S estate. Fully restored, in a very fetching color combination, replete with a 4-speed manual gearbox on the column, it doesn't get much better than this for the five-door enthusiast. These estates were produced by IMA in Belgium, who were producing knock down kits of Mercedes sedans, as well. I have a personal connection to the W111 chassis 230S, as my father used to own a 230S sedan with a 4-speed manual on the floor years ago. Could this 230S be the ultimate chariot in which to carry the family to the country club?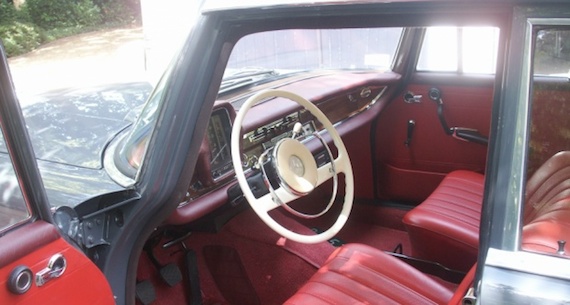 Year: 1967
Model: 230S Universal
Engine: 2.3 liter inline-6
Transmission: 4-speed manual
Mileage: 3,107 mi
Price: $148,427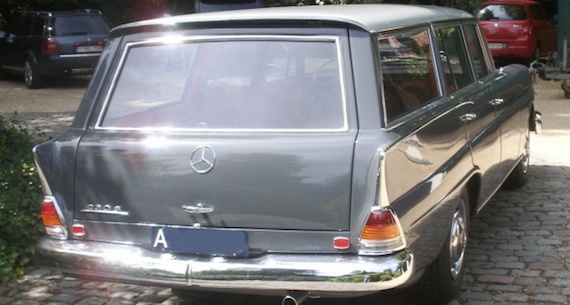 This is the only world wide Mercedes Benz 230 S universal in Concourse condition fully restored and brand new. Low production, very exclusive car just for the best Mercedes-Benz Collectors.

The Mercedes Universal Wagon

The Universal, is the first official Mercedes Benz model that could be ordered through any dealer worldwide at price in Germany in 1966 of DM 18.600. The more visually appealing lower roofline version was produced at Montagewerk IMA (Société Anonyme pour l'Importation de Moteurs et d'Automobiles). The estate car, known as the Universal or Kombi, was converted by this Belgian company IMA who were an established assembler of Mercedes saloons for the European market. These "chassis only" vehicles were shipped from Sindelfingen with four doors, but no roof or rear body sections. IMA then built the roof, rear body panels, inner rear fenders, and tail gate from scratch. They also modified the rear doors to correspond to the newer roofline; a stunning and artistic design element.

Planned production of 1,000 vehicles per year was far too optimistic and never achieved. Sales were inhibited by cost, at a 30% premium over the comparable sedans. An additional 10% was assessed to the German public as an "import tax" from Belgium, further deterring demand.

The Universal was available in the 190, 190D, 200, 200D, 220, and 230S for five years. All but the 190 version were equipped with the hydro-pneumatic compensating spring at the rear axle, a feature in all subsequent M-B wagons to this day. The five year production (total 2,754 units) ended in September, 1969. The Belgian assembly plant was closed in 1973 and all spare body parts and materials specific to the model were rumored destroyed. It´s believed that less than 200 units of the 230S model were produced.

Equipped with 15" wheels, unlike the 13" used on W110 Fintails, the wagons appear ready for an off-road trek at the ranch. 14″ wheeels or 195/65 x 15 tires get closer "popular expectation." Prized options include the sliding sun roof and Kuhlmeister air conditioning.

This Mercedes Benz 230 S Universal 1967 Sun Roof Fully restored in 2014 just 5000 Km

This car was sent to IMA in October 1966 at it is shown in the Mercedes-Benz Data Card and probably delivered for export in 1967 according to the US front lights equipe. This car is beautiful rare example of highest horsepower Mercedes Benz station wagon ever made.

The history of the car in USA is unknown but the car was register in Florida by only owner Known Mr. Peter Seiler who kept the car till 2009 when we bought the car and imported it to Spain. At that time the car was a complete unmolested restoration project with engine running and matching number.

Technical specifications:

• Fully restored by us with complete picture & invoices dossier available.
• Presented in a Beautiful Colors combination in 190G Graphite Grey with Red signal MB-Tex interior.
• Equipped with a optional Sliding sunroof and original Becker Radio.
• An Undisputed low production Mercedes Benz Icon
• Ideal for Long-Distance Tours, Events and Rallies
• Matching numbers: Chassis No.: 111.001 50 096081 and Engine No.: 180 947 10 020958
• USA supplied &registered.
• Brand New car complete restored in 2014 just 5000 Km from restoration
• Offered with Handbooks, Tools and Service Book
• Documented by Mercedes-Benz Wagenkarte.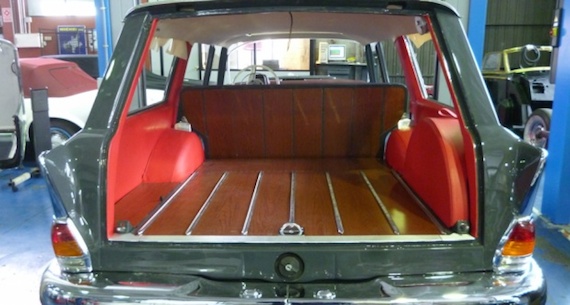 The 230S isn't a very highly sought after model or one which will break the bank, but this Universal is certainly priced for the serious collector in mind. Produced in small very small numbers, it's doubtful one will ever see an example this nice come up for sale in the near future. This could be one of those cases where if someone has to have it, they may very well pay the price. I think, perhaps, with this 230S Universal, we've stumbled upon the ultimate anti-SUV.
-Paul