There have been a few nice E34 M5s featured on GCFSB lately, but here is one of the lowest mileage ones I've come across in quite some time. A one owner example with full service records, it is for sale due north of Baltimore.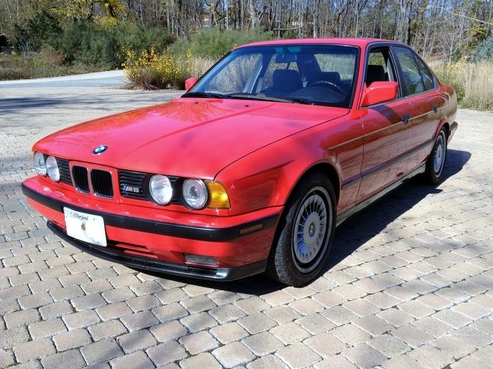 1991 BMW M5 in pristine condition. Car has had one, non-smoking owner, garage kept…brilliant red exterior shines likes new! Silver leather interior is in excellent condition. No wear or damage anywhere on or in the car. New Michelin tires. All service records available.
It appears this is a fairly unmolested example of an E34 M5, as the original wheels with the cooling fin wheel covers in tact. Many owners swapped these out for the later "throwing star" M-System II wheels. A bit more of an expanded description and detailed pictures would have certainly been welcome. My only question is with a car like this, how could any owner resist not driving it more than 27,000 miles over the last 20 years or so? I, for one, couldn't resist such temptation.
-Paul