Much to my chagrin, Mercedes-Benz decided not to offer the estate variant of the current C class to the US market. Foiled by the SUV craze once again, then. Mercedes-Benz estates have always been known for their workhorse qualities, and the renowned W123 T models have subsequently seen a rise in values. You can still get W124 and later W210 E class estates for reasonable prices, but if you want a smaller five door with the Three Pointed Star on the hood, there's only stateside option: the W203 C class. When the W203 first arrived on the scene, people derided it for its lower rent plastics and decrease in quality as compared to its predecessor, the W202 C class. Consequently, many high mileage W203 C classes exhibit more signs of aging and wear than you would expect from this brand. As time progressed, quality improved, but in 2005, Mercedes-Benz decided to pull the plug on the estate variant for the 2006 model year. It's hard to find these with low mileage these days so this example for sale in New Jersey is quite a treat.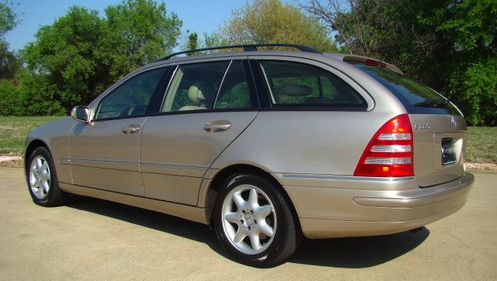 For sale is a nice and clean 2004 Mercedes Benz C240 Wagon. This car is very clean and shows minimal normal wear. With only 2 owners this car still looks and feels like the day it was new. With 37,749 highway miles its runs flawlessly with no issues at all. It is well maintained so it feels solid and tight. This vehicles comes with NJ inspection through 11/2013. Clean, clear title with no liens, loans, stories.

This beautiful C240 Benz is in perfect mechanical condition, so no warning lights on. Exterior of the car is glossy and shiny. Paint looks deep and the only noticeable scratch is the lower part of the front bumper on the driver side (see pictures). Trunk of the car has a small chip marks and a small chip on the passenger side mirror. This car is in its original paint so this normal wear is acceptable. Wheels are in great shape and tires are around 90% left. The undercarriage of the car is clean, dry and shows no rust. Brakes are in great shape as well. This car has always been serviced by the Mercedes Benz Dealer; all service records are available.

The interior of the car is in excellent shape. Its clean and shows no signs of wear or abuse. It comes from a non-smoking owner so no unpleasant odors inside. All seats are in decent shape with no rips, stains. All carpeting is clean. All electronics is in good working order as well. Full set of books, 2 sets of keys and floor mats comes with the car. This car is in very great condition and its needs nothing but a new proud owner.
Having owned a W203 C class, I was provided a C240 estate once when I had my car in for service. The estate drives almost identical to the sedan, except for the fact that you have an extended greenhouse in your mirror. A lot of these estates were 4matic versions, so it is nice to see a regular rear-drive machine for a change. Since Mercedes-Benz isn't bringing the current C class estate to the US market, here's your chance to get a low mileage example at a reduced cost of entry.
-Paul