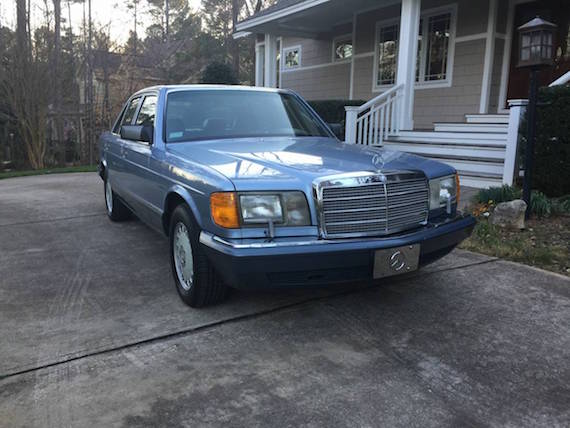 I continue to keep an eye on the W126 market. Mint examples of the V8-powered 560SEL can sell for as much as $20k, though higher mileage examples that are rougher around the edges can be had for just a few grand. The W126 hasn't yet achieved collector status – there are probably too many of them out there – but they remain an attractive proposition for those who want a luxurious, usable car for not too much money. This version of the S-class perhaps marked a watershed moment in Mercedes-Benz history, being among the last cars built to a standard rather than cost. I've written before about my love for the short wheelbase, six cylinder version, the 300SE. Though generally less desirable (and therefore cheaper) than the V8 420s and 560s, occasionally a really nice one pops up for sale with a higher price tag attached.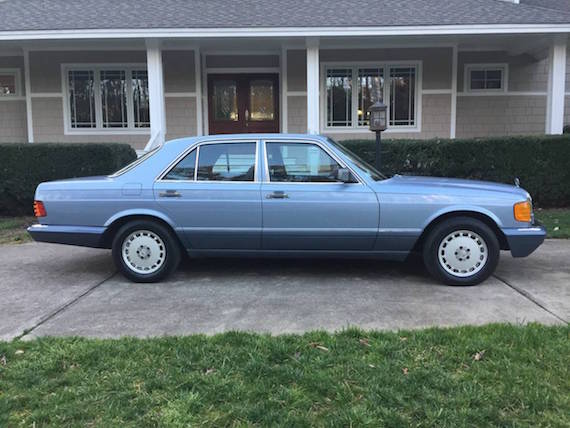 Year: 1991
Model: 300SE
Engine: 3.0 liter inline-6
Transmission: 4-speed automatic
Mileage: 92,877 mi
Price: $10,000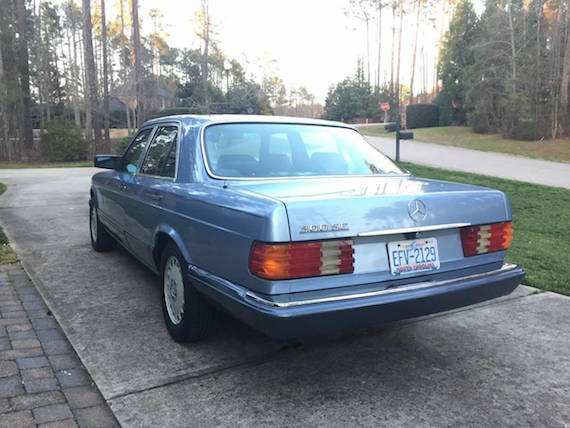 This post is for a 1991 Mercedes 300SE in excellent condition. It has just under 93K miles, the 90K service was completed and it has the maintenance records since new. New Michelin tires, factory radio upgraded for blue tooth streaming. Interior dash, wood, leather, etc. is perfect. Classic S-class Mercedes ready to enjoy!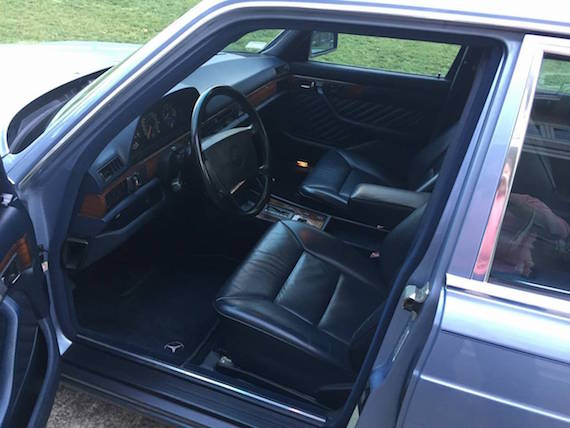 This particular example presents very nicely in what appears to be 355 diamond blue (or the very close 348 ice blue – it's hard to tell since there's no VIN listed in the ad to confirm the options list). Unusually for a light blue car, the leather interior is a nicely contrasting, dark color: either black or a very dark blue (it's a little hard to tell from the lighting in the photos). The interior and exterior both look to be in excellent shape, with the only apparent flaws being some possible failure of the lacquer on the rims. The car has a relatively modest (though not super low) 93k miles on the odometer.
There's very little information in the ad to go on, other than a note that the car has recently been serviced. Potential buyers would want to see exactly what this entailed, and to ask whether the 3.0 liter M103 engine under the hood is seeping or using any oil (a common occurrence on these motors that may indicate valve stem wear, or a leak from the timing cover or head gaskets).
The $10k price tag is, I think, unrealistic. Mint 300SEs tend to top out in the $5,000-$6,000 price range if they are exceptionally clean, come in a desirable color combination and/or have ultra-low miles. I think perhaps somewhere around $4,500-$5,000 range would be about right for this one, if it checks out in person.
– Craig