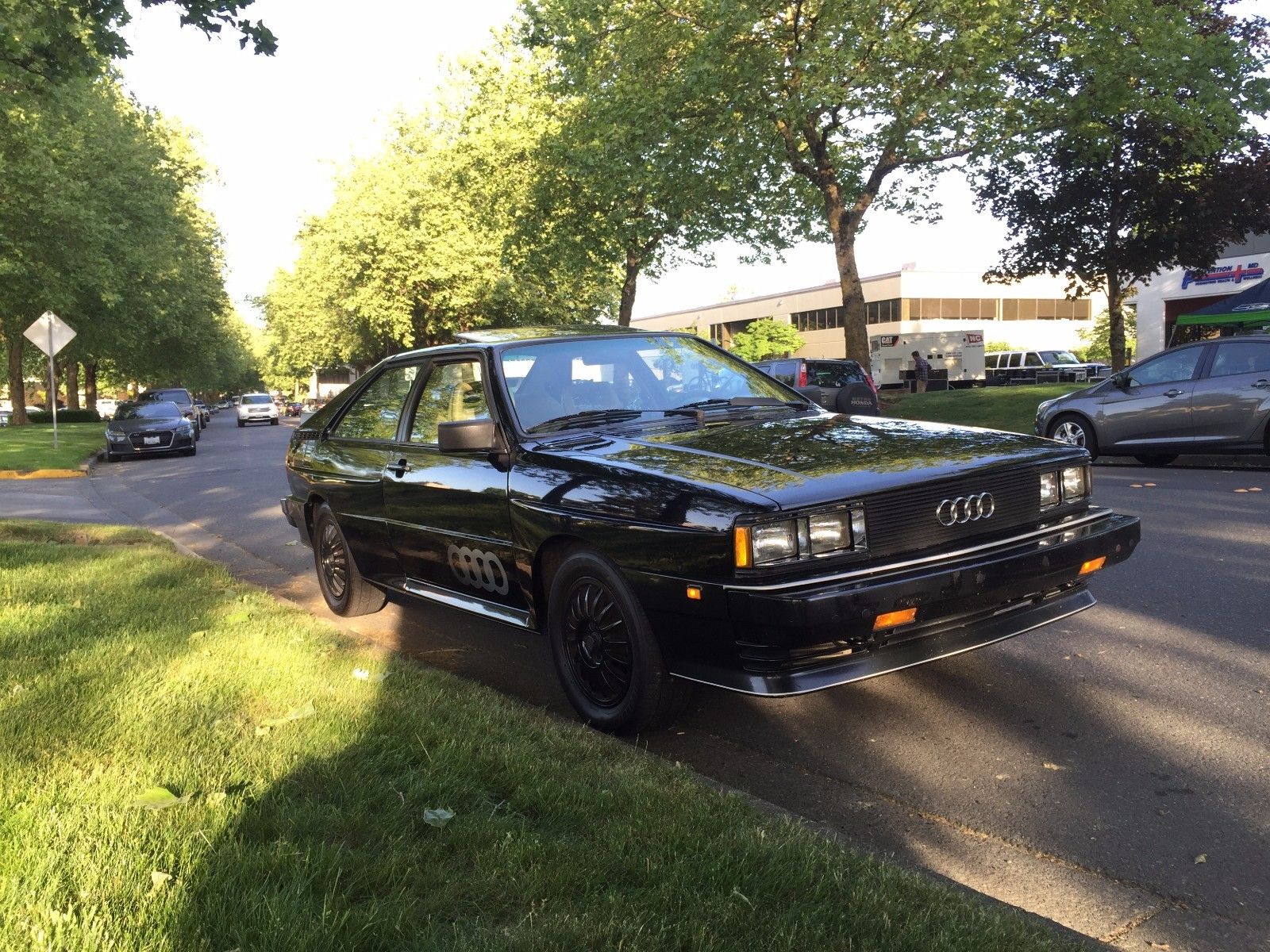 Unlike the Porsche 924, the Audi Quattro had no special editions. Outside of the homologation version of the Sport Quattro, there were no gimmicks, no limited models, and very few options. It was a take-it-or-leave-it design. You got a turbocharged inline-5 in front, a 5-speed manual gearbox in the middle, twin locking differentials center and rear, and it only came in Coupe form; no sedan, no four door, no popping rear windows, no convertible, targa or cabriolet. With a high-dollar price tag for its development, perhaps the Quattro would have been a greater market success if it had been available in more options, but the result was that they sold fairly slowly. In 1983, the model year of this particular example, Audi managed to shift only 240 of its $40,000 halo cars in the U.S.. Today, that makes them significantly more collectable than the 924, especially when they're presented like this car: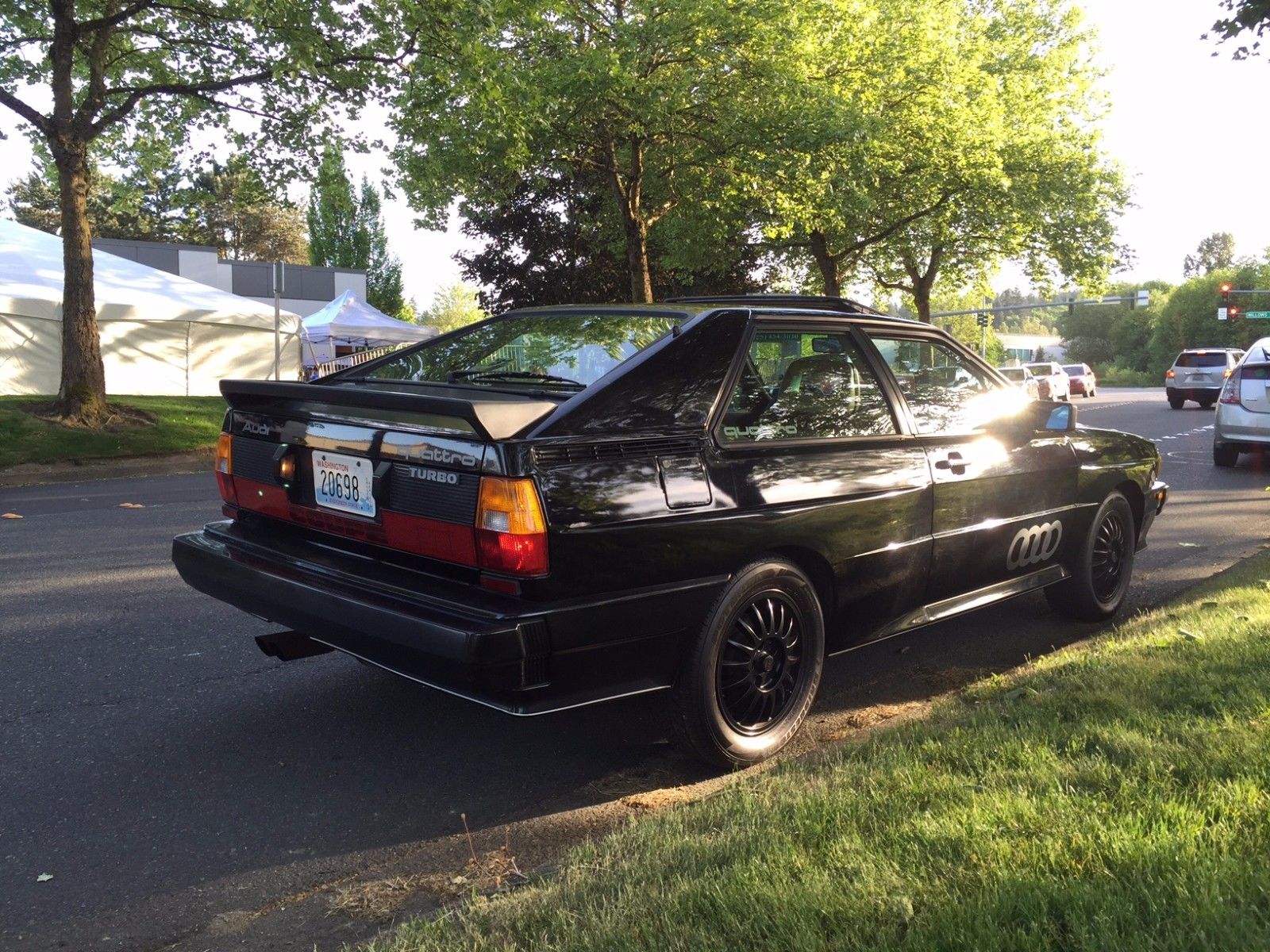 Year: 1983
Model: Quattro
Engine: 2.1 liter turbocharged inline-5
Transmission: 5-speed manual
Mileage: 78,706 mi
Price: Reserve Auction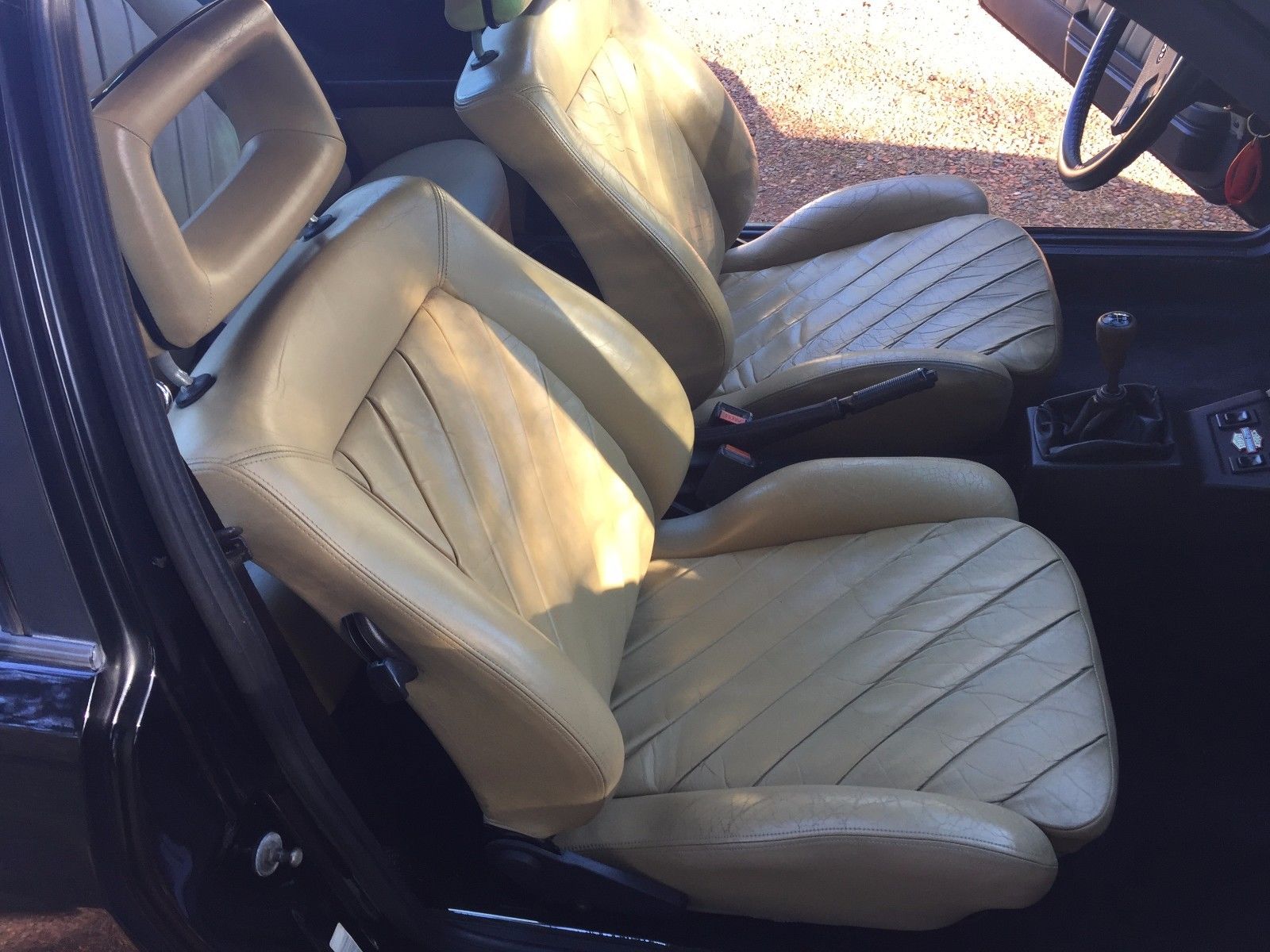 Time to sell the car I always wanted. It is a 'rare' beast and I'm sure if you are looking at the car you know the extensive history of the URQ's. History on the car…1st owner had it for 6 years, 2nd owner had it for 21 years, 3rd owner (myself) & I have owned it for 7 years. It was a California car most of it's life then moved to New Mexico where I purchased the car in 2010. There is absolutely 'no rust' on the car, accident free, original paint & interior in very nice shape for the age. Garage kept! It has tan leather interior w/out any rips or tears. I have documentation of repair history that totals over $27,000! The list is quite extensive, here is just a few of the things performed…
Valve job
2 Bennet radiator
Diff actuators
Master cylinder
Timing belt
Water pump
Fuel filters
Fuel pump
Starter
Battery
Cross drilled front rotors
Alternator
New windshield
Etc
It is all stock except for the 2 Bennett radiator the second owner installed. Current mileage is 78,706. The second owner had it stored and not driven for 14 years during the 22 years he owned it. Hence when he decided to drive the car again he incurred some extensive repair costs. I have, since owning it gone through and sorted out most all of the gremlins. Lots of repair/technical manuals included in the sale + extra spare parts. Car runs GREAT with lots of power and wonderful feel of the road. THANKS FOR LOOKING/BIDDING!

Also, see this…
MODEL OVERVIEW

1983 Audi Quattro1984 Audi Sport Quattro Coupe
1983 Audi Quattro
Image is general in nature and may not reflect the specific vehicle selected.

History of the 1980-1991 Audi Quattro

Audi was not the first to offer an all-wheel-drive sport coupe—Jensen briefly offered the FF in the late 1960s and early 1970s—but Audi brought the concept to the mainstream with the Quattro. They promoted it by successfully integrating all-wheel-drive into their main product line and subsequently dominating the world rally scene.

Developed in the Scandinavian snow during 1977 and launched at the 1980 Geneva Motor Show, the all-wheel-drive Audi Quattro rewrote the rally books. In the Ur-Quattro's first appearance, (Ur is German for original), it was used as a course car to clear the roads in the 1980 Algarve Rally in Portugal. Had it been entered, it would have won by 30 minutes.

Show All…
1983 Audi Quattro Info

Body Styles
2dr Coupe

Engine Types
5-cyl. 2144cc/160hp FI
CURRENT & HISTORICAL VALUES

View current vehicle values and see how they've changed over time in 3-year, 5-year and to-date intervals. Compare these values to other vehicles and benchmark financial indices.
Current Values

#1 Concours$65,000
Condition #1 vehicles are the best in the world. The visual image is of the best vehicle, in the right colors, driving onto the lawn at the finest concours. Perfectly clean, the vehicle has been groomed down to the tire treads. Painted and chromed surfaces are mirror-like. Dust and dirt are banned, and materials used are correct and superbly fitted. The one word description for #1 vehicles is "concours."
#2 Excellent$40,000
#3 Good$27,500
#4 Fair$13,800
About Hagerty's Condition Ratings | About Our Prices
3 YEAR
5 YEAR
ALL
Value Change Over Time
May 2014
Sep 2014
Jan 2015
May 2015
Sep 2015
Jan 2016
May 2016
Sep 2016
Jan 2017
$0
$5,000
$10,000
$15,000
$20,000
$25,000
$30,000
$35,000
$40,000
$45,000
$50,000
$55,000
$60,000
$65,000

1983 Audi Quattro

Colors and Available Options
Available Options: n/a
Available Exterior Colors: Black, Alpine White, Mars Red, Lhasa Metallic, Helios Blue Metallic, Gobi Metallic, Zermat Silver Metallic, Montego Black Metallic, Amazon Blue Metallic, Diamond Silver

Technical Specs

Engine/Engine Design
Type: 5-cylinder, in-line, turbocharged
Bore: 3.13 in. (79.5 mm)
Stroke: 3.40 in. (86.4 mm)
Displacement: 130.0 cu. in. (2144 cc)
Compression Ratio: 7.0:1
Horsepower (SAE Net): 156 @ 5500 RPM
Torque: 181 ft. lbs.@ 3000 RPM
Cylinder block: Cast Iron, tilted 27º
Crankshaft: Forged Steel
Cylinder head: Aluminum alloy
Valve Train: Single overhead cam, spur belt driven
Firing Order: 1-2-4-5-3
Cooling System: Water-cooled, thermostatically controlled electric fan
Fuel System: CIS fuel injection w/ oxygen sensor; exhaust turbocharging w/intake air "intercooler"
Drivetrain
Type: quattro all-wheel drive
Transmission: 5-speed manual
Gear Ratios:
1st
2nd
3rd
4th
5th
Reverse
Final Drive Manual
3.60:1
2.13:1
1.36:1
0.97:1
0.78:1
3.17:1
3.89:1
Steering
Type: Rack & pinion, power assisted
Ratio: n/a
Turns (lock-to-lock): 3.4
Turning circle (curb-to-curb): 34 ft.
Suspension
Front: Independent MacPherson struts with negative roll radius; stabilizer bar, coil springs
Rear: Independent coil spring struts
Brakes
Service brake: Hydraulic dual circuit w/ pressure regulator; hydraulic power-assisted
Front, size and type: 280 mm, Vented discs
Rear, size and type: 240 mm, Solid discs
Wheels & Tires
Wheel size: 6j x 15 alloy wheels
Tire size: 205/60 HR 15 steel belted radial
Body
Material: Unitized steel construction
Corrosion protection: n/a
Capacities
Engine Oil: 4.5 U.S. quarts
Fuel Tank: 23.8 U.S. gallons
Cooling System: 9.8 U.S. quarts
Exterior Dimensions
Wheelbase: 99.8 in.
Front Track: 56.0 in.
Rear Track: 57.4 in.
Overall length: 178.2 in.
Overall Width: 67.9 in.
Height (unloaded): 52.0 in.
Ground Clearance: 5.3 in.
Curb Weight: 2838 lbs.
Interior Dimensions
Seating Capacity: 4
Front Legroom: n/a
Rear Legroom: n/a
Interior Volume: n/a
Luggage capacity: 12.0 cu. ft
Performance
0-50 mph (0-80 kmh): 5.3 sec.
0-60 mph (0-100 kmh): 7.5 sec.
1/4 Mile: n/a
Top estimated speed: 128 mph
Fuel Economy
City: 17 mpg
Highway: 28 mpg
Combined: n/a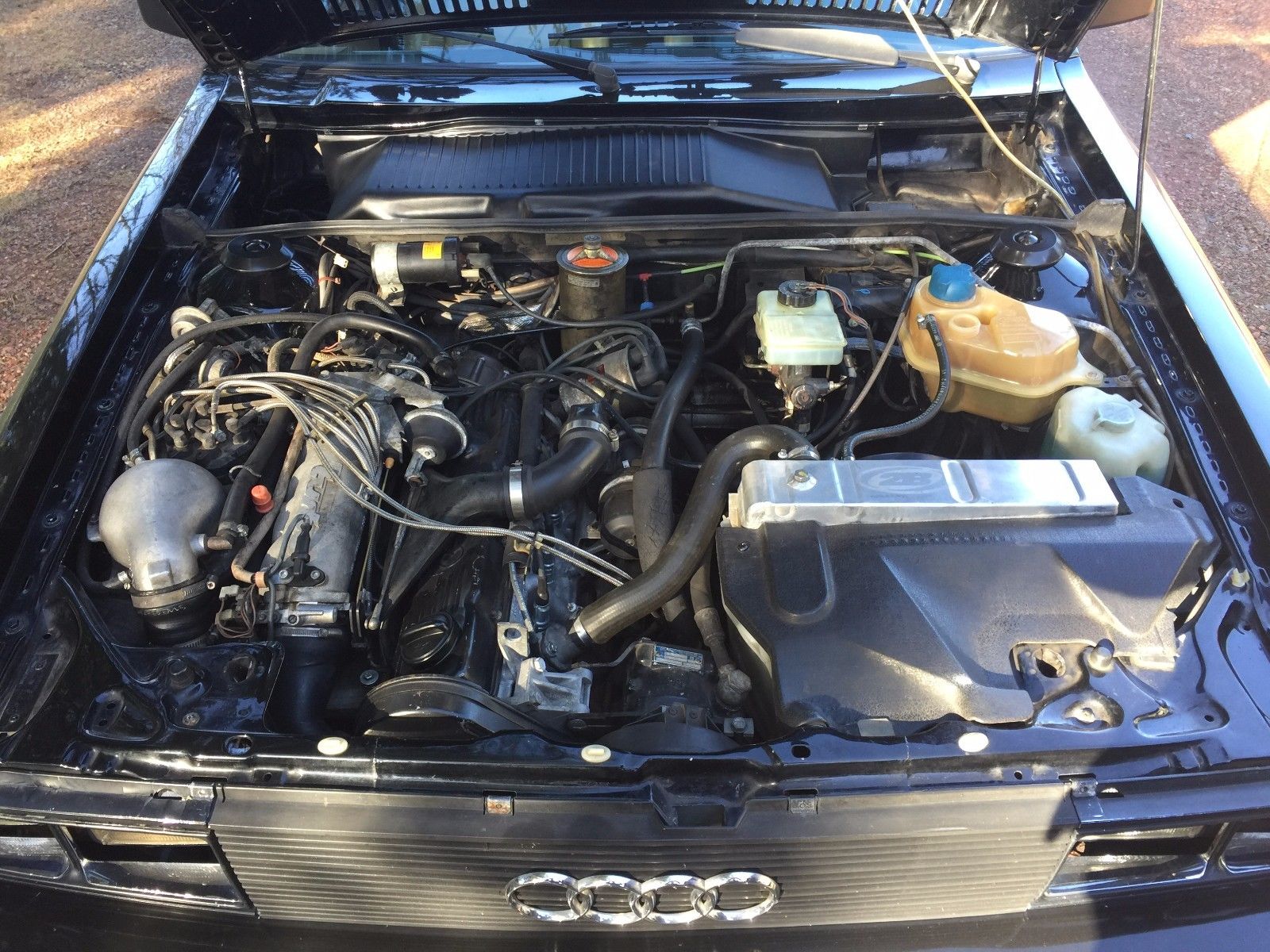 It's not entirely clear if this car is Montego Black Metallic (LY9V) or Black (L041), though I'm leaning towards the latter. Either way, it's very rare – black is one of the most infrequently seen colors on these cars. The car wears its original and correct 6″ Ronal R8 wheels (1984 was the introduction of 8″ lipped wheels), though they've been barbequed too. I'm not sure that the effect is good, overall. It looks to me like the car has had paint work at some point, too, though again the photos don't do a great job breaking that down. The front bumper and lower valance, however, don't appear to be the correct finish. Tacky, too, is the slapped on 'turbo' badge under the original quattro sticker. However, outside of those niggles this car appears to be well above average condition otherwise outside.
That continues under the hood, where a fair amount of mechanical work was completed in order to get this car up to driving condition in the recent past. That should solve many headaches for the future owner, as should the West Coast and dry history. The interior, overall, presents quite well, with a notable cracked dash, Harley-Davidson sticker in between the window switches, a shift knob in need of refinishing and normal leather wear and aging on the seats. The door cards are excellent and uncut for the aftermarket radio, thankfully, and the headliner also looks great. The seller goes through the current valuation of the car, seeming to highlight the Concours status. Is this a Condition 1 example? No. The several incorrect items, cracked dash, worn seats, and some other condition issues mean this isn't the best car in the country. I'd probably put the condition between 2-3 as it sits; it seems clear that the car has been repainted at least partially at some point, and while that has left a shining example it doesn't appear 100% correct or in perfect condition. However, this is a great driver-quality classic Quattro that is showing how strong the market currently is for these cars. At time of writing, the price has already surged past $20,000 – what many thought was the ceiling not long ago. Will it hit $30,000 or more before it ends? That might not be that outrageous to believe given the recent market.
-Carter