The 1991 model year marked the last year for the W126 Mercedes-Benz S Class. This car was a lot of things to many people. The company car of Wall Street. The choice the world over of diplomats and dictators alike. A star in many Hollywood features and television series. Even though it had many advances over it's predecessor, the W140 S Class that followed somehow missed garnering the cult following of the W126.
Here's a low mileage, final year 300SE for sale in Miami.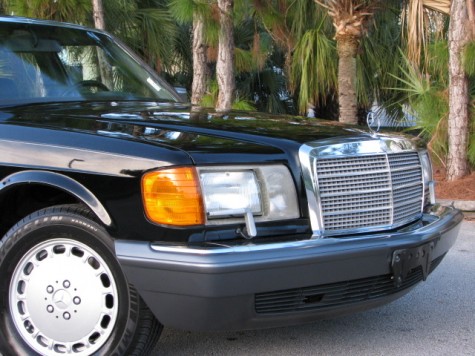 You are viewing a stunning, low mile 1991 Mercedes-Benz 300SE. Only 66k miles. Mint condition. Only two owners. Autocheck certified. Clean history. Completely Rust Free. Always garaged kept, original factory paint. Last year of the W126 chassis. It will not be easy to find another one like this. This vehicle is in showroom condition. No dents, dings or visible scratches. Everything works as it should, including A/C. Drives excellent, smooth engine and transmission. Ready to drive anywhere. Don't let this one pass you by.
This W126 caught my eye for a few reasons. First, it's the short wheelbase which makes it a little more reasonable size wise for every day use. Second, black is the perfect color for a W126, no matter what the year or model. Third, the 3.0 liter straight six is more reliable and cheaper to run than the bigger V8s. Last but not least, this is the final year for the W126. My current vehicle and the vehicle I owned prior to that are/were final production year models. Even though the W126 S Class had it pretty much together from the get go, the later models with their subtle updates are more desirable to most buyers.
-Paul