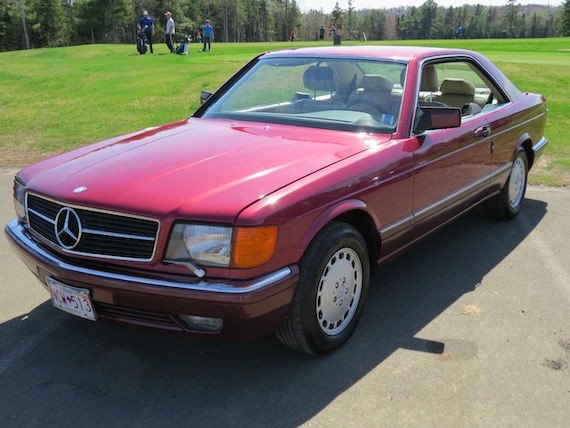 By the time the 1990s dawned, the tap on gray market imports to the US had been closed off. However, a few cars still trickled in, especially via our neighbors to the north, Canada. This 1991 Mercedes-Benz 500SEC for sale in New Brunswick is a one family car, having been shipped from Germany to Canada. It looks to have led a pampered life, with under 40,000 miles on the clock.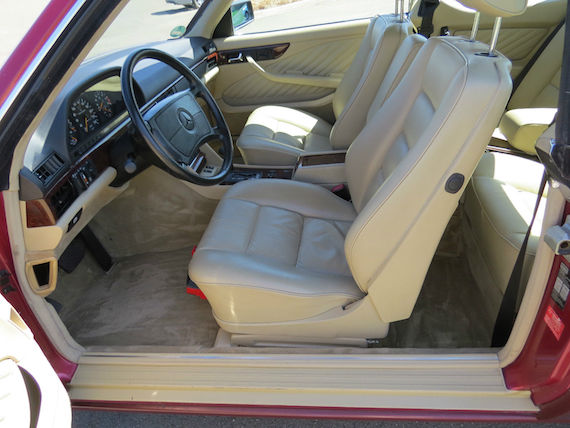 Year: 1991
Model: 500SEC
Engine: 5.0 liter V8
Transmission: 4-speed automatic
Mileage: 38,144 mi
Price: $30,000 Buy It Now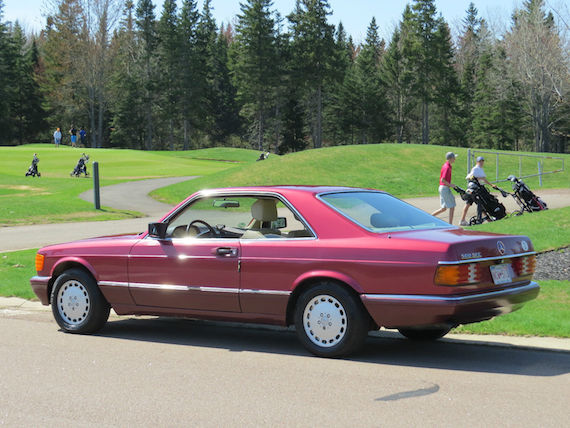 Rare German-import, one family owned, low milage 1991 Mercedes 500 SEC. A sophisticated and elegant classic.

Features:
Sporty, two door, with no center post between front and rear windows.
Colour Exterior: Maroon, Colour Interior: Beige. Leather Seats. Air Conditioning. Automatic Transmission. Power Steering/Windows/Brakes. Cruise Control. Rear Window Shade. Factory Tape Player. AM/FM radio.

My father, who is a perfectionist, bought this car in 1991 and maintained it in showroom condition. He rarely drove it and, in 2013, shipped it to me (his daughter) from Germany to Canada, with only 50,000KM / 30,000 miles. I have kept up the family tradition by continuing to maintain and service the car at Mercedes dealers and by overwintering it in a garage.

In 2013, for insurance purposes, I had the car evaluated professionally and an appraised value of $33,000 was assigned. The condition was described as follows:

"Body and Finish:
The body and finish (original) is in extra good condition. All chrome and brightwork is complete and in extra good condition. All glass components are in good condition, no cracks, fading or chips visible. The factory original interior is in extra good condition throughout. Radials front and back, all good 10% worn, complete with good factory allow wheels.

Mechanical:
The steering is in good condition. The Transmission works well, no leaks or slippage noticed. All the Underwear is in good dry condition. All the suspension components are in good working order. All lights, gauges and other electrical components are in good condition. The fuel as well as the exhaust system is in good working condition. The motor works well, and is free of leaks or slippage. The brake system is in good mechanical condition.

Additional Comments:
A good solid vehicle throughout."

In 2016, this then 25 year old classic will gain 'antique status' – thereby increasing collectible appeal.

Currently milage: 61,388 km or 38,144 miles

Current condition: Very good & unchanged from insurance appraisal.

Serious offers only. Will ship at buyers cost.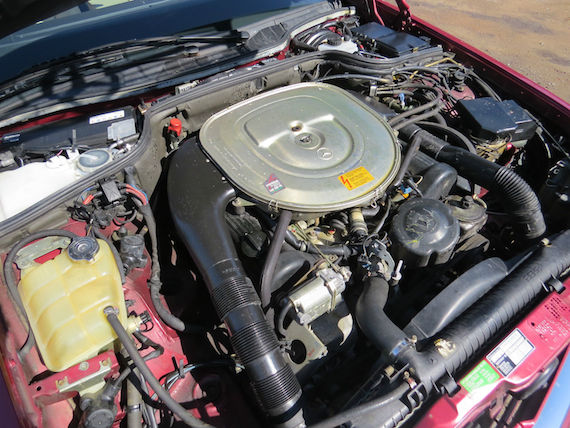 I like everything about this SEC. The color, the slimmer, euro market bumpers and of course, the history behind it. The price, however, is quite stiff. Sure, this is a rather unique SEC for the marketplace and a low mileage, final year example at that. We've seen a few late model 560SECs with lower mileage pull in the $18,000 to $25,000 range, so the price here isn't that far fetched, but certainly reaching towards new heights. The 560SL is already bringing princely sums, so given their relative rarity, I wouldn't doubt late model SECs will start to become a serious collectors item.
-Paul