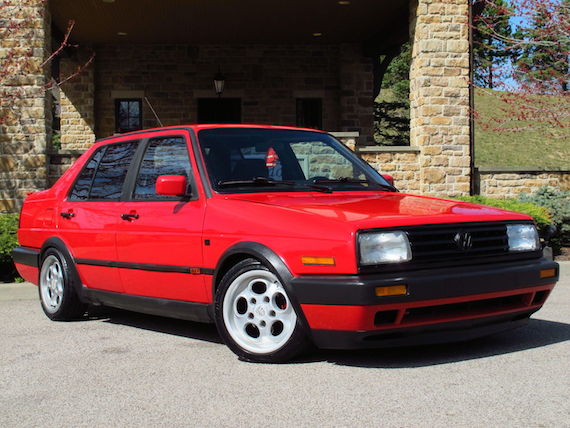 Every now and then, you come across a car that reminds you of your youth. This 1991 Volkswagen Jetta GLI with a VR6 heart transplant puts me squarely back at the end of high school and beginning of college. It was around that time that I was running a 1998 GTI 2.0 and VR6 engine swaps into earlier A1 and A2 chassis Volkswagens were just catching on. While some of my classmates turned towards the Japanese tuning scene, I was firmly entrenched on the German side of things. I didn't do a lot of modifications to my GTI, but I enjoyed going to shows and races alike with my friends in the Vee Dub circles.
Time moves on, and a few Mercedes-Benzes later, I'm back into a (half) German hatchback, a MINI Cooper S. I still have a hankering for an A2 GTI or Jetta, though. I can't put a finger on it, but there's some reason I like the A2 series better than the original. This Jetta GLI for sale in Ohio is modified just enough to sate the youthful enthusiast still inside of me.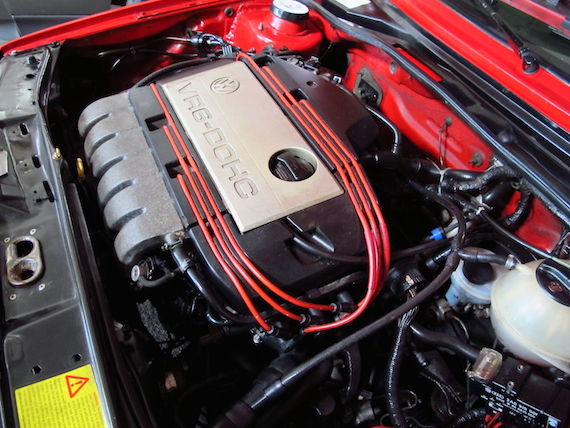 Year: 1991
Model: Jetta GLI
Engine: 2.8 liter VR6
Transmission: 5-speed manual
Mileage: 144,036 mi
Price: $5,500 Buy It Now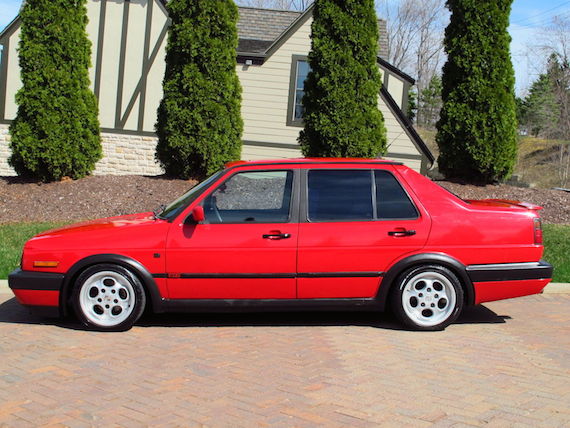 This is my 1991 Volkswagen Jetta GLI. This car started life as a GLI 2.0L 16V which was top-of-the-line at the time. The car now has a 2.8L VR6 engine swap, for much greater horsepower and torque.

This is a well-done, clean and tidy VR6 swap that is reliable and runs/drives perfectly. This is anything but a "hack job", instead great care was taken to make this car as practical and driveable as possible while still upgrading the drivetrain to more powerful components.

MK2 GLIs are becoming hard to find in any condition. These classic VWs have become sought-after collectibles.

This car is fast, fun and drives well. It is smooth, powerful and sounds great.

The following is a description of the car and it's components:

2.8L VR6 swap with 144K. Tuned and chipped. Cylinder head was rebuilt at time of swap.
5-speed manual trans from MK3 GTI VR6
Rust-free solid and super clean MK2 body, no rust, clean floors/towers
Porsche phone dial wheels with brand new tires
Perfect Recaro seats, no rips
Brand new interior carpet
Rare factory power windows and locks, both working
Factory sunroof
MK3 gauge cluster with all gauges working (144K)
Magnaflow dual exhaust
Sony AM/FM/CD with AUX input
Working lights, signals, etc.
This GLI runs and drives perfectly. The VR6 engine rips and car is FAST. The 5-speed trans shifts perfectly, the clutch is strong, and all shift synchros are good. There is no timing chain noise. The Magnaflow dual exhaust sounds great. Good brakes. The car is reliable, starts/runs/drives/steers/stops perfectly. I would drive it anywhere. No check engine light on. Working heat and ventilation. 4-lug axles with adapters for Porsche wheels.

You will not find a cleaner MK2 GLI body anywhere- this body is super clean, solid and nice. This car looks excellent for the age. The paint is clean and shiny with good paint quality.

The interior is in excellent condition. The carpets are all new and the Recaro seats are in superb condition with basically no wear. This interior is very, very nice.

This car has a clean and clear OH title ready to transfer. The mileage on the engine/transmission/odometer is 144,028. The mileage on the body and title reads 176,000.

This is a 22-year old car that is very nice but it isn't perfect. Fussy people look elsewhere- if you want it to be perfect it will take some work, however I drive it exactly the way it is. Keep in mind that just like any 22-year old car it will require maintenance and money to keep on the road- do not spend every last dollar of your automotive budget on the car with nothing left over. The car is totally reliable, dependable and runs perfectly and I would not hesitate to get in and drive anywhere. Cons: squeaky clutch pedal (clutch is fine- just a squeaky pedal), no sunroof interior headliner panel plus sunroof scrapes a bit when opening, some nicks, chips, scratches and brushtouched spots on exterior plus a ding on the leading edge of the left front fender, no plastic ignition column cover, small exhaust leak at downpipe (sounds great), slight wheel bearing noise on right front, no spare tire cover board, the passenger side front window will bind up sometimes when opening/closing- adjust it by hand and it is fine. Again, not a perfect car but quite a nice example and a very good starting point. Sold as-is with no warranty.

This is an excellent example of a classic MK2 with a VR6 transplant.

You can fly in to Cleveland (CLE) and drive this car home, or you can have it shipped. Please call Angels Transport at 530-245-0481 for a shipping quote.

Questions, email me or call/text me at 440-339-4341.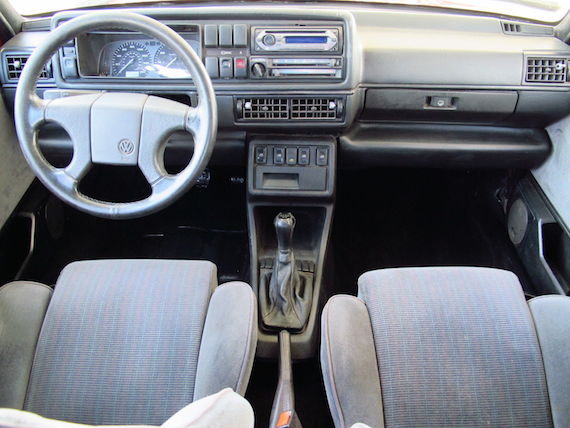 The thing which caught my eye first was the Porsche phone dial wheels. I never thought they would seem at home on an A2 Jetta, but the look works for me. Tornado Red is a sharp color for the Jetta GLI and the interior looks to be well-preserved for the mileage. The car has a few issues, but if you want to get into a VR6 powered A2 Jetta without toiling away for hours in your garage, this is a solid way to go about it. Vehicles with engine swaps are always a bit hard to put a finger on when it comes to value, but bidding is strong so far for this one. I'll be very interested to see what the final number is come auction's end.
-Paul