Historically, I haven't given the MkII GTI enough credit. My dreams have always gravitated towards the ur-GTI and been soiled by the fattyfat later models (though VW is doing an admirable job of rekindling the fire). Today's 1991 16v, in a perfect red/black paint scheme, has me sold on the newer-but-not-too-new MkII style. They're ripe for great engine swaps and all that, but I think a clean one with the classic 16v engine would be a great place to start. The owner appears to put plenty of time and effort into making this a very clean GTI, so even with 160k miles it looks fantastic.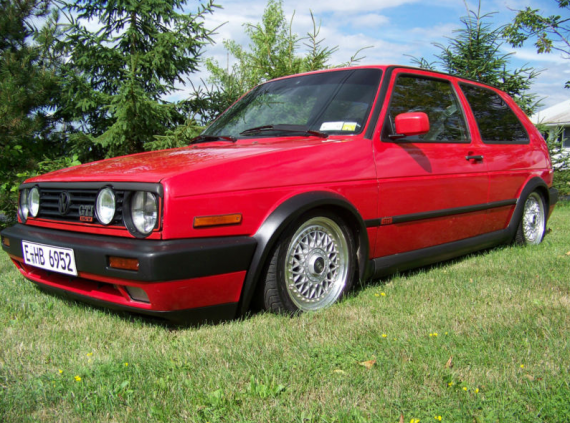 From the detail-oriented seller:
Up for sale is my 1991 VW GTI with the 2.0L 16v engine. I have owned this car since the summer of 1999. I bought it with 89,204 miles. It now has 160,702 miles. This has been a revolving project car since purchase. I have never driven this car in the snow or salt under my ownership. It has been garaged every winter in a heated garage under a car cover. I believe this is one of the nicest original Mk2's you'll find in the northeast. I have put hundreds and hundreds of hours and I have no idea how much money into this car over the years. I don't even want to tally it up, even if I could. If a part was questionable on the car it was replaced. Many parts were replaced simply to make everything look like new. Everything from engine gaskets, hoses and inlets/outlets, brakes, calipers, driveshafts, wheel bearings front and rear, radiator, water pump, fuel filter…the list goes on and on. In fact I really wish I did keep a list now trying to think back what I have done over the years.

I am the 3rd owner of the car as far as I can tell. The original owner rear ended another vehicle when the car was brand new and it was fixed by the dealer who sold the car. I have the paperwork from this repair. The 2nd owner struck a deer in the right front fender which I had repaired after purchasing the car. The rest of the paint on the car is original and in pretty good shape considering the age. It really cleans up well with some elbow grease and polish/wax. The lower front bumper is scuffed by the fog light and the lower rear bumper is peeling behind the wheel. Other than the typical nicks, scratches and pitting you would expect to find on a high mileage vehicle, the paint is what I would consider excellent condition for being 21 years old. See the pictures; I tried to show some of the worst areas.

I have absolutely no desire to sell this car except for the fact that I simply don't have the time to use it anymore. It has been off the road and inside my garage under a car cover for the past 2 y ears. Periodically I start it, move it in and out and/or drive it up and down the driveway.

Exterior:
-Stock quad headlight grille
-Upper grille spoiler by Kaimei
-Cross hair headlights
-European headlight adjusting motors which enables you to aim the headlights up or down via a dash mounted switch. These are factory European parts I installed. Custom wiring harness with all soldered wiring connections-not crimped!
-Euro plate held on with rare earth magnets embedded in the front bumper cover.
-European spec taillights with rear fog light.
-Smoked front turn signals.
-Stock BBS RM wheels. These are a set of the best RM's that I've seen in the northeast. One lip has a slight bend in it from a pot hole but it is slight and does not affect the balancing or seating of the bead in any way. Some of the lips have peeling of the clearcoat but nothing like the typical peeling on RM's that you see. Otherwise they are straight and balance out well.
-Porsche door handles installed with brand new mounting pads. Lock cylinders converted over to stock so the original ignition key fits.
-Lay-flat rear wiper modification.
-LED lighting in rear license plate illumination lights.

The bad: the rear panel under the hatch is dented and the emblem is missing. The paint on the rear bumper is peeling in one area and the front bumper paint is scuffed as mentioned earlier. There are nicks and scratches as well as pitted areas of paint that you would expect from a high mileage car but it really does clean up well. I had refinished the lips on the wheels back when I first got the car. They are now peeling again and need to be refinished. Once again, see the pics. In my opinion, the wheels are still in much better shape than any other RM's you'll find in the northeast these days.

Interior:
-Stock Recaro interior. The interior is close to perfect shape. The bolsters on the front seats are in almost perfect condition. They are not clapped out at all like most Recaro seats these days. The driver's side seat bottom has a slight cigarette burn hole in it (this was present when I bought the car-I do not smoke, nor has the car been smoked in by anyone since I have owned it). I took great care in entering and exiting the car so as to not destroy the front bolsters.
-Custom center console with relocated cigarette lighter enabling a set of Audi VDO tri-gauges to be installed in place of the ash tray. Oil temperature (°C), oil pressure (bar), voltage. Gauges are backlit with red bulbs and dim with the dimmer switch. Custom wiring harness with all connections soldered not crimped.
-Italovanti steering wheel with 16v script on the center.
-Stock rubber floor mats.
-Stock carpeted floor mats with GTI 16v inscription embroidered in. These were only installed at shows and were never on the floor while driving the car.
-Aftermarket CD player (pioneer) with remote control.
-Pioneer speakers all around.
-337 red stitched golf ball shift knob/boot.
-Duostyling Air/Fuel ratio gauge.
-LED lighting in dome light.
-OEM "pillbox" ignition key with lighted head and case. I also have a second pillbox key that is missing the case.

The bad: the headliner is falling down in the rear and needs to be re-glued. The dash has some cracks but nowhere as bad as you typically see in an Mk2 these days. The plastic trim piece under the rear hatch area is broken.

Suspension:
-Weitec XS coil over suspension with approximately 5,000 miles. Fully adjustable including ride height and damping. New poly upper strut mounts installed and front upper strut bearings at time of installation.
-Highly sought after Eibach flat aluminum front stress bar.
-Neuspeed triangulated rear stress bar but missing the triangulated portion. One could be easily fabricated and installed.

Engine:
-Stock 2.0 L 16v
-TT tuning EPROM
-Jet hot coated stock exhaust manifold
-TT tuning dual stainless down pipe with catlytic converter delete.
-TT tuning all stainless exhaust with borla muffler.
-ABA serpentine belt conversion including alternator and a/c compressor.
-Mk3 weighted shift rod with new bushings.
-Brand new optima battery with factory battery cover.
-Custom lighting wire harness to "relay" the front headlights (all 4 of them) with 8AWG wire feeding the relays and 12AWG feeding the bulbs. Each circuit is fused separately with a custom fuse block mounted in the engine compartment.
-No radiator fan. I had modified a B4 passat fan and shroud which I ran for quite a while but it quit so I just took it out. The plug for the fan has been converted to this style.
-Skid plate under engine and transmission.
-K&N air filter
-BBM solid front motor mount

I have replaced just about everything on this engine over the years short of tearing it out of the car. I have had the head off and did valve seals and head gasket, engine pan, water hoses and inlets/outlets, water pump, timing belt, tensioner, you name it. If it needed it or the item looked questionable it was replaced. I have always run synthetic oil and Mann/Mahle oil filters. Oil has been Mobil One/Elf/Total meeting current VW specs for the new cars. I always change my oil at 5000 miles and always in the spring after sitting all winter. I have always used VW spec coolant. Currently it has G12 plus plus in it.

The bad: I never hooked up the a/c compressor after I did the ABA serpentine belt conversion. The old suction and discharge lines need to be converted over to the single block mount connection to match the newer ABA compressor. I also never put the a/c condenser back in after a radiator change as it was shot anyway. You would have to install a condenser and swap over Mk3 lines or modify the existing suction and discharge lines at the compressor to make the a/c function. Valve train has typical high mileage tappet ticking but goes away a short time after running.

Transmission/drivetrain:
-Stock 5 speed transmission. 2nd gear syncro is kind of tired and will grind on a really fast shift. No clicking in reverse and otherwise is smooth and quiet. Currently has synthetic gear oil (Amsoil) in it.

The bad: driver side inner CV joint boot is ripped and needs replacing. I will include a brand new replacement joint kit with the car.

Brakes:
-Stock front and rear rotors. Front pads are high performance Hawk pads and rear pads are stock replacements.

The bad: rear e-brake inoperable. Well it really is operable but it sticks thanks to VW's wonderfully designed rear calipers. I was always going to convert to the Mk3 aluminum war calipers but never got around to it. I replaced the e-brake cables so I know they are not the issue.
Besides a few scuffs and the coilovers turned down a few too many clicks, this GTI could definitely fit in my dream garage. Put a few more miles on the 16v and when it goes out, you have a great base for a swap. No bids yet so we have no idea where the reserve is, but taking the good (loving attention) and bad (not perfect, lots of miles) into account, I think somewhere above $4k and below $6k is fair price for this second-gen GTI.
-NR