Since we've had a few good examples of basic German motoring featured here at GCFSB this week, I figured we should continue the trend and highlight Volkswagen's attempt in the 1980s to bring back some of that original Beetle magic, the Fox. Offered from 1987 through 1993, the Fox was manufactured in Brazil, where it was also sold as the Volkswagen Gol. The lowest priced vehicle in Volkswagen's lineup at the time, it was powered by a 1.8 liter four cylinder engine with 80 horsepower and a four or five-speed manual transmission. Restyled for 1991, the Fox would survive for only two more years in the US marketplace. This low mileage 1993 Fox four-door represents the final year for the Fox here in the US.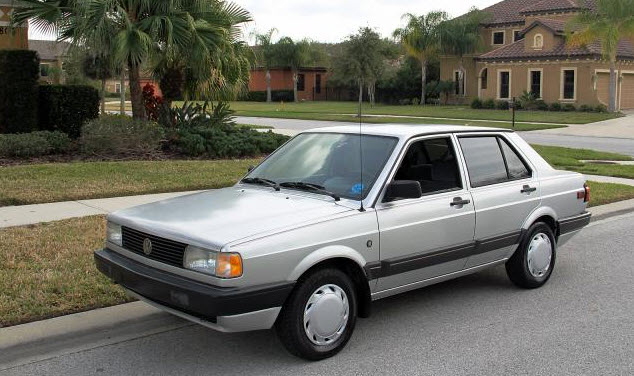 1993 Wolfsburg Edition Fox 4-door sedan. Bought it three years ago with 30K original miles. This has been my daily driver up until I purchased a replacement vehicle three months ago. Before I continue, let me address the value of this car. If you are thinking that you will e-mail me offering a Kelly Blue Book price or something similar save your time and don't. When I bought he car I paid more than book value for it. It's a unique vehicle in great condition with low miles. These are not the vehicles that show up in KBB or any other standard car value service. A car similar to this one went for 6K on the popular "bay" auction site last year. I'm not asking anywhere near that. If you are still interested, please continue reading.

This Fox runs and drives excellent. I have replaced many parts including both fuel pumps and all fuel hoses, the ignition switch, valve cover gasket, front brake pads, rotors and hoses, battery, and more. I also have all new struts, bearings and bushings for it. The interior is near mint.
A/C is ice cold. Features a 1.8 with a smooth shifting 5-spd. Manual steering and power brakes. The only downside to the car (in my opinion) is that the clear coat is starting to go on the roof and hood and there are a few minor surface rust spots starting (mostly due to the paint being thin) This car is CLEAN! Look at all the photos and be sure to click on the link for more. Car was originally from Texas and has been in the south it's whole life. Clean title and shows accident free! The underneath is nearly clean enough to eat off of! This is a great car at a great price. Very reliable. Why buy a Golf or Jetta and be like everyone else? Stand out in the VW community! Dare to be different. Drive a Fox!
Regardless of whether this seller paid over book value for this car, it doesn't effect what someone in the market is willing to pay one bit. Nearing $4,000, this is a huge ask for one of Volkswagen's most basic models, regardless of condition. But, there's a buyer for everything and I wouldn't be surprised if someone out there has been on the hunt for a Fox in good shape. While the presentation is impressive, I'd want around $1,500 or so knocked off the asking price to deal with the paintwork. Only then, perhaps, would this car grab my attention.
-Paul