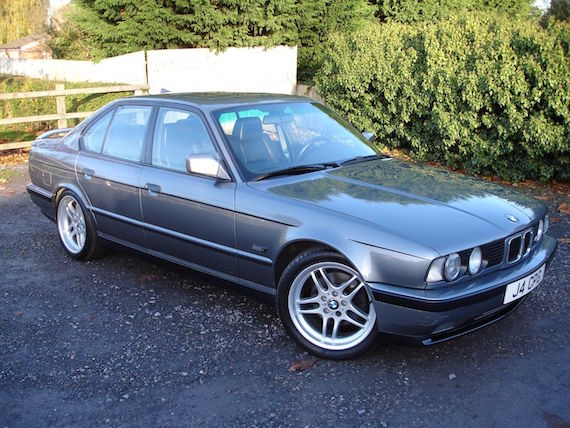 It really does feel as though the market is finally waking up to the E34 M5, as values on nicer examples continue to climb. Bring a Trailer recently sold a U.S. spec '93 with only 14,000 miles for what seems like a staggering $68,000! As they should have, considering the package. The E34 is a surprisingly great driver's car, even in non-M guise. But in full blown M5 spec, it's sublime, a throwback to an era of hand-built sport sedans that offer a satisfying analog driving experience. To make it, BMW sent the regular E34 chassis from the production line at Dingolfing over the geniuses at M GmbH in Garching, who dropped in the screaming, six cylinder S38 motor with six individual throttle bodies. In US-spec form, the 3.6 liter motor put out just over 300 hp, although a larger, 3.8 liter unit became available in Europe from 1991 onwards, which increased power output to 335 hp. The 3.8 never reached US shores by official channels, though these cars are now old enough to be imported without the need for expensive modification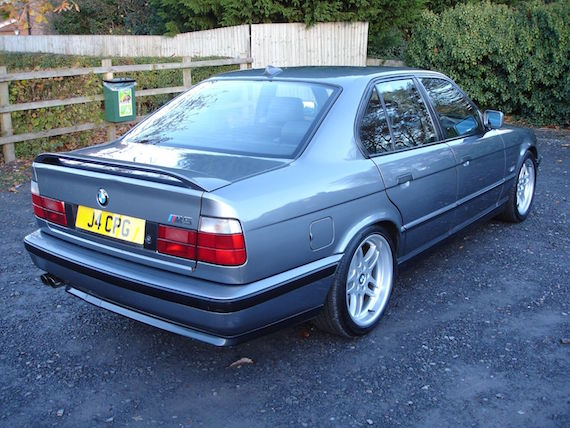 Year: 1992
Model: M5
Engine: 3.8 liter inline-6
Transmission: 5-speed manual
Mileage: 80,000 mi
Price: $14,995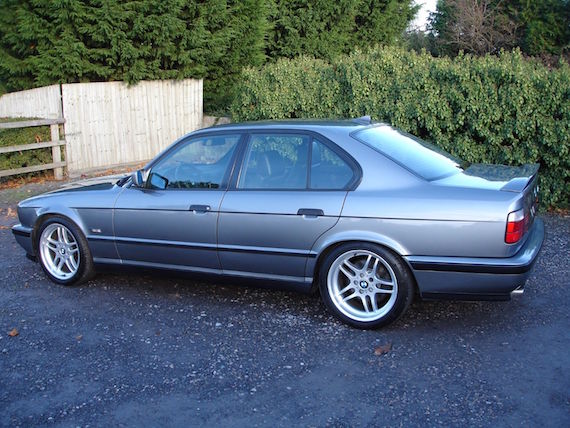 This is an advertisement for my E34 M5 currently located in the UK.

I am contemplating selling my car which I have owned since 1999 and has pretty much been a garage queen since. I really don't want to advertise it in the UK as it is a LHD and to be perfectly honest is underappreciated in Europe despite it being an incredibly rare car. Especially in this condition.

I moved to the U.S in 1999 and toyed with importing an E34 M5 and bought this 1992 3.8 Granite Silver M5. After further investigation I found out that the reason the 3.8 was never sold in the US was the emissions compared to the 3.6 but I decided to proceed anyway. With parts being cheaper in Europe and access to specialists I had the car completely restored to its original condition (not that it needed much) and prepped for federalization checks in the US. Due to my emissions concerns this meant an engine rebuild, All intake and exhaust sensors as well as cats. It has the Nurburgring EDC suspension and at the time one was leaking so I replaced all 4 and the control unit. All bushings and perishables were replaced too. My aim was for it to be totally factory. The only upgrades have been a set of M5 specific M Parallel wheels, including spare (245.45.18 Pirelli P Zero tyres) and a Becker Monza Head Unit with Bav Audio replacement speakers.

I did use the car when in the UK but it has done very little miles since then. (Only at 80,000 now). Also the emissions testing was abolished in Florida shortly after which made some of the work pointless. Spending more and more time in the UK I simply never got round to sending it to the US. Still garaged (on stands in a climate controlled facility) I then intended to send it when it was 20 years old so it would be considered a classic car. But that was 5 years ago. Due to new family commitments it looks increasingly unlikely I will be using it in the US. As mentioned before. It is wildly underappreciated in the UK and at £1.20 a litre of fuel it really isn't a viable daily driver.

This ad is really just a 'feeler' to see if it would be more appreciated in the US and also considering the weak Pound. So I haven't listed huge detail of the car. Just the story behind it. Obviously if you are looking you know what it is and would only make contact if genuine.

Thanks for looking and feel free to ask any questions. Rick.
01144 7393 956034

$14.995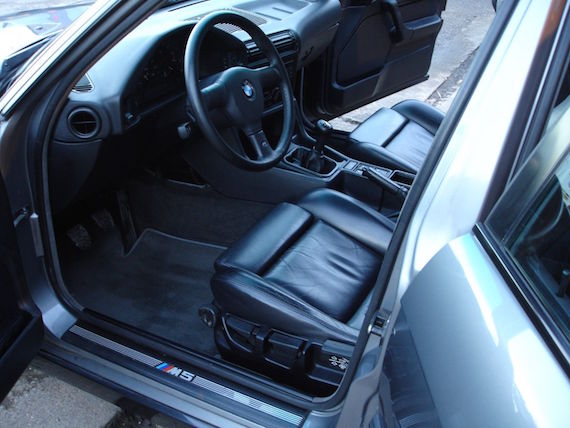 The story behind this particular Euro-spec, LHD 3.8 is intriguing. It's currently located in the UK but the ad has been placed on US eBay. The current owner used to split his time between the UK and the US, and purchased this car with the intention of bringing it Stateside. Although he began prepping it for import, he is no longer interested in bringing it over himself. He suspects there would be interest in the car from US-buyers given the weak pound, and the fact that it has the 3.8 liter version of the S38 engine that was never offered here. He might well be right.
The car presents beautifully in Granite Silver. I have an E34 in the same color – though only a lowly 525i – and I have to say it's one of my favorite things about the car. It really lends itself to the classy and restrained lines of the E34 body shape, and while it can appear to be a quite dark, moody gray in low light conditions, it sparkles wonderfully in the bright sun. Here, it's paired with a lovely black leather interior that appears from the photos to be in excellent shape. The car wears handsome M-Parallel wheels (when do these rims NOT look good!), clear corner and tail lamps and a rear bootlid spoiler which, while not to my tastes, isn't that offensive. The S38 motor is a glorious powerplant, but needs to be maintained scrupulously as it enters middle age. Reassuringly, the seller reports that he has undertaken an engine rebuild, replacement of bushings and rubber, and a refresh of the expensive EDC suspension system.
While it's a regular, no reserve auction, the ad copy includes a sale price of $14,995. For an 80k mile, Euro-3.8 in apparently very clean condition, that strikes me as a very reasonable price. To be sure, the fact that it's in England presents a few additional obstacles, but I can't imagine it would be that difficult or expensive to import (any readers with direct experience of importing cars from Europe feel free to chime in).
As values on the E34 M5 begin to rise, I think this could be quite a buy. Those with cash to burn might even want to travel to Shrewsbury to see the car in person – it's a lovely, stereotypical medieval market town in the English countryside. I went there with my dad many years ago, when I lived in England, to buy an E36. If I had the money today, I'd be interested in taking another trip back there to take a look at this car myself.
– Craig