We are all big M5 fans here at GCFSB, especially fellow contributor Nate who just purchased a choice example of the original E28 M5. I've had my sights set on an E39 for some time, but every time I see an E34 M5, I get weak in the knees. This was the next evolution of BMW's original high performance sedan formula. With a 3.6 version of the S38B36 inline six cylinder engine, this M5 produced 307 horsepower in North American trim with the help of electronically controlled throttle body valves, an improved flywheel and higher compression, among other modifications. Built up until the final year of E34 production in 1995, this was one of only two generations of M5 to have a Touring, or estate version, with the E60 M5 being the other M5 available with five doors. Neither generation of M5 Touring was offered in the US and it is the second rarest M car ever made after the M1, with only 891 units produced.
This particular example looks to have been well used, but maintained in a good manner and has the all important stock alloy wheels, which are becoming harder to find as the years pass. Not many people were fans of these wheels, as they made the car look like it was wearing white wall tires. However, the bolt on center piece had cooling fins that directed more air to the brakes. Handy for a car of this caliber. This particular example came here from Canada and has 142,000 miles under its belt.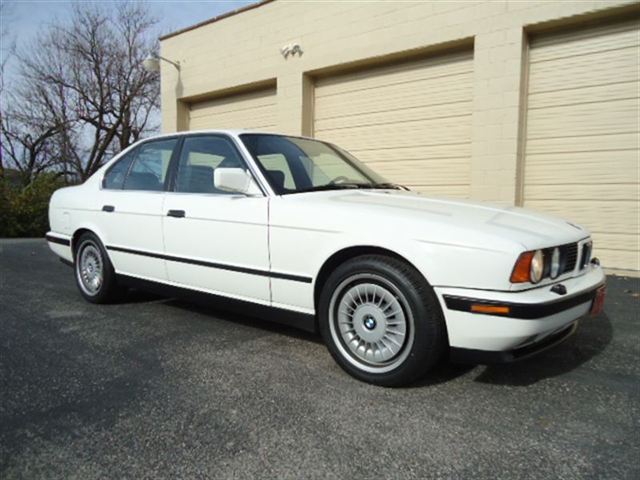 1992 BMW M5 with only 230,114 Kilometers which equals 142,986 miles. This rare and unique vehicle is in wonderful condition and is sure to please. If you were wondering why Kilometers, that is it was originally registered in Canada. This is one vehicle I have always enjoyed and you hardly see any around. With very few made its becoming quite collectable and highly desired by M series buffs. Has the perfect balance of sport/luxury. Runs very strong with the gearbox feeling positive and precise. Inside and out are in great condition and above average for the year and miles. Air conditioning works good with no apparent issues as well as all windows and sunroof. Overall the vehicle is truly nice for being almost 20 years old. Tires are new and ready for the road. This is one vehicle I hate to sell, just because they are so hard to come by. The Alpine white over black really looks sharp! This vehicle comes complete with books,manual, and keys/remote. This M5 is also Carfax Certified and by clicking on the link at the bottom of the page you can view it for free (take note at all the regualar service).
The lowest mileage, cleanest examples of the E34 M5 may pull $15,000 to $20,000 in today's market. Anything around $8,000 to $10,000 is just about right for an M5 with this kind of mileage. I like the fact that this car appears unmolested. No window tint, no aftermarket stereo, no oversized alloy wheels, nothing. I'd question whether a Canadian version could be easily registered here in the US, but that would be a question for the buyers respective state DMV. Overall, this looks to be a solid example for the buyer interested in using this car as intended, rather than stowing it away as an investment.
-Paul