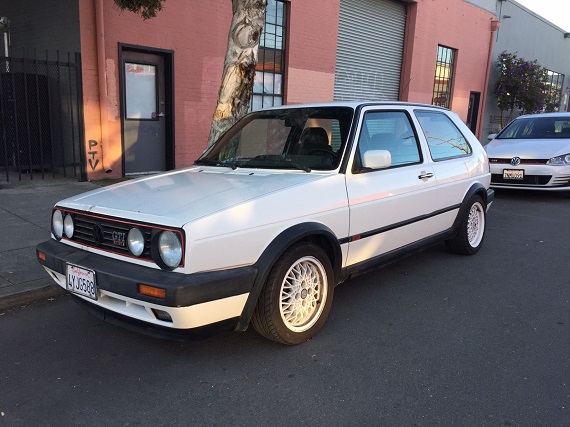 9A. It's a term most enthusiasts don't know. Unlike most pedantic BMW owners that have memorized every signal chassis, engine and option, Volkswagen's various iterations of the EA827 motor can get a quite esoteric even to lovers of the brand. But the 9A was something a little special, because that was the high-revving 2.0 liter 16V that was stuck into the GTI, GLI and Passat models in the early 1990s. Down on power to the more famous and ubiquitous VR6, the 9A was the VW's equivalent of the S14. Like the E30 M3, the GTI and GLI wore special items to denote the racey motor under the hood; BBS wheels, wider flares, foglights, Recaro seats and special trim to help set them apart from the more pedestrian lineup. This was the period where a blacked-out VW badge really meant something. While the 9A might not be a name most remember, the "GTI 2 liter 16 valve" still is a magical formula to lovers of the hot hatch in the late 1980s and early 1990s: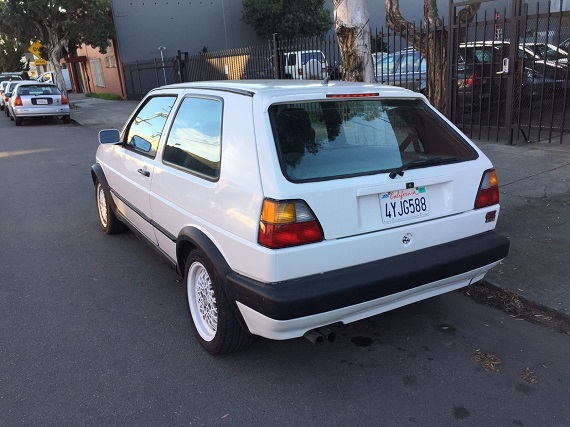 Year: 1992
Model: GTI 16V
Engine: 2.0 liter inline-4
Transmission: 5-speed manual
Mileage: 205,228 mi
Price: No Reserve Auction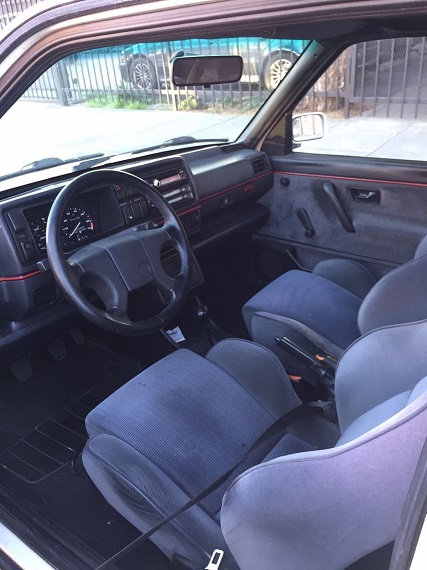 Offering for sale is my 1992 VW Golf MK2 16v. If you've been on Craigslist, Ebay, VWVortex, and all other car classified sites, you will know it is next to impossible to find a '92 16v + white. Car is a runner and not a garage queen. Here are several reasons why you should buy this car.

Pro's:
1. 1992 – the last year of the MK2 VW Golf.
2. 2.0L 16v – one of two years VW launched a 2.0L on the MK2 platform.
3. White exterior. One of the hardest to find colors.
4. California car.
5. VW announces from 2016 forward all GTi cars will be 4 door. I'd consider this VW's version of the Porsche RS4.0.
6. No rust.
7. Koni suspension installed about 8K miles ago.
8. Loads of spare parts I've collected which will be included with sale: front bumper, side rocker panels with caps, HVAC center surround, and other plastic pieces.
9. Clean and perfect headliner.
10. Oil changed November 15, 2016.

Con's:
1. High mileage.
2. A/C no longer works
3. CD player works but wired poorly so when you turn off the car you still need to manually 'off' the radio.
4. Cracks in dash.
5. small cigarette hole on passenger seat. Other than that side bolsters still have their shape.
6. Painted BBS RA wheels.

I am working on a 1984 VW Golf 1 and must sell this to help get certain parts fabricated. If you have a nice stock 1984 GTi headliner, please let me know and looking for interior C pillar covers.

If you are the winning bidder, I will need an immediate paypal of $1000 within 24hours to hold the car.

On Dec-07-16 at 11:39:06 PST, seller added the following information:

* Correct mileage is 205,228 as of 12/7/2016. Maybe a little higher as I'm still driving it to commute.
* Several bidders have asked what my buy it now price is? To keep it fair I will just let the auction run through.
* Vehicle would be sold as is. Spare parts will be included with sale.

On Dec-09-16 at 15:49:49 PST, seller added the following information:

Added additional photos of the headliner. Pristine and no rips. Car also does not smell of smoke from previous previous owner.

On Dec-10-16 at 10:57:14 PST, seller added the following information:

I had absolutely no idea why I uploaded the first batch of photos without cleaning out the car. To some of you who have asked whether there's rust or damage to the front, I managed to go clean up this morning. I've also taken a shot of the functioning headlights and fogs.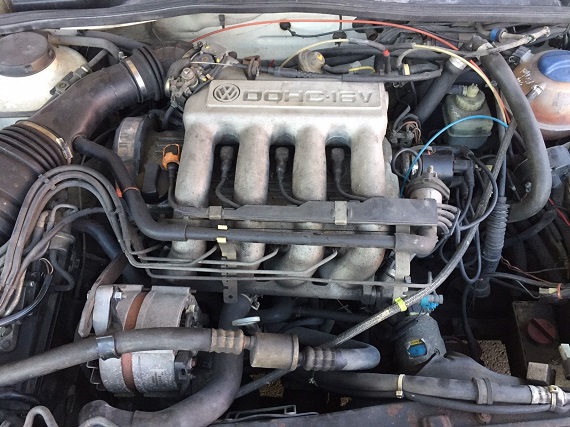 Respect to the owner, comparing this car to a Porsche 911 GT3 RS 4.0 is like comparing my Passat to a Rolls Royce Phantom. Nevertheless, they're correct that L90E Alpine White is a pretty rare color to come by in an already rare to come by car. Some claim there were only 5,000 of these cars imported to the US, making them even more rare than the E30 M3. Unfortunately for us, the condition isn't as great as most collectors would like. The original multi-piece and notoriously soft BBS RM wheels have been replaced by easier to source, narrower and not much stronger (but period correct, GLI-specification) single-piece BBS RA wheels. The general condition isn't bad for a 200,000 mile driver, but there are several areas that need some more attention. And, in typical used VW fashion, we inexplicably get dirty pictures of the car (at least he admits he doesn't know why he did it at the end?)
However, as a bonus, it's mostly there and is a no reserve auction. Often, these 9A cars are overvalued by their owners, so it's refreshing to see an open auction. With a few hours to go (sorry, with the website down I couldn't get this up yesterday!) the bidding has hit a little over $3,000. I'd say the car isn't likely worth much more than $4,000-$4,500 with this mileage on it, but the chance to own a bit of a GTI legend seems worth that amount even if there are things to sort.
-Carter