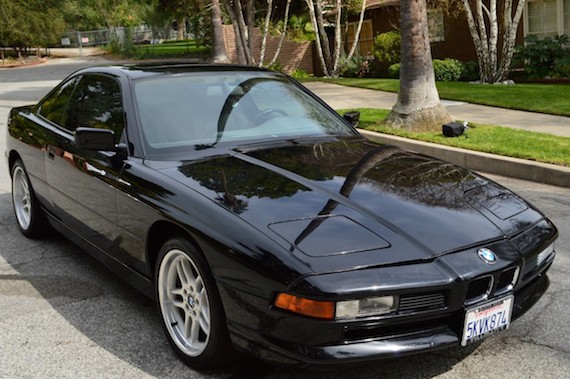 If one word could describe the 8 series, I think it would be "masculine." This black 850Ci for sale in California adds on to that aura with the V12 engine, 6-speed manual and beloved M-parallel wheels. With the sleek low hood, concealed headlamps and flared haunches, this coupe has a stealthy look about it. Short of exotic Italian machinery, there aren't a lot of cars from the modern era that pair a V12 with a manual gearbox. For a while in the 1990s, however, BMW was more than happy to provide this drivetrain combination to the enthusiast who just wanted to go fast.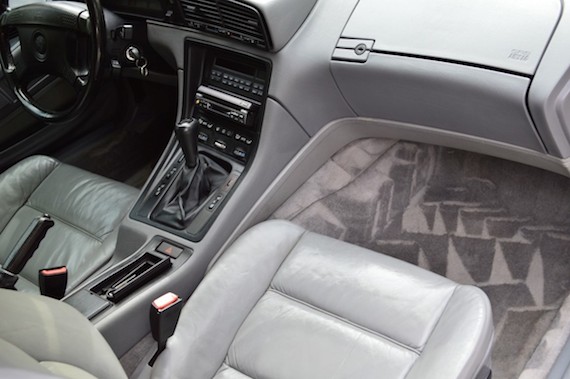 Year: 1993
Model: 850Ci
Engine: 5.0 liter V12
Transmission: 6-speed manual
Mileage: 140,038 mi
Price: $19,900 Buy It Now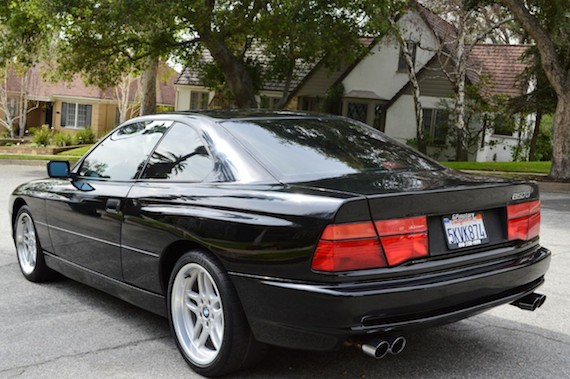 Hello everyone! This is a 1993 850Ci V12 with the RARE 6 SPEED! Engine is in perfect condition. Transmission is in perfect condition. Clutch is in perfect condition. A/C blows ICE COLD! Car is laser straight! Hard to come by in almost perfect condition like this! Looks like it just came out from a BMW showroom with an original cost of $100,000 out the door. This 850 drives flawlessly, shifts through all gears, all the gauges work properly. Only defect is one tiny rock chip on the top drivers side of the windshield. To cut the story short – everything works as it should. Next paragraph is a brief history of the car.

I bought the car from the owner that kept the car in immaculate condition. Always taken to BMW for maintenance as carfax shows. This car is all original except for the addition of M series wheels and tires, Bilstein shocks, an exhaust, a sound system and window tints. Upgrades are done tastefully. All in all its a one of a kind BMW that you will enjoy to own. I am selling this car to reduce the size of my collection.

You are welcome to come check out the car or send a third party inspector. Obviously this used car is sold as-is with no warranty. Feel free to ask any questions. Send me your number and I will contact you.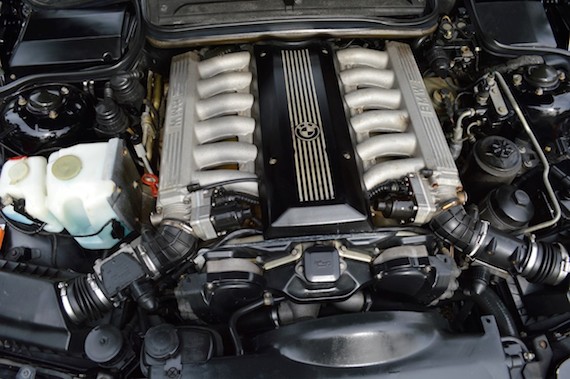 It's curious that the Porsche 928 was designed in the seventies, because it was sold for a few years during the 8 series lifecycle. Upon looking at the two cars, none looks any more dated than the other. It's true, then, that good design never goes out of style. Two different cars they might have been, but with a similar goal of striking a balance between performance and comfort with a lot of power under the hood. The 850CSi is the really pricey one of the E31 coupe lot, but 850 prices have stayed reasonable, mainly due to their high running costs. Expect to pay in the mid to high teens for examples like we see here.
-Paul