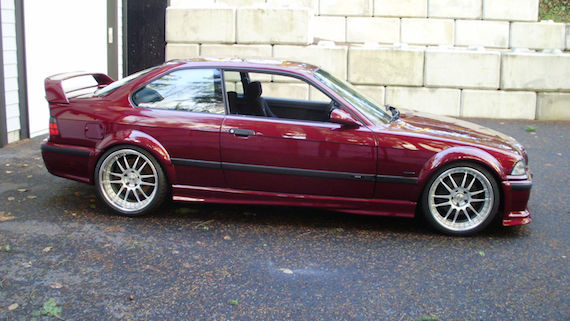 This completely redone 318is – replete with M3 parts including S52B32 engine and widebody kit – is back on eBay. It's clearly taken a lot of work and isn't a bad looking car (I'd say the wheels are the most glaring ugliness), but the seller is clearly determined to get his $30k out of it, as the price is exactly the same as when it was for sale 3 months ago. It's a cool car, but unfortunately another example that one man's expensive project does not make another man's highly-valued dream car.
The below post appeared on our site August 31, 2014
It's always fun to see what the creative engineers can come up with out there. The guys at CG Motorsports clearly wanted to show their building skills, so they went a roundabout way of making an E36 DTM-style M3 tribute, albeit in show/street-car guise. I will admit to a guilty love of wide-bodies, though this love is confusingly matched with a distaste for wings and overdone wheels. These guys took the basic-but-capable 318is and stuck M3 bits all over, including some body parts, suspension, transmission, and engine. Add a DTM-style widebody kit, and you've got a tuner's show car! They're selling it in a way that sounds like more trouble than it's worth – offering the chassis and body alone, or with all of the running gear and additions – that just makes me scratch my head harder. Taste and selling tactics aside, it is a clean FrankenBimmer that, at least to me, has some potential.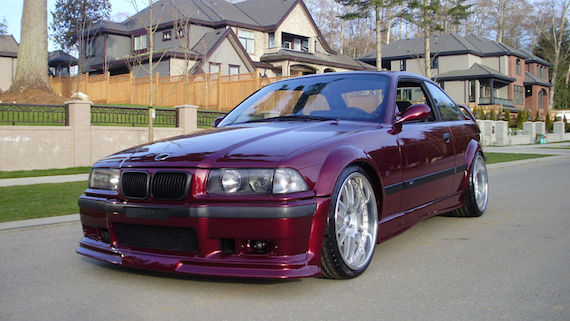 Year: 1993
Model: 318is converted to M3-spec
Engine: 3.2 liter inline-6
Transmission: 5-speed manual
Mileage: Unknown
Price: $30,000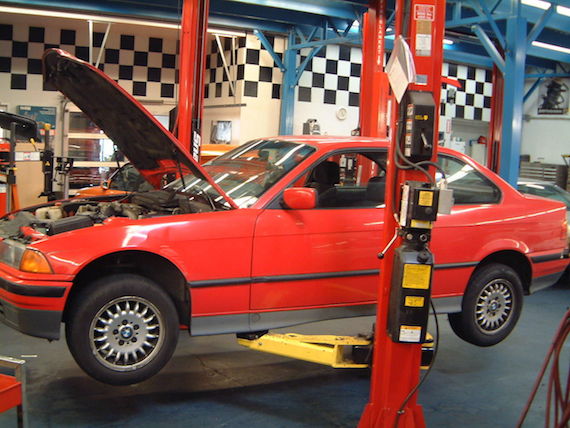 Up for sale is a custom BMW 3 series (E36 chassis) fitted with a very rare and modified I-Ding power widebody kit. This vehicle is a 1993 318is convertyed and modified to M3 specifications with all the chassis strengthening components welded in. Original color was Brilliant red and has been resprayed in a dark wine red with gold pearl. This car is available "as is " with all modifications or as a "base price" of just the chassis/widebody/paint. I have provided a list of all the parts currently installed and you can pick and choose what you want with the car and add it to the base price.

-1993 318is – non sunroof chassis $1,000
– I-Ding power widebody kit inc rear wing $2,000
– paint and body kit install $7,000.
-M3 body kit $800

******BASE PRICE $10,800. ******

-M3 diff carrier, axles and rear brakes $400
-M3 front lower control arms, knuckles and brakes $400
-H&R coilover kit $500
-Turner rear lower control arms $300
-X brace $160
-Racing Dynamics anti sway bar kit $500
-Euro S50 B30 headers, Supersprint race center section , Supersprint competition muffler $3,200
-Brake cooling duct/ fog light kit $160
-Recaro SE seats with mounts and sliders $1,200
-M3 leather rear seats and door panels $400
-19″ OZ racing rims, Michelin pilot sport tires $4,800
-Bosch euro lights ( new) $650
-momo steering wheel and hub kit $250
-M3 5 speed with drive shaft $850
-m3 3;23 diff $400
-M3 side mirrors $300
-Black kidneys $80
-1/2 smoked tail lights $250
-Black headliner kit $300
-smoked front park lights $60
-S52 engine conversion with rebuilt cylinder head ( under 300 km's since build). $4,300.
-M cluster $100
-Boost gauge $40
-Tree house racing LCAB's $100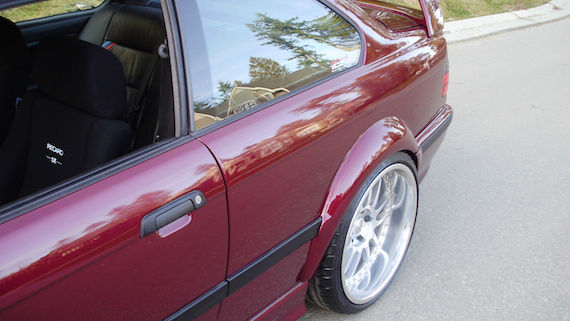 I won't be paying $30k for this car, and I don't think anyone else will either. It does rekindle my daydreams of a more subdued wingless widebody E36 though. Subdued, this car is certainly not. But it does look like it was an entertaining project for a capable shop. Maybe someone, somewhere is looking for a late-90s Eurotunerish show car. If so, try to get the seller to lower the price. If not, laugh and walk away.
-NR