A black e34 M5 for $19k with 59k miles… What's the catch?
Update 9.15.08: – Now ad $17.5k. Links updated.
1993 BMW e34 M5 For Sale on Roadfly: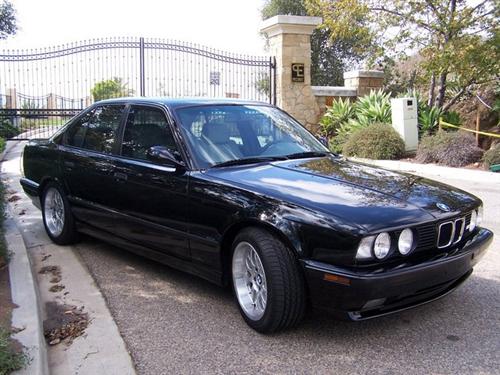 Low mileage, well-maintained M5. Drivetrain is stock except for DINAN chip and UUC short shift kit. Near new Michelin Pilot tires and Rondel wheels ( 5 ). New BMW OEM catalytic converters. All fluids changed within last 6 months. Interior and exterior are 8/9 out of 10. Price is firm. Serious inquiries only, please.
The only thing I take issue with are the aftermarket rims, which are probably inferior to the OEM originals. If this is in fact a clean survivor with some records, $19k sounds like a steal to me considering I've seen comparable examples in the low to mid 20's more often than not.
dc
Update: This post is pretty out of date. Why not consider one of these BMW M5's that is currently for sale?!
[AffomaticEbay]1993 BMW M5[/AffomaticEbay]