One of our favorite Q-ships, the 500E picked up the torch for Mercedes in 1990 to continue their tradition of the high output V8 in an otherwise stately yet sedate four door.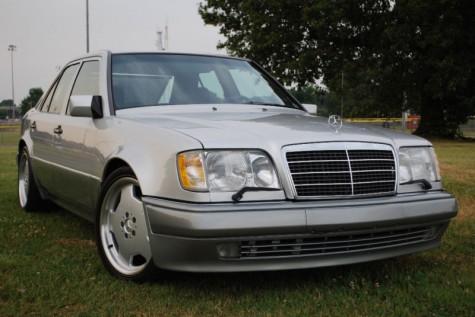 This particular car is the last year of the Porsche built special. As a 1994 its official company designation swapped with the rest of the lineup to E500 from 500E. This car comes debadged for added stealth, though the bulging wheel arches are an easy distinguishing factor from a more average W124 model.
Mercedes and Porsche really did the 500E right, it wasn't just a big engine stuffed into a chassis that wasn't prepared. The engineers and designers took time to carefully consider what they wanted as the outcome for the 500E and as such made proper modifications to other systems.  One can not say this enough: The 500E is not a 300E with a 5.0 liter engine.  Giving the car special handbuilt construction gave Mercedes an extra marketing point, it gives the 500E itself a hint of the uniqueness  that harkens to earlier days of coachbuilt classics.
Owners paid significantly for the pleasure of driving the 500E new. Prices topped out at just about $90,000. To put that in perspective, at the time, a BMW M5 would set you back only in the mid $60k range and you could just about buy two Audi S4 models for the price of one 500E.
A total of apx. 10,300 500Es slowly rolled out of the factory, those aren't big numbers, but they aren't as rare as other Merc sleepers like the 300SEL 6.3 or the 450SEL 6.9.  It is important to note that the 500E is not an AMG model, this is sometimes confused. The 500E came at a time when AMG was still not fully under control of Mercedes and these were 100% factory cars. AMG did produce the awesome E60, which was a 500E with a 6.0 liter powerplant.
When you inspect a 500E up close it is rare to find problems in build quality, more often any problems are do solely to owner neglect.
The car featured here comes into us through a reader at RENNtech (we get giddy if we pop the hood of a Benz and see those trademark carbon fiber intakes.)
This 500E has covered 80,000 miles and looks great in fitting Mercedes brilliant silver. Though, there is at least one black 500E out there that has been "murdered out" that caught my eye in the past. (I split the difference with my 70 250C, black roof, silver body) Other than paint the exterior of this 500E is complimented by proper 18″ AMG monoblocks. More importantly its looks aren't hampered by the ugly sunken U.S. sealed beam units previous model year U.S. market cars had. E-code headlights on earlier domestic 500Es is almost a must in my book.
Other mods on this 500E are ones you like to see, appropriate and tasteful. Those include over $7,000 worth from RENNtech. Thee first gear start valve body is a popular addition for Benz from this era and allows for longer, spirited, pulls in first, without losing streetabilty under regular driving. Combining that with the traction control defeat switch will allow for some tail happy adventures. Keep the car out of the hands of teenage drivers to avoid unneeded transmission/driveline wear and tear.
A few extra ponies are added to the stock 320 with the addition of the RENNtech carbon airbox, chip, and stainless exhaust.
The seller states the car has been serviced for the past decade at Mercedes Benz of Memphis. There isn't a lot of description in the ad, but perhaps it isn't needed. Those in the 500E market know what they are looking at and the ad appears to be a simple, honest presentation of a solid specimen. We unfortunately have become quite cynical with our experience in the world of vintage cars so we get a little nervous with brief car ads and always make sure to ask lots of questions about what works, what doesn't, what's missing, service records etc.. With a vehicle that could be purchased for potential collector value we'd encourage a PPI, particularly at this $25,000 ask.
You can get a 500E for less than this one, but top quality low mile collector candidates can bring $40,000. Without knowing more about this particular car I don't find the ask unreasonable and can see it being considered well priced a few years from now, but it may take several listings on eBay before someone takes the plunge. In the world of eBay bargain hunters it may be better to start with a lower ask to try and get a couple seller's in the competing mood. When you look at what $25k will get you in terms of classic German iron I feel that if the seller knocked a couple thousand off the price a few more potential buyers will show up.
Great car.
~Evan