Those that know me are aware I'm a sucker for oddball cars. Even though I know I'd be more likely to buy the coupe version, I've always been curiously attracted to the Porsche 968 Cabriolet. Perhaps it's the fact that they are rare. Maybe I'm dismayed by the current crop of sedans and SUVs that Porsche is producing and yearn for the simpler times. When I first stumbled upon this 968 for sale in Minnesota, I was afraid it might be an automatic, like many were so equipped. Thankfully, this car has three pedals and isn't looking too worse for wear after covering 65,000 miles.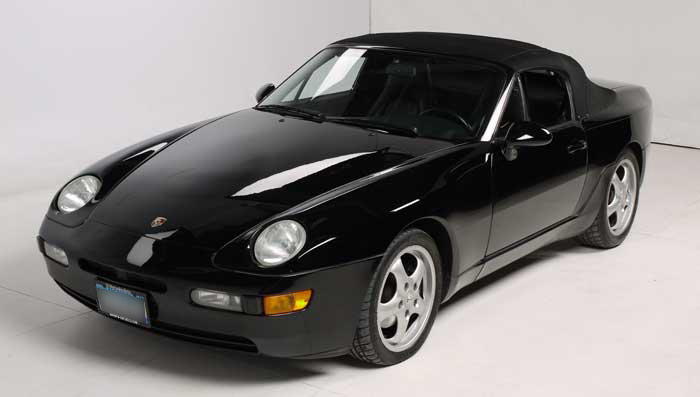 1994 Porsche 968 Cabriolet. Black exterior, black leather interior. 5 speed manual transmission. Power convertible top. 65,236 miles. Clean Carfax, no accident history or evidence of accident or collision, inside, outside or underneath. The car has had several owners since new, originally a leased car. It's been in Minnesota for the past 12 years, used as a seasonal driver during nice Summer months. It was traded in here at our new Mercedes-Benz dealership on a used Porsche 911 C4 by a local PCA member. Recent maintenance was performed at the local Porsche dealership here in Minneapolis including a timing belt and water pump. Everything on the car works as designed, lights, HVAC, power windows, power seats, etc.

The car drives flawlessly, excellent acceleration, shifts smoothly and easily up and down through all the gears, excellent brakes, handling is tight and responsive. Exterior finish is deep and shiny. No dings or dents. The black leather interior is in great condition as well. It's about as nice as a black car of this age can be. We fully cleaned and detailed the vehicle before taking the photos you see below. There is no RUST on the body of the car. The only non stock item in the car is a newer radio / CD player unit.
Considering the mileage and condition of this 968, I'd say were probably somewhere in the $13,000 to $16,000 range. It's not the most exciting looking sports car in all black, but these are great handling cars and a good option for someone looking for top down Porsche thrills on the cheap but don't want to drive an earlier generation Boxster for fear of driving the "lesser" Porsche.
-Paul