If it wasn't for this car, BMW as we know it might not exist today. After World War II, the company was getting by with the Isetta microcars, the 501/502 luxury cars and the 507 roadster. This certainly wasn't enough to keep it going and by the end of the 1950s, the company was facing financial ruin. Along came the rear engined 700 in 1959, with a horizontally opposed two cylinder engine derived from the R67 motorcycle. From the outset, BMW received 25,000 orders for the car and it went on to be a sales success, and even racked up victories in competition, with Hans Stuck winning the 1960 German Hillclimb Championship in a 700.
This 700 for sale in Florida has been treated to a complete restoration and is a stunning example of a car that many people have forgotten but is immensely important in the history of BMW.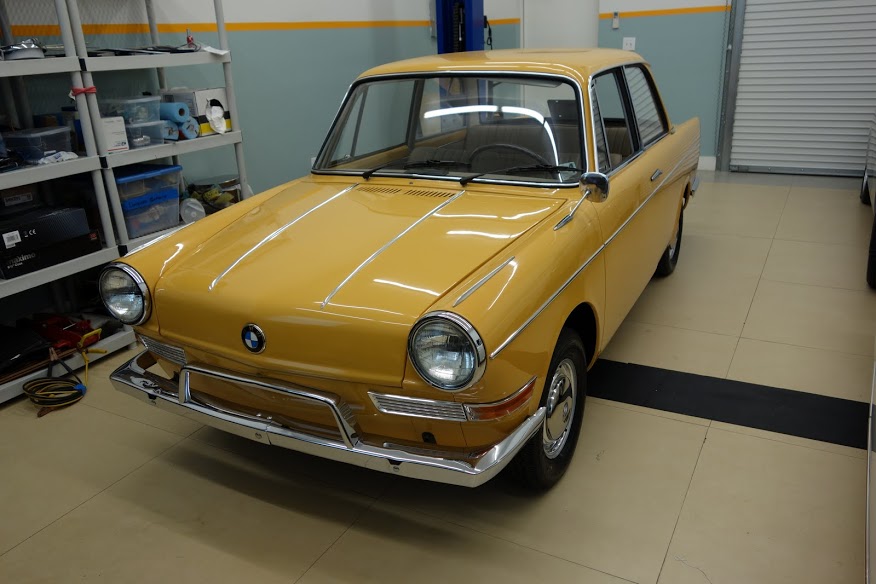 BMW 700 LS Luxus. This car was fitted also with the same sport engine, 2 carburetors, 40 HP as special package De Luxe. We have replaced both cylinders and both pistons, original 78 mm , new rings ( 3 per pistons) new valves, overhauled aluminum heads, all new gaskets. We have restored the body, sandblasting was applied to discover all rust in the car. New fenders, engine lid, bonnet and front was installed all metal parts imported from Germany. All brand new parts not used parts.

All non-available sheet metal was repaired with same gauge sheet metal to match the original. This car had an extensive body work to bringing it back to life. All brand new upholstery, new weather trims including the original grey thermoplastic inside trim. New original door handles were fitted, new chrome roof trim was installed, all new badges, trims, letters were fitted in this car. Restored original electrical wiring, overhauled dinastar, new carbons and new battery. All new around lamps including new clock was installed. All gauges were overhauled, fitted with re chromed rings. All interior handles were re-plated, all chromed trim replaced or re-plated.
This is certainly a nice restoration and the color does a nice job of making this car look rather cheerful. A restored 700LS like this will run you between $15,000 and $20,000 on average. If the seller is looking for much more, I'm not sure the money would be there, as you could venture into a more modern 3.0CS or 2002 for that kind of cash, and even begin to approach clean E30 M3 territory. But then again, I could be wrong, as this car would attract a different kind of buyer than those aforementioned Bimmers. Hopefully this car finds a good home and will be preserved as a reminder of the car that saved The Ultimate Driving Machine.
-Paul