These E36 M3 Lightweights are a tricky game. Rare M3s are always cool, but E36s are the most vanilla of M3s and the LTW special edition lacks the cache of the E46 CSL or E30 Evos. LTWs are probably best suited for some track fun, but if that's your bag why not strip-and-cage a normal M3? As such, many of these have been tucked away as investments, owners' fingers crossed for appreciation. Today's LTW appears to have had no such luck. Somewhere along its 66k miles it picked up a salvage title but has since "passed inspection." Not ideal, but with only 120 of these produced, I'm glad it's still on the road. Sometimes a bumpy past can help drop pretentions in favor of just driving the damn thing.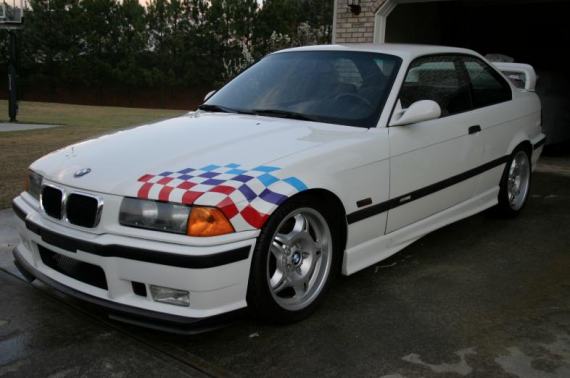 From the seller:
completely stock except for sway bars and BBS lug nuts, removed the radio cover and installed a stock radio, owned since 2006, was driven once a year to Euro-fest, now driven once a month, stored in garage under cover, perfect paint, repainted the front & rear ends, so chip free, repainted the rear because the checkered flag had age cracks in it and the sun had burnt the original flag into the paint, runs and drives perfectly, shifts good, everything functions perfectly, the trunk kit is installed (dual pickup oil pan, front strut brace & rear spoiler), very nice interior, carbon-fiber trim above the glove-box is missing, very-minor paint marks, A pillar paint crack, may have been in an accident (prior to my ownership), previous salvage history but passed a rebuild inspection, the headliner is starting to sag, missing the adjustable front spoiler that came in the trunk kit, previous owner put a 97-99 grille bar on the car as an upgrade, needs a little bit of work to be 100% perfect.
It's a cool car, but the description leaves a lot of questions left to be answered. At least the seller has taken care of it properly for 6 years, but what about before that? From what we do know, I'd think that the mileage and salvage title would drop this well below the $30k asking price. It could still garner a premium over a normal E36 M3, but that's not saying much considering they're one of the best sports car bargains around. Somewhere around $25k seems like more of a compromise between the rarity and issues.
-NR